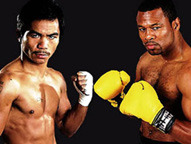 --


On Tuesday afternoon, a press conference was staged by Golden Boy Promotions at the ESPN Zone at L.A. Live, officially announcing their April 9th pay-per-view card at the MGM Grand in Las Vegas. The main event features a junior welterweight scrap between the hard-hitting Marcos Maidana and the legendary Erik Morales. It's one of three major pay-per-view shows scheduled for the first half of 2011 ("major" being defined as any card being distributed and broadcast by HBO and Showtime. "Latin Fury" and "Pinoy Power" don't qualify).

On March 12th (Miguel Cotto-Ricardo Mayorga), April 9th and May 7th (Manny Pacquiao-Shane Mosley), boxing fans will be forced to make the decision to fork over 50 bucks (or more) of their hard-earned money or go through the agony of not watching the fights. Yeah, I know, while in theory it's easy to say you won't be purchasing a pay-per-view card but I know more than one of you has succumbed to temptation late into a Saturday afternoon. Hey, I feel for you guys; it's a sickness we're all afflicted with.

So if you're working on a hardline budget (and aren't we all?) where do you draw the line? If you can allocate for just one or two of these upcoming shows, which cards make the cut? Sometimes the decision is easy; you have a particular fighter that you simply cannot bypass in any way, shape or form. Others only care about the quality or star power of the main event. Or, if you're a more discerning fan, it's about the overall card.

There are many factors that go into fans purchasing or bypassing a particular card but here's one scribe's opinion of how these cards stack up in terms of overall quality, based on a grading scale. The main events, which drive the overwhelming majority of pay-per-view buys will be judged from 1-10 and undercard bouts (which really hold the interest of the hardcore enthusiast) will be graded from 1-5. The big shows nowadays include three supporting bouts and then the main event. So the highest score possible is a 25.

- March 12th

Main Event: Miguel Cotto vs. Ricardo Mayorga: Cotto defends his WBA junior middleweight crown against the Nicaraguan wild man, Mayorga. Yes, Cotto is a substantial favorite but Mayorga has a window of opportunity in the early rounds to make things interesting. Cotto has proven to be vulnerable to heavy-handed fighters in the past. And yes, while Cotto should win easily on paper and Mayorga has crashed and burned in most of his marquee fights, ask yourself this: how often are these guys in bad fights? This should be fun- no matter how one-sided or how long it lasts. Grade: 6

Undercard: Miguel Vazquez vs. Lenny Zappavigna: Vazquez, the reigning IBF lightweight titlist is an awkward, slippery fighter, while Lenny Z is a raw but heavy-handed fighter, who recently stopped Ji Hoon Kim in one round. Vazquez, with his style, doesn't always make for great fights and that's the problem with this match-up. Grade: 2.5

Yuri Foreman vs. Pawel Wolak: Well, it's a "Bore-man" fight and even though Wolak is an aggressive fighter, I expect the "Runnin' Rabbi" to make good use of his newly constructed knee. Grade: 2

Christy Martin vs. Dakota Stone: The "Coal Miner's Daughter" has been through a lot in her life but let's be honest, she was last relevant around a decade ago. I'm just not a fan of women's boxing. Grade: 1

Total Grade: 11.5

- April 9th

Main Event: Marcos Maidana vs. Erik Morales: Golden Boy Promotions is dubbing this card "Action Heroes" but if this was a B-grade horror movie, it would be entitled "Maidana and Morales: Dial 'M' for Massacre." Here's the thing; "El Terrible" will be a tough guy till the day he dies but wasn't he admitting that he could no longer take punches after his last loss to Pacquiao and then David Diaz? Now he's facing a hard-punching, natural 140-pounder. Morales wanted this match-up. This could be a case of being careful what you wish for. Grade: 4

Undercard: Winky Wright vs. Mathew Macklin: Honestly, I didn't miss Winky all that much and I can't imagine this long layoff making him any more entertaining than he was in the past. Macklin is a hardnosed, tough but limited pugilist Grade: 2

Robert Guerrero vs. Michael Katsidis: I really like this fight, which has major implications in the lightweight division. Katsidis is one of those guys never in a bad fight and "The Ghost" is a guy, who, despite winning consistently, needs to be in a good one to boost his stock. Honestly, this is by far the best fight on this bill. Grade: 4.5

James Kirkland vs. TBA: I'm told that Kirkland will be opening up this show. No opponent has been set but you can pretty much be assured that it will be against a handpicked foe. Kirkland is one of those guys who always makes for exciting fare, no matter who he faces. Grade: 2

Total Grade: 12.5

May 7th

Main Event: Manny Pacquiao vs. Shane Mosley: The great thing is that this fight has the "Pac-Man." The downside is that he is facing a faded Mosley. The question is does Mosley have anything left and were his last two outings against Floyd Mayweather and Sergio Mora the result of bad styles? Will Pacquiao try and become the first man to stop "Sugar" or will he carry him like he did Marco Antonio Barrera in their 2007 rematch? Most are bemoaning this match-up and the oddsmakers have listed the Filipino congressman as high as a 7-1 favorite. Grade: 5

Undercard: Humberto Soto vs. Urbano Antillon: A rematch of a fight that some felt was the best of 2010. Not much more needs to be said. Grade: 5

Wilfredo Vazquez Jr. vs. Jorge Arce: This is another physical mismatch but "Travieso" always puts on a good show and will go down fighting. Vazquez Jr. has slowly but surely developed into a quality fighter. Grade: 3

Kelly Pavlik vs. TBA: It's the return of the former undisputed middleweight champion, who has battled alcoholism the past year. Don't look for his management and Top Rank to put him in too tough in his return. Grade: 2

Total Grade: 15

CHAVEZ

I've been told by multiple sources that HBO has made a pitch to Top Rank to televise the June 4th bout between Julio Cesar Chavez Jr. and Sebastian Zbik for the WBC middleweight title, with welterweight Mike Jones in the opening bout in Cancun, Mexico (which HBO is comfortable with, based on their experience in 2008 with the Nate Campbell-Juan Diaz bout).

If this should come to fruition, it would more than raise just a few eyebrows in the boxing business because Zbik is a boxer that was in no uncertain terms deemed by HBO unfit for its airwaves. When Sergio Martinez (who then held the WBC title) and his representatives tried to sell that fight to the network, he was summarily dismissed and told that Sergiy Dzinziruk would be the only opponent approved for him. With that edict, Martinez dropped his WBC title and he will be facing Dzinziruk on March 12th, instead.

(You can already hear the volcanic reaction of promoter Lou "Mount St." DiBella, can't you?)

So let's say Chavez-Zbik is added to the network schedule; that means Matthew Hatton, Paul McCloskey and several TBAs are all apart of HBO's 2011. From guaranteeing return bouts for boxers who lose fights to losing the services of Pacquiao and Cotto and other mind-boggling decisions (like perhaps consummating multi-fight deals with prizefighters who are closer to the age of 50 than 40), you can see why HBO executives Ross Greenburg and Kery Davis are said to be skating on thin ice.

Here's the thing; the damage is done to this once proud franchise. No need to add to the carnage; if I'm HBO, I don't let this current regime make any more decisions that will adversely affect the future of HBO's boxing division.

I'd say that they've done enough.

DONAIRE

In a move that should be applauded, HBO will be looking to clear off the first available date for Nonito Donaire, who recently destroyed Fernando Montiel in two rounds, and Top Rank will look to stage a fight in the Bay Area (Donaire is from San Leandro, California). Names being kicked around are WBO junior bantamweight titlist Omar Narvaez or WBA bantamweight champion Anselmo Moreno.

This date could come in the month of May. With the sizable Fil-Am population in this region and its proximity to Donaire's hometown, this looks like a natural fit. What's really great is the possibility of a quick turnaround for the "Filipino Flash." Guys like him need to be showcased more, not less. And one of the bigger problems this business is afflicted with is that the very best in this sport are relegated to being part-time performers who fight twice a year, when they should be out there at least three or four times.

Speaking of Montiel, there are differing reports as to the severity of the injuries suffered at the hands of Donaire; this one seems to indicate that Montiel will need surgery: http://www.abs-cbnnews.com/sports/02/21/11/donaire-foe-get-plastic-surgery

MIDWEEK FLURRIES

Any doubt that Arum has HBO by the short hairs?...Golden Boy CEO Richard Schaefer says that he has the Home Depot Center in Carson, California on hold for the April 16th bout between WBC welterweight champion Andre Berto and Victor Ortiz. Problem is, this is DiBella's call to make…There's a pretty good bout scheduled for "Solo Boxeo" on Telefutura (no, seriously, there is) on March 18th when featherweights Ronny Rios and Alejandro Perez square off...The acclaimed movie "The Fighter" comes out on Blu-Ray/DVD on March 15th from Paramount Home Entertainment...OK, is anyone else relieved that Carmelo Anthony has finally been traded?...Speaking of which, Isiah Thomas just won't go away, will he, Knick fans?...I can be reached at k9kim@yahoo.com and I tweet at www.twitter.com/stevemaxboxing. We also have a Facebook fan page at www.facebook.com/MaxBoxing.