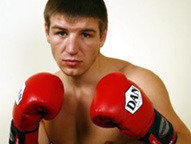 Dmitry Pirog


Following his second successful defense of his WBO middleweight title, Dmitry "From

Russia

with Love" Pirog, 19-0 (15), decided to pay a little visit to

Atlantic City, New Jersey

this past weekend to check out the man he considers to be number one on his hit list: lineal middleweight champion Sergio Martinez. It was July of 2010 when US fans first saw Pirog, then an unknown fighter thought to be an easy opponent for Al Haymon-managed Daniel Jacobs. The fifth round TKO Pirog scored netted him the WBO strap he now carries that once belonged to Martinez before politics took it away from the Argentinean. Now, with lesser names like Darren Barker successfully out of the way and bigger names like Floyd Mayweather possibly out of reach for Martinez, Pirog took a chance and came to America to take a look at the competition in person and state his case.
My radio co-host David Duenez and I caught up with Pirog moments after he got off the plane from Russia where he joined us for a segment on last week's edition of Leave-It-in-the-ring.com's radio show.

"I wanted to see Sergio Martinez fight live," Pirog told us through his interpreter, Vadim. "I had not seen him in real life yet. I think that sooner or later, we will fight. Sooner or later. So I thought I would come after the great fight I just had and answer any questions that any of the press that would be there might have. And hopefully, maybe I could try and get some hype going for a fight with Sergio Martinez."
Since the Jacobs win, which happened on the undercard of the Juan Manuel Marquez vs. Juan Diaz rematch on HBO Pay-Per-View, Pirog has not been able to fight in the U.S. It wasn't due to a visa reason but because no premium network seemed interested. HBO, then under Ross Greenburg, repeatedly ignored pleas to get him on the network despite message boards and Twitter equally lighting up about the exciting fighter from Temryuk. So Pirog took his act back home and defended his belt in front of his home country fans. We asked Dmitry what this time away from the U.S. market has been like for him.
"My answer for this is always ready because I am asked this many times. Ever since the Danny Jacobs fight, I thought I did what HBO expected and what American fight fans wanted," said Pirog. "I showed a great exciting fight. All my fans here in America, in every interview they always tell me that they want to see me again [in the U.S.]. My priority has always been to try and get back on American TV and fight for my American fans as well. But since then, I have not been on a fight where I can perform on American TV. That's why I go back to Russia and defend my title there but hopefully, as the fans and press and American TV sees that I am defending my title and taking the fights that I can take, hopefully they will realize I am one of the top fighters in the division and that I should be fighting in America on HBO or any other network."
In Pirog's first defense against Javier Maciel, a lot of U.S. fans tuned in to see him fight on web streams showing Russia's channel 2. When they did, however, there was a bit of a letdown. Pirog seemed off. His upper body movement looked limited and the snap from his punches was not there. Afterward, it was revealed he had injured his neck coming into the bout and nearly pulled out of the fight. To hear Pirog tell it, everything happens for a reason.
"There was a big difference between the Maciel fight and this one [vs. Gennady Martirosyan]," said Pirog. "I did have an injury. I always say that whatever happens happens for the best. When I had that injury, I met a top-level chiropractor in Russia that helped me actually get in the ring. I had a pretty serious injury. He put me in enough shape to fight that night because I was actually thinking of not fighting. Now, that chiropractor is part of my team and was with me all through my preparation for this last fight. Now I am thinking of keeping him for all my fights because he is getting to know my body and understands what it takes to get me in top-notch shape."
Against Martirosyan just two weeks ago, Pirog looked in terrific shape. The fluidity in both his legs and upper body was back. His hands seemed fast and he was able to change up his approach throughout. Watching the fight, I was reminded why I first liked Pirog. It is rare to see a Russian fighter face a malleable style that can be whatever he needs it to be. This alone makes him dangerous. His willingness to fight anybody makes him a rarity in the world of boxing today.
Most fighters will either call out an impossible proposition or say, "Well, you know I will fight whomever my team wants me to," which is shorthand for "I'll take the easiest, lowest-risk fight for the most money." TV dates are scarce, so most name fighters fight maybe two or three times a year. No one can afford to take a risk in a sport where one loss might get you labeled as "exposed" and sent to the back of the line. That said, Pirog's single-minded approach to the fight he wants most is admirable.
"I think that the main reason that I can have great success in the fight with Sergio Martinez is because I saw in his last fights that he takes advantage of his opponents by fighting in a certain style that he has obtained in his experiences from fighting in Europe. Moving on his feet, fighting with his hands down," explained Pirog. "A lot of fighters are not ready for that and he is able to take advantage of them but I have a lot of experience fighting in that style. Usually, I don't try to fight in an amateur style. I try to fight in a more standing up on the ground, toe-to-toe style but I think Martinez knows that if I need to- and if he tries to fight with me in that style- that I won't be discouraged. And I will be able to fight in the same style as well and that is why I think he understands that it would be a tough fight, considering my defense and all. It would be a great fight for the fans."
Pirog continued to break down what he sees in Martinez, explaining that because of their similar abilities, the first man to truly adjust and become an unsolvable puzzle will win.
"First of all, one of many strengths…first of all, I want to say that [Martinez] is one of the top fighters in the division and is one of the people who can give me a tough fight," said Pirog. "We can actually have a competitive fight. One thing that is important that I want to mention is that he has a lot of success because he is a southpaw. He is able to take advantage of those that are not as used to southpaws fighting in his style. They don't get much sparring or experience fighting that style and that gives him an advantage. I don't think he will be able to take advantage of fighting an orthodox fighter that is not shorter than him but is actually taller than him. He doesn't want to take the fight with me because once the fight starts, I don't have to fight in one style with my hands up. I can move around the ring the way he does. I can drop my hands and we can fight in a similar style. I can match his style and he will still have to raise his hands at some point. That will make him uncomfortable because that will make him more of an ordinary fighter. We will have a competitive fight because we will have to mix styles and come to a style that works for both of us. If not, one of us is going to have to a big, big win."
Recently, Martinez said that he was willing to come down from 160 pounds to 150 to face Manny Pacquiao or Floyd Mayweather. That feat might get him one of those fights but on any night, what he would have to do to get there might cost him a chance at winning. We asked Pirog what he thought of Martinez looking to the cash cows of boxing instead of his own division for a challenge.
"I think it is obvious to many people the reason that Martinez is calling out Pacquiao or Mayweather is that those are a lot more of a money fight," said Pirog. "Even people in Russia are talking about that and professional boxing is not as developed in Russia as here [in the US]. I'm more of a risky opponent for him while there is not as much financial interest in having a fight with me but what I think is more important is that great fights bring great opportunities.

We can all think that if it was possible to have a fight with Pacquiao or Mayweather, it would have happened by now. He may not be the best option for those fighters either because he is bigger but if he were to take a fight with me, it's a risk but at the same time, it's a real fight. I'm not just another opponent that he may be picking. I am 100% sure that sooner or later, if neither of us loses a fight, the fight is still going to happen. He's a world champion. I'm a world champion. We are both top fighters in the division. It would be a competitive fight unlike other fights.
"I've personally never set goals in terms of trying to win titles," continued Pirog. "I'm always trying to just get the possible fights and right now, I think this is the best possible fight for me. There might be other fights that will come around and I will take all the fights that come up. I am ready to fight anyone in the division. I am just sure that for the fans in America, Russia, all over the world, if I fought Martinez, it would be a top-level competitive fight that everybody would enjoy. It would not be one-sided. It would be a real fight and I think that is what everybody wants. It's not like Martinez vs. Pacquiao, two fighters in completely different divisions. I think this fight is something that everyone deserves to see."
Whenever he is asked about Pirog, Martinez's promoter Lou DiBella generally responds by saying

that

no one knows who Pirog is. It's a point we all can concede. Even Pirog knows he needs to raise his profile in the US. DiBella will also respond that since Pirog "stole" the belt from Martinez, he will never get the fight with his guy. Now that point cannot be conceded. Fighters fight. They take the opportunities given to them. That's what Pirog did when the WBO ordered Jacobs vs. Pirog for the vacant WBO belt. That's on the sanctioning body, not the fighter. Pirog had a better take on the comments.
"As far as what Lou DiBella says, every time I am mentioned, if he thinks that I stole the belt. I think the best thing for Martinez to do is fight me and prove that it's his belt," Pirog answered smoothly. "I mean, that's probably what any other fighter would want to do. What's more important is that we are the top fighters in the division. I can even give up the WBO belt and still fight him. It's not about the belt. It's about fighting the best fighters in the division."
If a fight with Martinez is not next, there are other options. For one, the network Martinez fights on, HBO, is not the only game in town. To this, you have one of the more international divisions going with Daniel Geale in Australia and Felix Sturm in Germany. Gennady Golovkin (who trains in the US) lives in Germany but is fighting in his home country of Kazakhstan next week. Throw in Ireland's Matthew Macklin, Peter Quillin from Cuba (by way of Hollywood, CA) and the winner of the U.S.A.'s James Kirkland vs. Mexico's Alfredo Angulo and there is a multitude of choices here.
For Pirog, the who does not matter. However, fighting in the U.S. is his goal and his dream. "As far as fighting anybody else, as far as Sturm, I don't see the reason for going to Germany and fighting over there," Pirog said. "As I said, I want to fight in the U.S. That's all I want to do. I want to make sure that my fans can enjoy my style. I know they want to see me again. I can fight anywhere but the best thing is for me to fight in America. I think that is what everybody wants. Hopefully, that is what will happen."
While Pirog is 31 and nobody's "kid," he is relatively inexperienced as a pro. He had a solid amateur background and went so far as to train himself through his first nine pro fights so we know he is disciplined, determined and very tough. We asked if he was worried about losing his belt should he risk too much too soon against Martinez.
"I don't think that I am so attached to the belt, that is should I worry about it so much," said Pirog. "I've always taken risks. I feel that maybe I even took a small risk with Jacobs. Some people said I may not be ready for him either but it came out the other way around. I feel that I don't want to beat Martinez and have people say that he was already too old for me. I want to fight Martinez now that he is in his prime. It is a risk but I feel I can have success."
Pirog paused and then added smartly, "And if anybody thinks that I don't have enough experience, maybe [Martinez] should take the fight."
However it shakes out with Martinez, Pirog and his team are very focused not just on Martinez but on getting Pirog another U.S. fight and most importantly, exposure on a major network. I expect that to happen in the coming year.
You can email Gabriel at

maxgmontoya@gmail.com

, follow him on Twitter at

www.twitter.com/gabriel_montoya

and catch him on each Monday's episode of "The Next Round" with Steve Kim. You can also tune in to hear him and co-host David Duenez live on the BlogTalk radio show

Leave-It-In-The-Ring.com

, Thursdays at 5-8 PM PST. Gabriel is a full member of the Boxing Writers Association of America.