Different Paths, Same Goal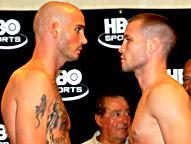 (Photo © German Villasenor)


At first glance, Kelly Pavlik and Nonito Donaire do not seem to have anything in common. Although they are both fighters under the same promotional banner, they fight in different weight divisions, come from very different backgrounds, have polar opposite fighting styles and, up until recently, lived and trained in completely different parts of the country. And yet, even with all the drastic differences between the two, they are essentially fighting their way toward the same goal, "mainstream" relevance in the pantheon of the ever-changing boxing landscape.
At one point, Pavlik was on the verge of actual mainstream success back in 2007 and 2008. He had fought in several thrilling fights leading up to his middleweight championship fight against Jermain Taylor, the champion who had actually overthrown Bernard Hopkins twice (in highly controversial fashion both times, I might add). The first Taylor fight was a back-and-forth affair which saw Kelly in serious trouble early in the fight. By the seventh, Pavlik had stormed back to knock out Taylor in dramatic fashion. With that win, Kelly elated his hometown of Youngstown Ohio, became the latest "Great White Hope" and provided the sport with an exciting fighter (with a humble personality to boot). He was a very refreshing personality in a time when Pacquiao was not quite yet the international sensation he is today and the "Golden Boy" Oscar De la Hoya was on his last legs.

It all seemed to go downhill after Pavlik's second win vs. Taylor. First, with no legitimate opponent in the middleweight division, he blasted out Gary Lockett inside of three rounds in a gift of a fight, according to the boxing public. Next, in a light heavyweight fight he was supposed to win, Pavlik looked lost vs. Bernard Hopkins and lost a great amount of stock in the loss. After scheduling and rescheduling a fight vs. Paul Williams due to a series of illnesses and staph infections, he lost his middleweight dominance in a loss against Sergio Martinez (in a rather good fight, I'd say). This was followed by bouts of alcoholism, several altercations against siblings and delusions of grandeur by turning down good money fights vs. the likes of Lucian Bute. Thankfully, America loves stories of redemption. After winning three minor fights in a row, Pavlik is seeing his first action on a premium cable network in over two years tonight in a fight that might catapult him back into relevancy. With a new trainer, Robert Garcia, and a new environment around him, there is a good chance that Kelly Pavlik may be lining himself up for great and exciting fights within the middleweight and super middleweight divisions. His timing could not be better as the networks would welcome his brand of fighting and post-fight personality with open arms.
Nonito Donaire has had a completely different career arc but nonetheless is looking for the very same thing as Pavlik. Seemingly hovering over every Filipino fighting today, there is a thousand-foot shadow known as Manny Pacquiao. Up until February of last year, Donaire was no exception. Having fought for the majority of his career in the flyweight division, his "side" was not on his side either. After being relegated to "ShoBox" broadcasts and performing well on those shows, Donaire finally got a break, fighting in 2007 against Vic Darchinyan. In what many predicted would be an even fight with Vic having the upper hand, Nonito connected with a left hand to the head of the "Raging Bull" in the fourth round which provided temporary memory loss even during the post-fight interview. That explosive power left many in the boxing public vigorously anticipating the "Filipino Flash's" next bout.
Inexplicably, Donaire's next couple of fights were essentially relegated to the minor leagues. A long anticipated rematch vs. Darchinyan never materialized and his next six fights offered very little in terms of TV exposure or brand aggrandizement. Finally, Top Rank decided to give its man a break and in a fight pitting the two best men in the bantamweight division, Nonito Donaire's left hand proved to be too much for Fernando Montiel. He scored the "Knockout of the Year" in the second round, just two months into 2011. Once again, a great little man had a chance to find both success and some level of crossover appeal within boxing. Not unlike in 2007, though his following fights have garnered TV exposure, things have not gone that swimmingly. Donaire's next fight against Omar Narvaez was an absolute abortion of a contest. While Narvaez did absolutely nothing to actually initiate a fight, neither did Donaire, who seemed content not having to press the action. His next and most recent fight against Wilfredo Vazquez Jr., fought at super bantamweight, demonstrated that while Nonito still has some pop in his punches, it may not be that simple for him to dominate at the higher weight classes. Over the second half of the fight, Vazquez appeared to frustrate and even bring the fight to the "Filipino Flash" once again, not allowing him to look his best.
Both men have a lot to prove this weekend. For former middleweight champ Kelly Pavlik, the road back to glory really begins tonight by trying to regain the popularity he lost due to his antics outside the ring. Nonito Donaire can begin to reclaim the public's attention as a pound-for-pound champ by looking good and demonstrating his offensive prowess. Both fighters can prove that they not only belong by winning tonight but they can also begin to reclaim the public's imagination by simply showcasing their offensive weapons to the detriment of their opponents.
Observations, Hypotheses, and Other (Un)Clever Thoughts
- Marcos Maidana is now off the card after disagreeing to terms to fight again at 147. He made it abundantly clear after losing to Devon Alexander that he wanted to go back down in weight. Come on now, Golden Boy; make your boy happy by matching him up against Lucas

Matthysse in a fantastic 140-pound scrap.
- I have really enjoyed Antonio Tarver in his role as a Showtime analyst, light years more than any of his fights. Hopefully now that his legacy is now stained by testing positive for steroids, he can finally stay out of the ring and stick to what I consider he does best.
- In regard to a question I received regarding the upcoming Tavoris Cloud-Jean Pascal fight, I have to lean toward Pascal. Cloud is really crude and I feel that Pascal's boxing ability and explosiveness will carry the day over 12 rounds.
- My only complaint about the Fourth of July this year is that it fell on a Wednesday. Feels out of place having a holiday in the middle of the week.



Subscribe to feed