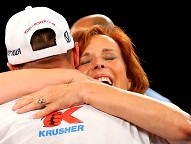 Photo © Rich Graessle / Main Events


After her undefeated fighter, Sergey Kovalev, hit the canvas Saturday night in Atlantic City, NJ, veteran promoter Kathy Duva said she saw her life flash before her eyes.

The Main Events' CEO expected WBO light heavyweight champion Kovalev to demolish his opponent, Blake Caperello, with relative ease at the Revel Casino.

Instead, Duva's "million dollar baby" was floored by his underdog opponent.

In round one, Caperello did what was expected. He used his legs and flicked out a jab. Kovalev looked asleep at the wheel. His eyes were on his opponent, but one had to wonder if his mind was elsewhere.

A day before the match, Kovalev had signed to fight "The Alien," Bernard Hopkins in a venue to be determined.

The future Hall of Famer was at ringside to root Kovalev to victory.

Hopkins, 49, is the IBF and WBA light heavyweight titleholder.

Kovalev will make the most money of his career when he meets Hopkins in November.

Saturday night, all the 31-year-old champion had to do was defeat zillion-to-one underdog, Caperello.

Caperello, a former plumber, picked at Kovalev's leaky defense. The southpaw connected with a left hand to the pointy chin of the defending champion.

Kovalev responded with a lead right, but the challenger stayed out of danger.

Near the end of the round, Caperello, languishing near the ropes, let fly with a straight left. The punch caught the off-balance Kovalev, sending him stumbling backwards. He reached down and righted himself, but his glove touched the canvas. Caperello also appeared to be standing on Kovalev's foot.

No matter.

Knockdown.

As the crowd gasped in disbelief, Kovalev gazed over at Caperello as if to say, "Good one pal, now it's my turn."

Seemingly refocused, Kovalev stalked Caperello in the second stanza. A strong right hand landed, and then Kovalev began to wave his right hand, bolo style. Caperello tried to punch back, but Kovalev connected with a crunching right near his opponent's liver.

Caperello took a knee and watched the referee count over him. He was up at eight. After eating another couple of punches, he motioned to Kovalev come in.

Kovalev responded in kind, flooring Caperello a second time. The end was near and everyone, including the courageous Caperello, knew it. Kovalev let fly with punch after punch. Caperello tried to stay low, but Kovalev's powerful shots had him wobbling.

The referee jumped in and stopped the execution.

The time was 1:47 of the second round.

Talk about righting the ship.

Hopkins joined Kovalev after the fight—and quickly upstaged him. He stood closer to the camera, as if to remind Kovalev that he's the man. Hopkins said all the right things.

That will change at the first official news conference.

Kovalev is looking forward to fighting Hopkins.

"I'm very happy," Kovalev said. "Fighting Bernard Hopkins is a big fight and interesting fight for me and for the boxing world. I'm not scared to fight him. He's called "The Alien," but I'm a "Krusher" and I'll send him to Mars."

This should be fun.