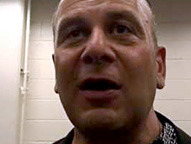 Lou DiBella


This Saturday night on HBO (9:30 p.m., ET/PT) another edition of "Boxing After Dark" takes place from the MGM Grand at Foxwoods featuring a tripleheader that has super middleweight Edwin Rodriguez versus Jason Escalera, Luis Del Valle against Vic Darchinyan in a super bantamweight contest and welterweights Antonin Decarie and Alex Perez squaring off. The show, promoted by DiBella Entertainment, is dubbed "Road to Glory."
Yeah, let's be honest; this line-up doesn't exactly conjure up images of Marco Antonio Barrera-Kennedy McKinney, Arturo Gatti-Wilson Rodriguez or Derrick Jefferson-Maurice Harris.
Ironically enough, back when those fights made "B.A.D." must-see-television in the late '90s, it was the man whose company is the promoter of record for this weekend's card who green-lighted those aforementioned classics when he was an HBO executive. In fact, the whole concept of this franchise was his brainchild.

Speaking with Maxboxing earlier this week, Lou DiBella explained, "There was an awful lot of fighters nobody had ever heard of that deserved opportunities to show themselves and back then, 'Boxing After Dark' was designed as a place to put guys that weren't 'World Championship Boxing' - level but could prove themselves and move on to that kind of capacity." And from the very beginning, it wasn't just a home run but a grand slam. It seemed like almost every telecast delivered a memorable "Fight of the Year" candidate. When asked if he ever imagined that type of success from the very get-go, DiBella stated, "Yeah, because promoters then were hungry and they were willing to make the match-ups that you asked them to make. And as a TV executive at that point, I was functioning as something as a matchmaker and if the promoter would make the match-up I wanted, I'd make the fight and there were a lot of guys in the business - at different levels - that would know what would make a good fight. I didn't anticipate Wilson Rodriguez-Arturo Gatti being the classic it was or Kostya Tszyu and Vince Phillips, just how good they would be. You knew going in they would be good fights."
Unfortunately, as the DiBella/Seth Abraham regime at HBO Sports came to an end in 2000, "B.A.D." under the Ross Greenburg/Kery Davis era, became more and more about fighters coming off losses on pay-per-view and the "World Championship Boxing" stage and getting rehabilitation fights. Later on, it became more about built-in dates on exclusive output deals and not so much about showcasing talented boxers in the lower weight classes in evenly matched battles. The card this weekend was essentially given to DiBella to make up for a developmental series on HBO2 that was promised by Greenburg but never came to fruition. Both DiBella and Gary Shaw (who has a similar card on October 27th) have each been given another date next year to make up for the loss.
Bottom line, if DiBella were still at his old gig at HBO, would he have bought this card?
"Y'know what? I think it's a fun fight card. I think it's not a traditional 'Boxing After Dark,'" he conceded. "I mean, this is a show designed to showcase young talent and give them opportunities to prove themselves. It's a tripleheader which everyone knows is a result of a series that was contemplated, not taking place. I mean, I can't see it being a fight card that's not pleasing. I can't see it being boring to anybody. I think it's a fun fight; I think it's a fun match-up of styles. Do I think it's a show that would be happening without the contemplated series not happening? No, but I think it's going to be a very entertaining night if you watch it."
The license fee is less ("much less," pointed out DiBella) than the standard for "B.A.D."
This particular card - and how it came to be on HBO - does point out that the industry could use a series that showcases young, up-and-coming talent who may be quite ready for prime time. Right now, you're either making pennies and matched softly on ESPN2 or making the big bucks on HBO or Showtime but, for the most part, there is no bridge for young hopefuls like Rodriguez.

"I was one of the people that pitched that new series to HBO," said DiBella, "so obviously, I thought it was a good idea. But HBO's entitled to make the decisions they want to make and I think they felt that level of fights didn't have enough star power. But I personally think that middle ground of a series is not a bad idea. I wonder now, given the new relationship between HBO and ESPN, if something can be done in that area."

So there is it; it's DiBella's "Boxing After Dark" but not the one DiBella helped create from scratch.

IRONY

It's interesting to hear DiBella say that a bout between Sergio Martinez and Gennady Golovkin simply makes no financial sense at this moment and that nobody would give a "flying f**k" (http://www.boxingscene.com/insider-notebook-martinez-golovkin-ward-pavlik-more--57562) about it. Honestly, I can't disagree with that. The reality is that Martinez has a much higher profile coming off his September 15th victory over Julio Cesar Chavez Jr. and "GGG," for all his talent, is still unknown and unproven. Personally, I'd like to see Golovkin notch a few more impressive wins on HBO and continue to build his résumé.

But as Alanis Morissette once famously sang, isn't it ironic? I mean, it wasn't too long ago when Martinez was basically that guy to Chavez and, to a large degree, is still that risk vs. reward quandary for marquee names like Floyd Mayweather and Miguel Cotto. It's the way the boxing food chain works. The way "Maravilla" and DiBella look at Golovkin; he in turn is viewed that way by Mayweather and Cotto.

So let's say that all the marquee names pass on Martinez and Chavez Jr. is unavailable next spring and he's stuck facing a middleweight, then what? Will the "best vs. best" brigade which held up Martinez as a paragon of everything that was right in the sport (while Bob Arum and Chavez Jr. were supposedly killing the game) hold him to the same standard? My old friend, DiBella, can say Golovkin means nothing and is anonymous to the casual fan in America - and I wouldn't disagree. But then does that make him any different than Sergiy Dzinziruk, Darren Barker and Matthew Macklin? (And look at their recent track record; Golovkin matches up pretty favorably to this trio that recently faced Martinez.)

Again, I want to make this clear; I agree with DiBella's premise (and most folks in the industry would take the exact same position, were they in his shoes) but it reminds me of that classic quote from "North Dallas Forty," uttered by John Matuszak's character, O.W. Shaddock, "Every time I call it a game, you say it's a business. And every time I say it's a business, you call it a game."

PAC-MARQUEZ 4

Tickets go on sale for the fourth installment of Manny Pacquiao vs. Juan Manuel Marquez, here is the 411 (from a Top Rank press release):

Tickets to Pacquiao-Márquez 4 will go on sale Friday, September 28, at 1:00 p.m. ET / 10:00 a.m. PT. Tickets are priced at $1,200, $900, $600, $400, and $200. Ticket sales at $1,200, $900, $600 and $400 are limited to 10 per person and ticket sales at $200 are limited to two (2) per person. To charge by phone with a major credit card, call Ticketmaster (800) 745-3000. Tickets also are available for purchase at www.mgmgrand.com or www.ticketmaster.com.

FRIDAY FLURRIES

Speaking of Golovkin, Tom Loeffler, managing director of K2 Promotions, told me the plan is for him to fight again on December 8th ( in France, possibly). Of course, they still have to see if Daniel Geale decides to defend the WBA middleweight title against Golovkin...Stephen Espinoza of Showtime said via email that the rumors of Amir Khan fighting on Showtime are "unfounded"...Watching the Ravens-Browns game; I haven't been this excited to see real zebras since I went to the zoo as a kid...Seriously, the Bikini Basketball League?...I can be reached at k9kim@yahoo.com and I tweet at www.twitter.com/stevemaxboxing. We also have a Facebook fan page at www.facebook.com/MaxBoxing, where you can discuss our content with Maxboxing readers as well as chime in via our fully interactive article comments sections.