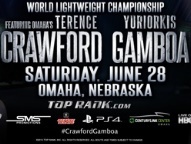 --


Undefeated bantamweight Johnny "Wite Boi" Determan, 7-0 (6), will make his hometown debut in support of the Terence Crawford-Yuriorkis Gamboa main event on Saturday at the CenturyLink Center in Omaha, Nebraska. The Top Rank Promotions card will see World Boxing Organization (WBO) world lightweight champion and fellow Omaha native Crawford defend the title he took from Ricky Burns this past March in Glasgow, Scotland. The two main-eventers will both bring their identical 23-0 (16) records into the ring to contest in the first world title fight in Omaha in 42 years. The last time the bell sounded for a title fight in Omaha was when Council Bluffs, Iowa's Ron "The Bluffs Butcher" Stander battled legend Joe Frazier for the world heavyweight title in 1972.

Determan's fight will be the first six-round contest of the young man's developing career as well as his first fight at home since 2006 when he fought as an amateur. Before he decided to punch for pay, Determan racked about 125 amateur fights that included an appearance at the World Cup Games and a fight for the national title in which he faced off with then-Olympic-bound and current pro prospect, undefeated bantamweight Randy Caballero. Determan turned pro in November of 2010 and has chalked up seven straight wins, six via stoppage. Johnny trains with J.D. Hurd out of Waxahachie, Texas, a town just south of Dallas and is promoted by Chicago-based Bobby Hitz Promotions. Determan is also going to be graduating from the Texas Police Academy about two weeks after his next bout. Maxboxing caught up to the friendly slugger at the end of a typically long, busy day.
"Yeah, I am busy", he said. "I will be graduating a couple of weeks after my fight In Omaha. I'm just working my way through the academy now." On the prospect of fighting in his hometown, Determan was pleased to be added to the world title card. "It's great; I just found out that I'm on the card. I grew up with Terence and I know him well. He is a good guy and it is great to get to fight on his card." When asked about his current schedule and his goals, the affable Omaha-born Determan was excited about what the future holds in and out of the ring. "I am excited to be finishing the academy and then working as a police officer in the Dallas area," he said, "but I will continue to box. I can juggle both. I'd like to get a few more six-rounders under my belt, some eight-rounders and then on to 10s. Then I can hopefully look at a regional, smaller title."
On his transition to the pros from the amateur game, Determan added, "I would consider myself more of a boxer. That is how I like to fight but I am sitting down on my punches more. I like to box but I can slug." The excitement level is going to crank up for local Omaha residents when one of their own fights for a world title in their backyard and the undercard will debut and showcase another hot prospect in Determan. Top Rank's Pete Susens says, "Determan has some fight in him; he's a game kid who knows how to box. It will be interesting to see how he progresses."
Said Determan, "I'm excited for the card like every fighter; it's great to fight at home. I'm excited; this is going to be a great show. I just want to keep developing and winning. I'd like to fight for a world title one day."
Please visit our Facebook fan page at www.facebook.com/MaxBoxing, where you can discuss our content with Maxboxing readers as well as chime in via our fully interactive article comments sections.