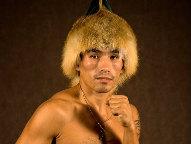 (Photo © Metalphotos / Kari Helenius)


The Scandinavian country of Finland isn't known as a boxing Mecca. However, Russian light welterweight Denis Shafikov decided to relocate to the Nordic climes, hooking up with well-respected Pekka Maki and his promotional company, P3Boxing, back in 2007. After several years of building his career and fighting for relevance in the backwaters of the deep 140-pound division, they made an imprint whilst winning the European crown, of which Shafikov's since made two successful defences. To date, Shafikov remains unbeaten in 30 contests, all wins against

a

solitary draw that has since been reversed. The 27-year-old nicknamed "Djingis Khan" (due to the national outfit looking similar

to that of Djingis – or "Genghis" - Khan),

pays homage to his roots with his ring attire. It appears he

is about to

bring an exciting mix

of

talent and colour to the

upper echelons of the

ever-changing landscape at light welterweight.
Anson Wainwright -
Recently you beat Brunet Zamora; it was a rematch from 2010. Can you tell us about the fight and what was different this time?

Denis Shafikov

-

After the first fight, I changed the coach; now I am working with Alexander Zimin. First fight was a very close fight; I received many unnecessary punches. Second fight, I was better than Zamora in all components. I was better moving my legs and was better in defence; I outboxed him.

AW -

What are your plans for the rest of 2012?



DS -

I will defend my EBU title; I feel that I am ready to fight and to beat any boxer in my weight division.

AW -

Could you tell us about your career so far, how you feel you've developed and how happy you are with things?



DS -

I developed step by step; I was getting good experience during the last two to three years and now I want to have big fights.

AW -

As the reigning European champion, how far do you think you are from fighting for a world title?



DS -

As I said, I am ready to beat any boxer in my weight. Unfortunately, it depends not on a boxer when to fight for a world title but on his promoters and rating committee.
AW - What are your thoughts on the light welterweight division? Where do you feel you fit in and how do you feel about being ranked by The Ring magazine? And what did you think about the Danny Garcia-Amir Khan fight?
AW - This division has always been one of the toughest divisions in boxing. I was quite surprised when I saw Khan lose against Garcia. In my opinion, he could have easily outboxed Garcia for four to five rounds and then start to go for a KO. Basically it was a classic example of what happens if you are overconfident and don't respect your opponent enough. Khan's footwork was poor, not a typical Khan, in my opinion.
Everyone has possibility for KO, particularly in a level they were fighting and I think that I can win [against] them both if I just got a chance against them.
I'm in The Ring ratings and it feels wonderful that I've got the respect I deserve. Bring me the top guys in front of me and I'll give them a ride.

AW -

Could you tell us about your team?



DS -

My team is my manager, Oleg Bogdanov. We are together for nine years; he was promoting me in the beginning, made 10 pro fights and then he signed me to P3Boxing in Finland. Pekka Maki from Helsinki is my promoter since 2007; he gave me a chance to fight for EBU title, which I won, and my trainer is Alexander Zimin, the most experienced Russian professional boxing trainer. He was working with the first Soviet world champions [Yuri] Arbachakov and [Orzubek] Nazarov in Japan. He also was working with [Nicolay] Valuev.

AW -

Where do you train and what is a typical day for you?



DS -

I am training in Saint Petersburg everyday, have rest only on Sunday, running in the morning at 6 o'clock, 50 minutes in good temperature in the park, then I have training at 17.00 (5 p.m.) in the gym, six times per week. I am eating absolutely everything but not big portions [when] I am not making weight. I live in that weight in which I am fighting. It is usually 65kg before training and 63.2- 63.5 after.

AW -

Could you tell us about your amateur career?



DS -

I turned pro when I was 18 years old. I didn't want to continue [in the] amateurs. I need to earn money for my family, not medals. I was second [silver] in cadets and third [bronze] in juniors in Russian Championship. Total, I had about 90 amateur fights and lost only six of them.

AW -

You're from Miass, Russia; could you tell us about your youth and growing up there and the path you took into boxing?



DS -

From childhood, I was in different sports, boxing, wrestling, acrobatic, football, tennis. I didn't like boxing first. [I] was training about one year and then [went to] other sports. At the age of 13, decided to go [with] boxing again and I felt that it is my sport. I hate to lose and was working a lot in the gym. On the other side, it was not difficult for me to win; I was quicker and better coordinated than many of my opponents.

AW -

What is your life like away from boxing? What do you enjoy doing and what are your hobbies and interests?



DS -

My main hobby is nature. I like very much to go for a week to the village after the fight, simply to stay in the village.

AW -

Who are your boxing heroes and who do you enjoy watching today?



DS -

When I was a child, I liked to see Mike Tyson fights and my favourite boxer and the boxer whom I enjoy watching [today] is Manny Pacquiao.

AW -

Tell us about your nickname "Djingis Khan" and how that came about?



DS -

That was an idea of my promoter and I accepted it. I am not Mongolian; I am Bashkir, our national dressings look the same and I want [to] conquer the world as Djingis Khan did.

AW -

In closing, do you have a message for the light welterweight division?



DS -

I won the European belt and I need [a] couple of world [title] belts too. Be ready to fight; it is only the question of time when I will beat you.