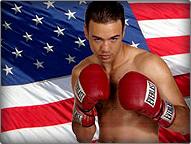 --


On this week's edition of ESPN2's "Friday Night Fights," Delvin Rodriguez makes a quick return to the ring against Freddy Hernandez. Back in February, Rodriguez impressively stopped unbeaten Native American George Tahdooahnippah in six rounds, so he'll be looking to build further momentum when he makes his 16th appearance on the popular show tonight. Now "The Jaguar" intends to further his hopes of a third world title shot, having come up short in against Isaac Hlatshwayo in 2009 at welterweight and again last year when he met silky-smooth Austin Trout at light middleweight. The recently-turned 33-year-old resident of Danbury, CT by way of the Dominican Republic, knows he can't afford to slip up if he gets a third opportunity. Currently, Rodriguez, 27-6-3 (15), is ranked 11 by the WBC and seven by the WBA.

Anson Wainwright – Firstly, you meet Freddy Hernandez on this week's edition of "Friday Night Fights." What are your thoughts on the fight?

Delvin Rodriguez - I think it's a good fight. It's going to be exciting. I know it's going to be an exciting fight for the fans and that's very important to me. I'm facing a guy with a lot of experience who's been in there with top contenders. It's definitely going to be a good fight. I've been training good for about two months now. We're all set to go.

AW - When you break Hernandez down as a fighter, what do you see as his strengths and weaknesses?

DR - Like I said, experience means a lot in the sport of boxing. He has a lot of experience. He's been in with good guys. All his losses have been against tough opponents. I have to be prepared - which I am. I'm confident; that's why I know it'll be a good fight.

AW - In your last fight, you impressively stopped George Tahdooahnippah in six rounds. Can you tell us about that fight?

DR - Well that fight, I fought another tough guy. He took a really good punch. He took a beating. He wasn't at my level, technique-wise. I took it to him. You have to give him credit because he took some very hard shots and he was still standing, willing to fight.

AW - Without looking past Hernandez, if you beat him on the back of the Tahdooahnippah victory, would you say you're building good momentum?

DR – Oh yeah, definitely. That's the plan. We want to get back to a position to fight for a title next year. Right now, we haven't talked about that but I'm sure after this fight, we will. We're trying to keep ourselves busy and winning but not just winning, winning impressively and taking it to the next level.

AW - It will be your 16th appearance on FNF. It has obviously been a great outlet for you throughout your career.

DR – Well, I'm grateful to ESPN. Like you said, it's my 16th time on their network. Not every fighter gets to be on the TV all the time like myself. I can't remember the last time I fought off TV, so it's very important for a fighter to be on TV and get world title fights. It's the only way to do it so people can see what you got and what you bring to the ring and what better way to do it than ESPN? I'm very grateful for that.

AW - If I can take you back, you were born in the Dominican Republic. Tell us about your days growing up there and the path you took to America

DR - It was tough. I came from the country when I was nine years old. I started boxing over here when I was around 10 years old. It was tough but at the same time, it was nice down there in the countryside. The tough part was when I arrived in this country 'cause it's a whole different world. I didn't speak the language. I didn't know my way around, the culture. My parents weren't in a good position. They worked very hard to maintain the house.

AW - If we can look at the light middleweight division as a whole, what do you think of it? Where do you see your opportunities and what do you think of the current champions, WBC/WBA/The Ring magazine champ Saul Alvarez, the IBF's Ishe Smith and WBO Zaurbek Baysangurov?

DR - It's the hottest right now. From 140 to 154, I think is hot. That's where are the good fighters are. I'm so excited because I'm right there with the group of the best and how else do you become the best? You fight the best. So I believe I have everything it takes to take it to the top. You know I'm going to work really hard to get back on top. I think they're good fighters. The dream fight for me would be "Canelo." I think it would get the best out of me and motivate me. Ishe Smith has been around for a long time, had a similar career to me, up and down. He's a good boxer, good puncher, been there, done that, lots of experience. I give him a lot of respect. I'm very happy for him. He finally got the title. I think there's a lot of ways to beat him, to be honest with you. I'm just happy for him to get the title after so many years of hard work. I don't know the other guy [Baysangurov].

AW - Though you've twice fought for a world title, the fight you're probably best known for is the first bout with Pawel Wolak. That seems to be the fight that really put you out there.

DR - Oh yeah, people still talk about it. It was the "Fight of the Year." Fans approach me and it's the first fight they bring up. No question about it; it was one of my best fights. Oh yeah, the second fight, I knew what I had to do. I adjusted very well.

AW - What is your life like away from boxing?

DR - Outside of boxing, I'm really laidback; I'm really easygoing. I work for ESPN Deportes. I do "Friday Fight Night" in Spanish, so it's something that keeps me busy and focused on boxing. As an analyst, you see things you don't really look for when you're boxing. That's pretty much what I do. I have two boys, one 11 years and the other seven months, so I keep pretty busy. I like music a lot. I play the guitar a lot. I like to write [music].

AW - In closing, do you have a message for Hernandez and the light middleweight division?

DR - This fight is going to be exciting. I want to thank the fans. They've always been there in support. If you can't be there live, check it out on ESPN, I know he's bringing a good fight and so am I.

Questions and or comments can be sent to Anson at elraincoat@live.co.uk and you can follow him at www.twitter.com/AnsonWainwright. Anson is also a contributor and ratings panelist for The Ring magazine.
Please visit our Facebook fan page at www.facebook.com/MaxBoxing, where you can discuss our content with Maxboxing readers as well as chime in via our fully interactive article comments sections.