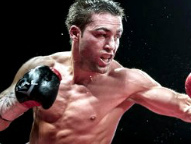 Photo © Vincent Ethier


When Antonin Decarie got the call to fight last year against prospect Alexis Perez as part of an HBO tripleheader on the night of 29th September, he did so as the B-side but was determined to make the most of his chance. He did so, stopping Perez in the sixth round to win the NABF welterweight title. Since then, the 30-year-old Canadian has looked to gatecrash the 147-pound division further, getting that chance when he heads to Argentina and faces Luis Carlos Abregu today as chief support to World Middleweight Champion Sergio Martinez's title defence against Martin Murray. Abregu, like Decarie, comes into the bout on the back of a career-best win of his own, having stopped once highly-touted Thomas Dulorme in seven heats. The winner will be well-positioned for a world title in the coming months. Decarie, 27-1 (8), is currently ranked at number five by the WBC and 15 by the WBA.

Anson Wainwright - On the 27th April, you will be fighting Luis Carlos Abregu in Argentina on the undercard of Sergio Martinez-Martin Murray. Could you share your thoughts on that?

Antonin Decarie – It's important to know that in life, I try my best to never make impulsive decisions. I weigh the pros and the cons and then I decide. Then first, let's clear up the Argentina situation. Marcos Maidana lives in Buenos Aires. Lucas Matthysse lives in Buenos Aires. Sergio Martinez was born in Buenos Aires but Abregu lives in Salta, a city 1500 kilometres away and about a 15-hour drive. We're not talking about a hometown guy. Lou DiBella is the promoter of the event and he is also my promoter and finally, the fight will be aired live on HBO so I believe I will get a fair shake. About Abregu now, I know I will be the underdog but again, like my friends like to tease me when have I never been. My coach, the same one that as guided me since I was a teenager, told me when I was 16 that I didn't have what it takes to be on the national team. Just to prove him wrong, I never lost a fight at the Nationals and I won the title five years in a row. I love to rise to the occasion. Abregu is a tremendous fighter and is the perfect guy to bring me to the next level.

I have two names in my head: Marquez and Hopkins. Who's bigger in boxing right now, Juan Manuel Marquez or Chris John? Bernard Hopkins or Segundo Mercado? Some times in your career you have to believe in yourself and go forward if you want to make it to the top.

AW - In your last fight, you scored a very impressive stoppage win over previously unbeaten Alex Perez. Can you tell us about that fight?

AD - The fight was a last-minute thing, so it was even more satisfying to perform well. I was already in the gym hoping for an opportunity and when I got the call, I didn't hesitate and said yes right away. You don't say no to HBO.

AW - As you say, it was on HBO, which is a fantastic platform for you to perform. Can you tell us about the experience?

AD - For every boxer to fight on HBO is a dream come true. There is obviously added pressure but that's what drives you to perform better.

AW - The Perez fight was a few months back now. What have you done with your time since?

AD - I have been back at the gym for quite a while now. I was hoping to be back in the ring sooner but when we scheduled a fight, we were asked to pull out because something bigger (the Abregu fight) is happening.

AW - Who are the key members of your team, your manager? Also where do you regularly train?

AD - My manager is Camille Estephan from EOTTM (Eye of the Tiger Management). My trainer is Marc Ramsay and my promoter is Group Yvon Michel (GYM) and I train at their gym.

AW - The welterweight division is pretty strong at the moment. What do you think of the current state of the division and where you fit in?

AD - The welterweight division is very strong mainly because of [Floyd] Mayweather and [Manny] Pacquiao. There are a lot of great fighters beyond these guys and I truly believe that I belong among them.

AW - What do you think of the current champions, the WBC champion Floyd Mayweather, WBC interim champion Robert Guerrero, WBA champ Paulie Malignaggi, WBA interim champ Diego Chavez, IBF champion Devon Alexander and WBO champ Tim Bradley?

AD - All of them are amazing fighters. Obviously, Mayweather is in a class of his own. I would love to get a chance to fight any of them. I think, style-wise, Guerrero and Paulie would be at the top of my list.

AW - How do you think Mayweather-Guerrero will play out?

AD – Mayweather, no problem.

AW - The sole loss on your record came in 2010 when for the first time you left Canada and fought in France, losing a relatively close decision to then-WBA interim champion Souleymane M'Baye. Looking back on that fight, what are your thoughts and can you tell us about the experience of fighting away from home and how it helped in the Perez fight?

AD - A lot of mistakes were made when I was preparing for that fight. I'm not making any excuses but I should have made the necessary changes at the time. I have learned from my mistakes and I'm glad it happened then so I can make sure it never happens again. Fighting away from home is always harder. In Paris, I was out of my comfort zone for the first time and it took away my focus, which I didn't let happen in the Perez fight.

AW - How did you first become interested in boxing?

AD - Being from Montreal, you have to play hockey but once I realized I was too small, I decided to take up something else. My stepdad, who was a former fighter, introduced me to boxing. The rest is history.

AW - What is your life like away from boxing?

AD - I have a beautiful wife and two amazing children and whenever I have any extra time, I like to dabble in real estate.

AW – Finally, do you have a message for the welterweight division?

AD -

I will have a chance to not only establish myself as one of the best welterweights but as one of the good fighters in the game right now. There's lot of tremendous fighters out there but it takes a special type of character to jump in the dragon's den and succeed, even in front of 60,000 angry fans. I'm fighting the number one contender and I'm super excited yet very confident I will come back successfully to Montreal with the reputation of the best road warrior.
Please visit our Facebook fan page at www.facebook.com/MaxBoxing, where you can discuss our content with Maxboxing readers as well as chime in via our fully interactive article comments sections.