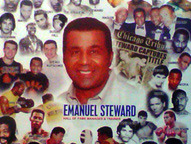 --


As most of you know, I spent this past weekend covering the junior welterweight unification bout between Tim Bradley and Devon Alexander at the Silverdome in Pontiac, Michigan. The fight itself didn't live up to expectations but the trip overall was quite memorable and fun. Here is my account of what took place in Motown...

8:55 AM: I woke up after a good night's rest. I had gotten in last night and was able to secure a ride from the Detroit airport (which, by the way, is quite nice) and is the only one I've ever seen that had a bar and lounge at the baggage claim area. So after picking up my luggage, I was able to eat and grab a drink while I waited for my ride. Thursday night, I went to the media dinner and then did an interview for "On the Grind Radio" while sitting in the front lobby of the Auburn Hills Marriott.

As I got out of bed, first thing I did was call Emanuel Steward, who is synonymous with this city and its boxing history. He was in town as he was calling the action for HBO Sports. Currently, he is situated in Florida training Miguel Cotto. We had talked in previous weeks about him showing me around the Kronk Gym (what he calls "that raggedy little place") and we make plans to meet up later.

9:18 AM: Matt Swider, who would be joining me for this excursion from Florida, texts me, "The snow on the ground in Philly is amazing." Folks, there is plenty of the white stuff here in Pontiac; trust me. And it's cold. While the natives might be used to it, Mr. Shorts and Sandals isn't. I bought over $150 worth of Under Armour gear so I could brave the elements. Throughout my trip here, I'm more bundled up than that little kid in "A Christmas Story."

9:25 AM: I buzz publicist "Fearless" Fred Sternburg, asking about transportation to the weigh-in at the Silverdome. He tells me that a shuttle will be taking the media up there at 2:30. Honestly, you've seen one weigh-in, you've basically seen them all. However, I am curious to see if the Silverdome has been spruced up or not. I wonder if the ghosts of Bennie Blades and Lomas Brown will be floating around.

12:49 PM: The Swider-Man has arrived and we go to a nearby Italian place, Papa Vino's (which was given a bad review by Italian food snob Sternburg) but I actually enjoy my eggplant parmesan and the sausage and pepper pizza that we split. Yeah, I'm loading up the carbs this weekend. Hey, it's for all the body heat I'm going to need. As we walk back, we notice that a strip mall across the way has a Dairy Queen. Seriously, how much business can a DQ do in weather like this? Who wants a "Blizzard" during a blizzard?
2:24 PM: We're loaded up on the media shuttle and soon we can see the Silverdome in our sights. As promised, it's just a few minutes from the hotel but then, for some reason, our shuttle driver, instead of continuing to go up Opdyke Road to Featherstone Road, accidently goes onto a freeway. Eventually, we made a complete circle and we are back to the Marriott. Lucky for us- and the driver- a photographer has a GPS unit on his iPhone and he navigates the rest of the trip.
2:45 PM: As we drive closer to the Silverdome, which definitely could've used a new coat of paint- in 1999- Swider says with a laugh, "This is the worst venue we've ever been to." Swider, who I featured in a column last year, went to all three of Top Rank's stadium events in 2010 and regularly travels to big fights across the country.
3:08 PM: As we get inside this big room overlooking the stadium, you see things being set up for the fight. The thing you notice immediately is that this joint is old. Real old. Swider- who has a million quips- says, "They didn't even put lipstick on the pig." Yeah, this is Revlon-free venue. As I see the surroundings, I ask a boxing insider, "Is this what boxing has been reduced to?" His reply was, "Well, when Gary Shaw promotes it, it's reduced to this. When Bob Arum promotes it, it's reduced to Dallas Cowboy Stadium." Can't argue with that.
Later on, I see Larry Merchant of HBO, who tells me that guys like Ali, Foreman and Frazier fought in exotic locales and this wasn't all that unusual. I'm actually taken aback by this because it's almost as if he's trying to make some sort of comparison to the "Rumble in the Jungle" and the "Thrilla in Manila." Yeah, I mean, those fights were international events; they had promoters that actually went out long before the fights happened, really worked the event and those promotions were highly successful. Uh, yeah…other than that, I guess it's identical. He does make one comparison I don't completely disagree with, Shelby, Montana. Of course, that city was bankrupted after the fight they staged, Jack Dempsey vs. Tommy Gibbons. Here, this city was already in dire straits long before Bradley-Alexander.
3:33 PM: A coin toss is held to see who would enter the ring last tomorrow night as both Bradley and Alexander hold titles. Alexander wins the toss and get the honors. As I run into Corey Erdman, who is covering the fight for Sirius Radio, he says the most ironic sign in the Silverdome is the one near the old JumboTron for the History Channel. Having been at Cowboys Stadium twice last year, I can honestly say that this is the opposite end of the spectrum in almost every way. As I mill around, I see a couple of old Kronk fighters, William "Caveman" Lee and Milton McCrory. I recognize them because they have Kronk letterman jackets with their names on them.
3:55 PM: Steward arrives a bit late to the weigh-in and he tells me, "I wouldn't be here if I wasn't taking you around." As Steward, Matt and I walk out to his car, we look around and still can't believe this fight ended up here. "This here," Steward says, authoritatively, "is a Kronk town." Soon, we are on our way to the heart of Detroit. We pass through cities like Birmingham and Southfield, which are well-kept. Later on, I see an exit for 8 Mile Road (which we pass quickly). While driving, Steward explains that where he is taking us isn't the original Kronk Gym but a facility that is just being used temporarily before moving into a bigger building (currently under construction), ultimately serving as the "last" version of Kronk.
4:45 PM: We get to the gym and you see a sign that reads "Kronk Gym," which stands right on the street like any other storefront business would on Warren Ave. As I walk in, my glasses fog up immediately. As Steward walks in, he is greeted like royalty. It's a pleasant surprise for those present that did not expect him to drop by today. There has to be a difference of at least 50 degrees from the outside climate to that in the gym and if you're bundled up like I was, you start to sweat yourself. The thing I notice immediately is that there are a lot of young kids who are in there working out. Steward tells us, "That's nothing. You should see it before a tournament or a big fight; we got all sorts of people in here."
4:59 PM: Soon, we are going through the Dearborn area and the Muslim presence is very noticeable. A lot of the local businesses have Arabic signage. As Steward kept driving, you start to see more and more abandoned and dilapidated buildings and boarded-up homes that were long ago left by their inhabitants. It's one thing to read about it or see it on TV; it's quite another to see it up close and personal. It's pretty damn depressing. Steward believes that these areas should be all torn down soon and developed for condominiums or businesses.
5:06 PM: We drop by the original Kronk on McGraw and 33rd Street. It's no longer open but Steward says that the city might give them back this structure. What's surprising to him is that if you walked inside right now, you'd see no significant water damage or any structural decline. He says that it looks just like it did when that gym was still functioning. I actually get out of the car and take a photo of the building, which still has a sign that reads, "Kronk Center, Recreation Dept. City of Detroit, Mayor Kwame M. Kilpatrick" (Yeah, the infamous "Hip-Hop Mayor," who shamed the city a few years back). I get snow all over my shoes.
5:18 PM: Now, this was an unexpected surprise; Steward takes us on a guided trip through the city. We pass the Joe Louis and Cobo Arena (which, if Bradley-Alexander was really about helping out the city and reviving this market, would have been a more ideal setting) and then the Motor City Casino. This area looks just like any other big metropolitan area; it certainly doesn't look like a third-world country. Get this, folks; it's actually quite opulent, believe it or not. Steward takes us to where Ford Field and Comerica Park stand. He says that with "the yuppie money coming in" that he believes, within a decade, the city has a chance for a revival.
As Steward drives, I ask him if, like many other African-Americans of the past, he came to Detroit from the South. He explained he originally hailed from West Virginia (which explains his distinctive drawl) and that he moved out here with his mother after his parents separated. Steward was an accomplished amateur, winning the prestigious Chicago Golden Gloves tournament in the early '60s. He said that he nearly turned pro under the guidance of Eddie Futch but with that $50,000 bonus, he'd be obligated to move out west. It was obviously something Steward wasn't willing to do, as he would be separated from his mother and sisters, whom he supported. Soon, he started a successful career working for Detroit Edison. The man had an interesting life, long before Thomas Hearns and the Kronk.
5:32 PM: Nature called and we all had to go to the restroom, so Manny takes us to the valet section of the MGM Grand. Folks, I'll say this right now; this version is bigger and better than the one in Las Vegas, no lie. And get this; there is a lot of activity on the slots and tables. For a region that is thought to be so poor, well, they obviously still like to roll the dice. Like many other places in this city, Steward is still highly recognizable. As we walk up to the casino entrance where ID is checked, Steward is let in immediately by the guard who talks boxing with him. Since I follow right behind him, he says, "You're OK, too." The guard knew his boxing, especially the fights that involved Kronk boxers like Hilmer Kenty, who was their first world champion (Unfortunately, he had no clue of the fight taking place the next night, which is telling).
As much as Detroit is associated with the Tigers, Red Wings, Pistons and Lions, Kronk should never be forgotten as another major league franchise that was a great source of pride to the city. When you saw those yellow boxing trunks, with the blue and white trim, with that familiar looking guy in the corner, you knew where those guys came from.
While he were headed to Steward's house, he regaled us with some great stories of what happened prior to certain fights. It's fascinating to learn why Hearns came in soooo light in his first encounter with Sugar Ray Leonard. The insinuation that Steward overtrained his man for that battle bothers him greatly. The man can tell a story and he has a million of 'em. Honestly, this was like going to school. This is where you really learn the business and the game of boxing and Emanuel loves to do this. If you love boxing and know something about it, he is incredibly gracious with his time. He is clearly among the best ambassadors the sport has.
5:53 PM: We roll into Steward's neighborhood, Rosedale Park, and it's an area where he owns several properties. Before we get to his house, he stops and says, "This place right here, this is where Pernell Whitaker, Mark Breland and Meldrick Taylor all stayed before the '84 Olympics. They trained with me at the Kronk." About five houses down, we get to his house and one of the first things you notice is that it's well protected. He has at least ten monitors inside his home that are hooked up to surveillance cameras. You'd have to be a ninja to sneak in here. He says he forked out more to renovate and improve this property than what he originally paid for it back in 1979.
This is where Andy Lee, his nephew and Steward stay while in Detroit. Basically, it's like a boxing dormitory and many other boxers have stayed here in the past. If these walls could talk. This was where Hearns stayed sometimes while training in Detroit. Steward showed us the custom-made sauna (for his sinus condition) and bath-Jacuzzi that he installed just for the "Hitman." All over, there is boxing memorabilia featuring him and his boxers. There is even one plaque given in Steward's honor for his work with Detroit Edison, which has a photo of him on top of a telephone line getting to work. "This is nothing. I got a bunch of stuff in my other places, too." We suggest that if he ever gets the original Kronk building back, he should start a museum based around the famous gym and its history. Steward doesn't think it's the worst idea he's ever heard.
Upstairs is Lee's room, which is very simple, except for a big flat-screen television where he watches fight videos. Honestly, to be a part of this fraternity, you'd better like watching old tapes of fights because that's basically what they do in their free time, outside of a few poker games. There is a brand new Kronk letterman jacket. "Guess who this is for?" It reads "Hayden" on the front. I still draw a blank. "It's for Wladimir's girlfriend, that actress [Hayden Panettiere]. Wladimir said she wanted one." Matt and I get Kronk t-shirts. I wanted one of the famous yellow ones but he didn't have any XXL's left. However, I'm happy with the white one I got (but I will keep bugging Manny for a yellow one, trust me) and, fans, yes, Steward says he plans to start selling his Kronk gear online soon.
6:28 PM: Steward comes downstairs with a DVD. It happens to be a sparring session between James Toney and Gerald McClellan from June 5th, 1990 that he had just discovered. Folks, this was a hidden gem that Steward didn't even know existed till recently. "Look at what they're doing," said Steward, describing this high-class technical work. "Look at that feinting, both guys trying to neutralize each other, rolling and slipping. See, nobody really dominated our gym; we had too many good guys. If you couldn't do all these things, you couldn't box at our gym. I wouldn't let you." He said in all his years, hardly anybody ever got hurt or knocked down at the Kronk despite its fearsome reputation. "Everybody was too good and skilled." The action is brisk and heated but, above all, classy. There are people who would pay good money to see this. Steward laughs when I tell him this and says, "I know, I know."
Later we see an 18-year-old Oba Carr getting to work. Based on this, you would've thought he was certainly Kronk's next champion but eventually, he left the gym with his father, having a dispute with Steward over...what else? Money. We are also shown a sparring session in Reno between Hearns and Mike McCallum, who likes to tell anyone that Steward would never let them work together. "That wasn't true," said Steward, irritated by the mere thought. "Now, Tommy wasn't a good gym fighter; no doubt about that but nobody handled Tommy, ever." What's striking about this is that it takes place in a big ballroom at the Harrah's with the public invited. See if that would ever happen nowadays.
As the sparring sessions from the Kronk played on Steward's big screen, he explained, "See that red door? See, you had to be world champion or Olympic gold medalist to even walk through that door and use that dressing room. If not, you used the regular one." Also, regarding the Kronk paraphernalia that became so iconic, it was a special rite of passage and honor to have Steward give you a training shirt that identified you as a world champion, like the one Hearns wore as he sparred McCallum.
Steward goes upstairs again and then comes back with a VHS that he has to plug into one of those old portable combination television-VHS players. It's an amateur bout between Ricky Womack and Cuban Pablo Romero from a dual meet between the US and Cuba before the 1984 Olympics at the LA Sports Arena. And to tell you how much times have changed, it's on ABC (with Howard Cosell on the call) in front of a sizable audience. Womack was trained by Steward. "I beat the Cuban's ass," said Steward proudly. He says he and his boxers were never intimidated one bit by the Cubans' amateur pedigrees. The work they got in the gym with world champions prepared them to deal with Cubans easily. Womack stopped Romero in one round with three knockdowns. "Look at the last right hand, just real short, right from here," said Steward, a huge believer in hand placement and starting punches from the correct distance with proper spacing. He hates how today's amateurs are trained to have their hands up like earmuffs and throw shoeshine combinations.
7:22 PM: As we pull out of his home and around the block, he points out that Diana Ross lived across the street. Just a couple of houses down, he met Leon Spinks back in the day and that's how he came to manage him for a short spell (I think, back then, everybody managed Spinks for at least two weeks). Steward told this story of how Leon, never the most disciplined guy, was blasting his music loudly late into the night. "I mean, the whole damn house was shaking from the vibrations," recalled Steward, "so I went over there to tell him and he says, 'You can hear the music?' I said, 'Leon, it felt like my house was about to fall down.'"
7:46 PM: Now we're at Cameron's Steakhouse and, once again, Steward is recognized by more than just a few folks. As we sit at the bar, I see Bradley's manager, Cameron Dunkin, and attorney, Mike Miller, eating dinner at a table. They're surprised to see me and I tell them I spent most of the day with Steward. "Really?" said Dunkin. "Lucky you." And he said that in all their years in the sport, he had never really gotten to talk to him, which I found amazing. As I got back to Steward and Swider, I told Steward that Dunkin was here. Manny, without pause, says, "Y' know, I've never really talked to him; I'm gonna go over there," and he was there for a good 45 minutes getting acquainted. We all had steaks and a good time is had by all.
As Steward drives us back to the hotel, he talks of his decision to get into boxing full-time, despite moving up the ranks at Detroit Edison. Bottom line, between his full-time gig and shepherding kids to tournaments on the weekends, he was stretching himself too thin. The man loves boxing; no doubt about that. He'll be a boxing guy till the day he dies. This was one of the reasons I came to this fight in Pontiac, for the off chance that perhaps I could see the famed Kronk and get a feel for the city that has become the seminal example of today's current economic climate in our country. Steward made this happen. For that, I am forever indebted to him.
10:22 PM: Swider and I are back in our room and we decide to watch the Josesito Lopez-Mike Dallas Jr. fight and then head downstairs to the bar. Only problem is, we were both a bit more tired than we realized and we both ended up taking a nap. A long nap. So long that, basically, every time I happened to wake up for a quick spell, somebody was getting knocked out on ESPN2, it seemed.
11:55 PM: I finally come around and decide to head down. Matt says he'll meet me there later (he doesn't as he's beat by the jet lag) and the various folks in the boxing industry are milling around. It's last call at 11:30, I found out, and we had to pull a few strings to get me a Guinness on tap. Later, as most everyone clears out, it's just Alec Kohut of Maxboxing (who made a 12-hour drive from Buffalo), Erdman, and his friend from a Toronto paper, Morgan Campbell. We find a loophole in the last-call rule, as the gift shop has beers for five bucks a bottle. Kohut starts buying beers by the handful and we start talking boxing late into the night. It's a rather spirited debate and I have to say, Kohut, who was a tad buzzed- to say the least- is a funny guy.
The most memorable moment came when this guy joined our conversation- a gentleman I had seen at the weigh-in who couldn't believe this fight was placed at the Silverdome- and talked about how he works in the sports industry as a consultant and was doing some business with Don King. He said he was pitching a pay-per-view NASCAR race through the desert (or something like that) in the middle of the night from Los Angeles to Las Vegas (Wasn't that the plot of Cannonball Run, by the way?). OK, I'll admit, the details are hazy, as I had a few gift shop beers by now, but Alec, who wasn't holding back at this point, says to this guy, "Excuse me, but if you don't mind my honesty, but that's the stupidest Goddamn idea I've ever heard of. Who the hell is going to buy that?!"
The look on the guy's face was priceless and they started going back and forth with each other for a few minutes. Finally, they just agreed to disagree. This may have been the best exchange I witnessed all weekend but I certainly give Kohut the decision here.
3:01 AM: I go up to my room and Matt is still laid out. Meanwhile, the snow is coming down like crazy…