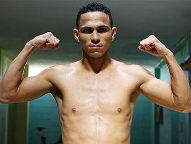 Darley Perez


Friday night sees the latest installment of "ShoBox: The New Generation" pit Ali Chebah against Ajose Olesegun in a WBC title eliminator while the chief support bout features unbeaten Darley Perez against fringe contender Oscar Meza. Perez, 28, is looking to extend his unbeaten run from 22-0 (17) in his fourth fight on American soil since debuting in early 2009. Previously, Meza has fought Filipino contender Mercito Gesta and current WBA lightweight champion Brandon Rios, both stopping him in four and five rounds, respectively. The opportunity to fight on "ShoBox" isn't lost on his trainer, Danny Zamora, who recently told Showtime, "This is a great opportunity for Darley to be on 'ShoBox,'" before adding that another of his fighters, Yonnhy Perez, used the opportunity as a similar springboard. "[Perez] knows that's how Yonnhy started, on 'ShoBox' and from there, to Showtime [Championship Boxing] and he became a world champion." The fast-rising Colombian is already rated by three of the top four sanctioning bodies, number five by the WBA while both the IBF and WBO have him ranked at number 12.
Anson Wainwright – Firstly, you're fighting Oscar Meza next. What can you tell us about this fight and what do you know about him? What can we expect from you in this fight?


Darley Perez - I don't know much about him. He has lots of fights so I know he has some type of experience…You can expect a very hungry fighter who wants to show the world that I am one of the top fighters in my weight category.

AW -

How would you describe your fighting style? What are your strengths and what areas are you looking to improve in your game?
DP - I believe I am an all-around fighter. My strengths are I am fast and powerful. I would like to improve on my head movement.

AW -

Can you tell us about your team? Also, where do you train in Columbia and America?
DP – My Promoters are Thompson Promotions and Gary Shaw. My manager is Billy Chams and my trainers are Orlando Pineda and Danny Zamora. I train at the Quadrilatero in Baranquilla, Colombia and at Santa Fe Springs Boxing Club.

AW -

You had a successful amateur career in which you represented your country at the 2008 Olympics. Can you tell us about this and what it meant to you? Also what tournaments and national titles did you win? Did you fight any guys in the amateurs who are now in the pros and if so, can you tell us about some of them and how the fights went? What was your final record in the amateurs?
DP - It was a great honour to represent your country in the Olympics and see all the athletes and China. I won the 2007 Pan American Games, 2006 South American Games and six national titles. My amateur record is 220-15.

AW -

Like you, several members of the Colombian team from the 2008 Olympics have fought often and developed quickly. Can you tell us about some of your countrymen who could perhaps follow you and fight in America in the near future?
DP - My teammates on my team who will be coming to the States are Jonatan Romero (a featherweight who's 18-0 (11)) and Daulis Prescott (younger brother of Breidis Prescott and featherweight who's currently 23-0 (17)).

AW -

Many fighters from South America have a tough upbringing. Could you tell us a little about how things were for you in San Pedro de Uraba?
DP - In San Pedro de Uraba, we had a great upbringing with my parents and family. I loved playing soccer and baseball, then war between military and the rebels started then things were scary. We had to move around a lot.

AW -

How did you first become interested in boxing?
DP - I was 14 and I was getting beat up in school so I went to a local gym so I can learn how to defend myself.

AW -

You've moved relatively quickly as a pro so far, having turned over less than two years ago. Can you tell us about how you have found the pros so far? How far do you think you are from fighting for a world title?
DP - I love the pros. It fits my style. I am a calm fighter and I just love the atmosphere. I think I am ready now but that is for my promoters to get me the fight and I will be ready.

AW -

Can you tell us a little about yourself as a person and your life away from boxing?
DP - I am very laidback. I like watching movies and listening to music and spending time with my girlfriend and my two sons, Alexander and Dayen Jose.

AW -

What boxers did you like when you were growing up and who do you like to watch today?
DP - I liked Oscar de la Hoya and now [Floyd] Mayweather and Manny [Pacquiao].

AW -

What are your goals in boxing?
DP - To become a world champion and to represent Colombia the best I can and to be a role model to our youth.

AW –

Finally, do you have a message for the lightweight division?
DP - That I have arrived to the USA and I am ready to be a world champion in the super featherweight or lightweight division.