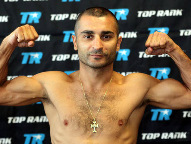 (Photo © Chris Farina / Top Rank)


Despite getting knocked out by Nonito Donaire in their initial encounter back in the summer of 2007, Vic Darchinyan doesn't seem to be all that impressed with the "Filipino Flash" heading into their rematch this weekend in Corpus Christi, Texas (HBO, 9:30 p.m., ET/PT) at the American Bank Center. Forget all of Donaire's lofty accomplishments; Darchinyan still doesn't see what the fuss is all about.
"I've been in the ring with him and honestly, I know he was 'Fighter of the Year' [in 2012] but he's too much overrated. I want to prove to everyone he's too much overrated and I will do it," he said confidently in his distinctive Armenian accent. "You will see; I'm just coming to destroy him and show he's too much overrated. He should not be like that; y' know?"
Well, perhaps Donaire wouldn't have been had he not stopped Darchinyan on the night of July 7, 2007 in Bridgeport, Connecticut. When asked if he overlooked the then-unknown Donaire, Darchinyan explained to Maxboxing, "I didn't even know who I'm fighting and it was the same day, the birth of my son. I was not even concentrating on who I'm fighting. I just come and when they told me it was the same day, I said, 'I want it as soon as possible to knock him out and go back.' That's what was in my mind and I'm telling you, I didn't even know who I'm fighting. I just wanted to make weight, get the fight, quick knockout and go home. But what happened was better for me because at the time, no one wanted to fight me. After that loss, all the champions want to fight me and I became Undisputed World Champion inside one year."

Darchinyan is correct. After handing over the IBF flyweight title to Donaire, he then moved up to junior bantamweight and basically consolidated that division by stopping Dmitry Kirilov in five for the IBF strap. He then bludgeoned Cristian Mijares in nine for the WBA and WBC belts. He capped off this strong run by halting Jorge Arce at the beginning of 2009 while Donaire's career stuttered for a few years.
"When I come back and knock [Donaire] out, everyone will know. He's no one. And I will be back on the map," stated Darchinyan, who has a career mark of 39-5-1 (28).

Back in 2008 and 2009, there was plenty of interest in a rematch between the two but because Donaire bolted from Gary Shaw Productions for Top Rank Promotions, Shaw nixed any mention of a return bout at the time.
"The Raging Bull" as Darchinyan is called - with all due respect to Jake LaMotta, of course - has had one of the most productive and colorful careers of this era. Unlike a lot of fighters who hide behind their promoters and managers, Darchinyan is truly a boxer who will take on all comers, anytime, anyplace, anywhere, fighting in all corners of America and the likes of Armenia, Australia and Japan. It still takes a world-class performer to defeat him (Joseph Agbeko, Abner Mares, Anselmo Moreno and Shinsuke Yamanaka) and he's still good enough to down the likes of Yonnhy Perez and net a career-reviving victory over Luis Del Valle last year.
He became a free agent at the beginning of the year and signed a managerial pact with the respected Frank Espinoza, who was given a clear directive: cut a deal with Top Rank and get that rematch with Donaire.
"[Darchinyan] made that a point," Espinoza told Maxboxing. "He wanted the rematch. The only fight he was looking for was redemption with Donaire. When he first became available, I was very excited. I've always been a fan of Vic and so when he was looking for representation, I immediately jumped at the opportunity to work with him. It's always easier to manage a fighter who is not only good but is willing to fight anyone."
Despite his overwhelming confidence, Darchinyan is listed as high as a 12-to-one underdog this weekend. The reality is Darchinyan is no longer in his physical prime and his track record above 118 pounds is spotty at best.
"I think he has a good shot," said a hopeful Espinoza. "I really do. I think that he brings a lot of aggression. He brings punching power and you know as well as I do that it only takes one punch and he also brings mental strength. You won't ever intimidate Vic. He's very focused on this fight."
If anyone should know that one punch can turn the tide of a fight and career, it's Darchinyan, who was felled by a counter-left hook in the fifth round the first time he faced Donaire. And this reporter asked him a rather silly - and obvious - question: Did you see that punch?
"Of course I didn't see the punch. If I could see the punch, he wouldn't knock me out," he answered defiantly. "I was blind. If you remember, my right hand is in front of my face at the same time I was going for big hook with left. I was dropping at the same time my right and the punch came exactly after my right behind my right. I didn't see the punch."
And with that, Donaire's career was launched. In essence, he was created on this night with Darchinyan's help.
"That was my point all these years/ I made you; now I'm going to break you. I've said this. I made him; he was no one. Every fight he was in, they mention my name, 'He beat Vic Darchinyan; he knocked out Darchinyan.' If you check the fight, you can see I'm not taking him serious. I'm dropping my hands and the round where I catch punch from him, I went to knock him out and I jumped into a punch. He just hooked me when I was jumping on him, y' know? And that's what happened.
GGG on HBO

Is Gennady Golovkin, who stopped Curtis Stevens in eight frames this past weekend, a star? Well, maybe not just yet but it's clear he has really come a long way from September of last year when he first appeared on HBO. His rating this Saturday night was very strong according to the Nielsen Media Research:
HBO's telecast of Gennady Golovkin vs. Curtis Stevens on Saturday night from New York attracted 1,410,000 viewers, according to Nielsen Media Research. That's 29% above Golovkin's bout with Matthew Macklin (1,097,000 viewers) on June 29 and ranks as HBO's & cable's third most watched boxing match this year (trailing only the HBO telecasts of: Cotto vs. Rodriguez 1,555,000 viewers and Chavez Jr. vs. Vera 1,416,000 viewers). Golovkin vs. Stevens peaked at 1,566,000 viewers on HBO Saturday night.


To put this into perspective, Golovkins' first bout (against Grzegorz Proksa) on HBO had an audience of 685,000. Then his fight against Gabriel Rosado had 813,000 and the Matthew Macklin broadcast had 1.1 million viewers.

2013 has been a very productive one for "GGG."
Here's the latest episode of "The Next Round" hosted by Gabe Montoya and Yours Truly:
http://www.blogtalkradio.com/thenextround/2013/11/05/the-next-round-episode-456


INCOGNITO FLURRIES

Golden Boy Promotions CEO Richard Schaefer told Maxboxing via email on Tuesday morning that they have February 15th booked for a card at the Staples Center...Look for the promising junior welterweight prospect Antonio Orozco to return on January 6th on a Fox Sports 1 telecast...Here's the official tally from the NSAC for the Tim Bradley-Juan Manuel Marquez fight that took place on October 12th in Las Vegas: Gate - $2,998,950
Sold tickets – 10,683
Comp tickets – 1,370
Unsold tickets – 5,649...Well, there's a whole new meaning to the phrase "going Incognito"; isn't there?...Miami football just won't be the same without Duke Johnson. He will be missed...Can Stanford slow down Oregon for the second year in a row?...I can be reached at
k9kim@yahoo.com
and I tweet at
www.twitter.com/stevemaxboxing
. We also have a Facebook fan page at
www.facebook.com/MaxBoxing
, where you can discuss our content with Maxboxing readers as well as chime in via our fully interactive article comments sections.