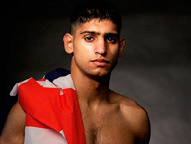 --


The Amir Khan fight Golden Boy Promotions is giving you on Saturday, live from the Mandalay Bay in Las Vegas, NV, is not the one they wanted to give you. That would be the much anticipated rematch with

Lamont Peterson

for two belts and all the marbles. But Peterson requested Khan join him in participating in the Voluntary Anti-Doping Agency's (VADA) anti-doping program. The company's signature is that they use Carbon Isotope Ratio (CIR) testing as part of their initial screen test 100% of the time, unlike any other agency. That test's sole purpose is to detect a popular drug known as synthetic testosterone. It was this test that detected synthetic testosterone in Lamont Peterson's system thus killing the fight. Incidentally, for this fight, Golden Boy opted to use the United States Anti-Doping Agency for testing along with Nevada's commission. I'd tell you why but the promotional firm has banned me from all Golden Boy events including conference calls, fights, phone calls and emails. It's a long story.
No, the fight Golden Boy is giving you is a survival move. An odd compromise between what looks like a silent partnership between the Golden Boys Oscar De la Hoya and Richard Schaefer and arguably the best manager/adviser/guru/revolutionary in the game, Al Haymon. If this thing was on Showtime, then we'd be talking about the third head on the Golden
Ghidorah, Stephen Espinoza. But this one is on HBO live at 11 p.m., ET so I'll just wonder what the play is here internally between Schaefer and Haymon.

You have to ask yourself what the end game is.
Garcia just won his title in March in a harder than expected fight with the "Fat Elvis" version of

Erik Morales

. Why cash him out so soon to Khan, who despite being only one year older than Garcia, has infinitely more experience (not to mention superior speed and better technique on the outside where this fight will be fought)? Since April of 2011, Garcia has increasingly stepped up in competition from Nate Campbell to Kendall Holt and then Morales. Against Morales and Campbell, he had his toughest fights. To his credit, he handled the speed and power of Holt effectively. There were no real scary moments for Garcia in that fight.
Khan is getting a chance to fight for his former WBA belt because Peterson, before he hired lawyers who watched what he said in public, admitted he took synthetic testosterone prescribed by Dr. John A. Thompson of the Desert Oasis Clinic in Las Vegas, NV prior to their December of 2011 fight. The WBA sanctioned the Garcia fight. The IBF received word this week, as reported by

Ringtv.com

's Lem Satterfield, on Peterson's medical records and regarding his positive test. A final ruling on his IBF belt's status is yet to come but Khan, however disadvantaged by whatever levels of testosterone were in Peterson's system, lost that fight on an inability to keep the fight long range and with a lack of inside game. For his lead up to the rematch with Peterson, Khan said he was working intensely on the inside game flaw. He'll need it against Garcia who is competent in a phone booth.
Which winner is the most beneficial?
Khan, as class a guy as I have found him personally, leaves fans hot and cold. He can come off cocky for a guy not known as a knockout puncher. Let's face it; in a post-9/11 world, it's hard out there for an articulate Pakistani fighter with a smart British accent. It just is. And even though he has 18 knockouts against 26 wins and two losses, we don't think of Khan as a murderous puncher.
Garcia has yet to truly define himself in the ring and in the court of public opinion. He is a bit of an enigma. A friendly fighter with an easy smile, Garcia came off confident in L.A. to announce the fight.
Khan had an air of indignation, almost entitlement.
And therein lies another question or variation on the original question posed: Who has more upside?
Khan is an OK puncher with exceptional speed and a high ring I.Q. He is 25 with a lot of high level experience, having fought Peterson, Marco Antonio Barrera, Zab Judah, Marcos Maidana, Andriy Kotelnik and current welterweight titleholder Paulie Malignaggi, whom he dominated. Win or lose, love him or loathe him, Khan brings it and he has most of the goods. But this is his third time in Vegas and the third time Golden Boy and the host hotel are offering 50% discounts. Khan has fought once in New York and did OK. Reports out of his fight with Peterson in Washington, DC were solid. Clearly, his home is where he should be fighting since he draws well and easily out there.
Garcia has fought the shell that houses Erik Morales' soul, Holt, Mike Arnaoutis and Campbell. His Ashley Theophane win is also a very respectable one. He is a personable guy from Philly who has fought there three times in 23 wins, 14 knockouts and no losses. I don't know what they are building other than a fighter no one at home is used to going to see.
Khan has been sold as a superstar (even though he doesn't draw in the U.S.) in line to face Floyd Mayweather Jr. (though Floyd just fought at 154 and Khan is still fighting at 140).
Garcia is not really billed to be facing anyone but Khan as a late replacement. It's safe to say his outspoken father and trainer has been more memorable leading up to this fight.
So who should win? Who benefits boxing more? And how does it play out getting there?
Khan is a straight puncher with more speed than power. His footwork is solid and he can get alongside you and rip his left hook painfully to the body.
Garcia is not great at anything but solid at a lot of things. Good inside, nice distance game is a little wider with his elbow placement and punching arc. Morales buzzed him a bit late but that might have been more fatigue than a weak chin. He hasn't really had much problem taking it at the top level but again, he hasn't faced a monster puncher other than Holt. He won't have that problem Saturday either. If he can handle the speed and do good work inside, he can mimic Peterson's Plan C and rough up Khan.
Whomever it benefits, it doesn't matter. Khan will show his superior experience and technique en route to a unanimous decision.
Golden Boy and Al Haymon will walk out sharing a winner just the way Don King used to do.
While Peterson's tested positive for synthetic testosterone, ending any chance of a lucrative, exciting rematch fight fans on at least two continents wanted to see, Garcia-Khan has tested negative for buzz.
On Saturday, boxing will have yet another fight that could have been built Ford-tough in an appropriate region placed in Las Vegas where it doesn't belong. A Pakistani Brit facing a Puerto Rican Philly fighter in Las Vegas for two belts and all the empty seats you can eat. Live on HBO.
Who does any of this benefit? You tell me.
You can email Gabriel at maxgmontoya@gmail.com, follow him on Twitter at www.twitter.com/gabriel_montoya and catch him every Monday on "The Next Round" with Steve Kim. You can also tune in to hear him and co-host David Duenez live on the BlogTalk radio show

Leave-It-In-The-Ring.com

, Thursdays at 5-8 PM PST. Gabriel is a full member of the Boxing Writers Association of America.