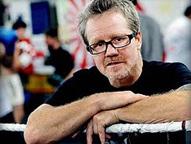 --


For the past week or two, noted trainer Freddie Roach has not been at his familiar haunts of the Wild Card Boxing Club in Hollywood, California. Instead, he has gone south of the border to Mexico to train Julio Cesar Chavez Jr., who takes on Billy Lyell in Culiacan on January 29th.

"Mexico's great; Chavez is doing really well, "Roach told Maxboxing on Monday evening."We're in Sinaloa and he boxed eight really hard rounds today, did very well. I'm very happy with where he's at."

Roach admits he wasn't thrilled with having to go to Chavez. When this union was formed, the plan was for Chavez Jr. to come to the Wild Card and soak up the professional atmosphere that may not have existed before.

"Well, I was just wondering why we didn't do it at the Wild Card," the trainer admitted. "Since he's fighting here in Sinaloa, it's just three weeks and I had time to go away, so it wasn't terrible. They showed me that there was no danger and I have a bodyguard with me at all times- just in case."

As long as Roach doesn't get involved with any drug cartels, he should be OK. But overall, he is enjoying himself in Mexico. "I went to the beach yesterday and I had a real nice time there. It's fun. Sinaloa is a lot bigger than I thought." If there is a nearby Starbucks in the area (which there is), Roach says he will make do.

Strength-and-conditioning coach Alex Ariza went to Mexico beforehand to work with Junior. Roach says from the very beginning of his time there, Chavez was ready to work. "First day, I made him go ten rounds on the mitts. I was going to push him and he went ten rounds, no problem," said Roach, who believes that he sees a new focus in his fighter. "Yeah, I do. The thing is a lot of people were pissed off about that cancellation (on December 4th) but people do get sick and he's training really hard for this fight and he's looking really good in the gym. He wants to get that world title fight. I told him, with an impressive performance, it could be close."
The WBC (which will always be beholden to any Chavez) has greased the skids for this to happen by basically stripping Sergio Martinez of their middleweight title- and giving him "emeritus" status- and naming Sebastian Zbik as their new champion. Chavez is in line to face Zbik later this year.
"I think he's going to have a big year," said Bob Arum, who promotes Chavez. "He's going to fight Billy Lyell at the end of January and then if that works out fine, he's going to fight for the middleweight championship."
With the snafu that was his aborted assignment in Anaheim, Arum was at his wit's end.
"I know he was sick. The question is, why he was getting sick and we think we've solved that problem. That it has to be do with the drastic weight loss and it weakened him and made him susceptible to germs," said Dr. Arum (Of course, many cynics believe Chavez Jr. has an allergy- to hard work).
Like many fans, Arum had had it with Chavez's unreliability and lack of professionalism. But he is hopeful that those issues have been resolved. "I think so," he says. "You never really know but he seems like he's grounded now. And Freddie and Alex are doing a good job with him, so I'm optimistic."
On the other hand, what choice does Arum really have? Being the son of a legend comes with plenty of pressure but also the leverage to bend the rules and be given slack not afforded to other fighters. In Mexico, Chavez Jr. is like an heir to a Kennedy in the States. However, if he can ever put it together, he has a chance to be one of the boxing's brightest stars. More than ever, as fights land in deserted regions like Pontiac, Michigan, boxers like Chavez are at a premium. He has that intangible star power.
"The places in Mexico are offering fantastic amounts of money for him to fight for the middleweight championship. If he wins that, he'll be huge," said Arum.
As for Roach, he makes it clear; he'll make this concession to work with Chavez Jr. one time and one time only.
"Yes, 100-percent yes."
I

n the future, Roach simply won't have the available schedule to make such an excursion. His always-hectic itinerary picks up after this month.



"In the month of February, I'll be with Amir Khan in Los Angeles and the rest of my fighters," said Roach, who will return to Los Angeles on January 30th. "And then me and Amir are going to the Philippines for a couple of weeks. Then we'll be going to England for his fight (on April 16th). He'll go 14 days ahead of time to get acclimated. I'm going to go five days; then I'll meet Manny back in Los Angeles for the final month of training there. So it's going to be all over the world."



In the meantime, he is enjoying the solitude of Mexico.





"It's some down time and I'm reading a book right now. So it's not the worst thing in the world."





TOM AND JERRY





Seeing Don King and Bob Arum yuk it up on the recent Miguel Cotto-Ricardo Mayorga press tour reminded me of when Tom and Jerry, longtime adversaries, suddenly became best friends (Honestly, I liked this cartoon better when they were at each other's throats). But after years of going at it like "Spy vs. Spy," the two rivals now find that they have more in common now than ever before.





Arum says of working again with King on a major promotion, "It's been a pleasure. I mean, did you see this bit we did on Fox Business News? It was hilarious; I haven't had this many laughs in years. I mean, I really enjoyed it. It's fun for both of us."





Here's the thing, would boxing been better off if these two were as magnanimous then as they are now? Beyond that, wouldn't it have been more fun?





"We had fun years ago going after each other. It was a different kind of fun. It's like fighters who are in their prime," explained Arum. "They have fun beating the sh*t outta each other but when they get older, they become buddies and obviously, it's not physical anymore. It's sorta the same thing with Don and myself. And fun then was beating the sh*t outta each other."





In an era overrun with TV packagers and brokers masquerading as promoters, a vintage King (warts and all) is needed in today's business. Believe it or not, Arum agrees.





"Yeah, sure, obviously. Maybe this fight awakening the old memories will give him the old incentive to take a more active role and if that's so, it would certainly be a lot better for the sport than some of these people who call themselves promoters now and are really nothing more than booking agents who don't know how to sell a ticket to an event."





PAC-TIME



It was a mixed bag for HBO Sports this week. One the bright side, they brought back Roy Jones as one of their color commentators. However, after a long-standing relationship with the "Pac-Man," who has developed into a pay-per-view titan, it looks like the network lost the services of Manny Pacquiao to Showtime, which will distribute his May 7th bout against Shane Mosley (Yeah, I think the latter trumps the former in terms of magnitude). Our very own Thomas Hauser has been tracking this development for months and will have a full-fledged, detailed account of just how this went down and all its possible ramifications on Sunday night on Maxboxing/Secondsout.com.



Here are a few random thoughts of mine...



- There's an old saying: "Be careful what you wish for."

Well, I think that applies to the heads of HBO Sports, Ross Greenburg and Kery Davis, who wanted Arum out of their lives. Well, that came to fruition, through their exclusive output deals with Golden Boy Promotions, the favored status of advisor Al Haymon and the smuggling of Floyd Mayweather, years ago. Arum always believed there was a bit of a stacked deck against him and his company. There were times when he had to finance his own pay-per-view shows starring both Pacquiao and Cotto because of the stances taken by HBO (usually to side with Golden Boy).

And I'm just wondering, was the rejection of Vanes Martirosyan by HBO as Cotto's opponent on March 12th the last straw? For a network that had just approved Freddie Hernandez, did their sudden rise in standards and their stance against Arum backfire?





Food for thought.





- I wonder how Mark Taffet, the head of HBO Pay-Per-View, feels about Greenburg and Davis, whose ultimate legacy (during their tenures heading up HBO's boxing division) are all-time low rankings, a plummeting of their brand and, now, the loss of two major pay-per-view franchises in Pacquiao and Cotto to their rivals across the street. Unless Floyd Mayweather Jr. suddenly returns, who is the HBO pay-per-view cash-cow?





I've been told that Taffet earns his bonus through achieving pay-per-view benchmarks. Not sure how that will occur this year.





- Say what you will about Arum but he's the only promoter to have the guts, the resources, the relationships and the wherewithal to make this move. He's had a longstanding friendship with Les Moonves, the head of CBS, and while every other supposed "promoter" takes directions from the premium cable networks- while begging at the doorstep for license fee money- the irascible and pugnacious Arum has never been afraid to risk his own money, put on his own show and do some good ol' fashioned promoting if he doesn't like what the networks are offering. And it was several years ago that he pledged to never again sign one of his fighters to any exclusive long-term deal with any network. This gave him the flexibility to make this move.





- Not sure how far reaching this Top Rank-Showtime-CBS union is. What is known is that CBS will run ads on Pacquiao-Mosley for this fight, which is substantial, along with "Fight Camp 360." But the real question is (and I'm sure Mr. Hauser will touch on this) will this in any way lead to CBS jumping back into boxing? To me, this potential development is bigger than any one Pacquiao fight (because let's face it; his fights could be distributed on PBS and they would move).
- One downside of this new relationship is that it's pretty clear that
Showtime
is now Arum's domain for the most part. HBO will be basically Golden Boy/Haymon which means that the "
Cold War
" that exists between these factions is only going to grow frostier as time goes on, meaning that some of the best fights in boxing will be impossible to make. Then you have Pacquiao (Showtime) and
Mayweather
, whenever he comes back, under the HBO umbrella.
Folks, this could be another version of
Lennox Lewis
and
Mike Tyson
.
I think a good first step would be to have the replay of this bout be on a weekend afternoon on CBS. As a child of the '80s, that's how I got to see fights like Leonard-Hearns I and Pryor-Arguello I, a week or two after they took place on ABC with Howard Cosell's call. Truthfully, pay-per-view, while the most lucrative platform for marquee boxers, is also the smallest stage, from a televised standpoint, in which to perform on.
- Many readers have asked me via Twitter, does this mean all of Top Rank's fights will now be on Showtime? Well, you'd have to think that this deal is, at the very least, a relationship builder. I recall back in 2005 when Top Rank won the purse bid for the Vitali Klitschko-Hasim Rahman fight that they nearly went to Showtime to distribute this fight, as they offered a package that included "Showtime Championship Boxing" and "ShoBox" dates. Would it be out of the realm of possibility to think something similar wasn't in the offing here?
And don't you think it might be a bit tense on the nights of February 19th and March 26th as Top Rank does shows on HBO?
As for any type of exclusivity, I remember in the '90s as Mike Tyson was taken to Showtime from HBO, they basically gave King their whole boxing program and quality control became non-existent, as we were subjected to one Fabrice Tiozzo/Keith Holmes doubleheader after another. I have no problems with longstanding relationships. That's the way the world works in many facets of life but as it relates to boxing programming, exclusivity is dangerous and often damaging.
- I really like what Showtime is doing in 2011. With the additions of Pacquiao and Cotto, they also have the continuation of the "Super Six" and the finals of the bantamweight tournament. The only move I question is the signing of Lucian Bute to an exclusive three-fight deal while the "Super Six" is still going on. But overall, their line-up is strong across the board.
As for HBO, they have some nice fights lined up like Nonito Donaire-Fernando Montiel (a Top Rank fight) but does their future mostly consist of Paul Williams, Andre Berto and Chad Dawson, fighters who have failed to capture the imagination of the public and build any significant following?
- There's no doubt this is a game-changer. The question is, just how much so? This business has needed a shift in the paradigm for quite awhile and Showtime has suddenly gotten itself into the ballgame.
CHAMPIONSHIP GAME FLURRIES
It was made official today; on March 5th, as the HBO opener before Saul Alvarez faces Matthew Hatton at the Honda Center in Anaheim, California, Adrian Broner will take on Daniel Ponce de Leon...The proposed bout between Juan Manuel Marquez and Erik Morales isn't completely dead but if it is, one name that could face Marquez on April 9th is Robert Guerrero. Here's the thing; it's a nice fight but is it really worthy of pay-per-view? Yeah, "El Terrible" is faded but he is still highly recognizable…On April 8th at the Bell Centre in Montreal, a WBC middleweight elimination bout between David Lemieux (the next big-gate attraction in Montreal) will take on Marco Antonio Rubio...InterBox won the purse bid to stage the WBC light heavyweight eliminator between Adrian Diaconu and Chris Henry. This should be a pretty entertaining rematch...By this time next week, I'll be in Pontiac, Michigan where it will be in the mid-20s and snowing...Does Vernon Wells do anything for you Angel fans?...Give me the Packers and Steelers in this weekend's games...I can be reached at
k9kim@yahoo.com
and I tweet at
www.twitter.com/stevemaxboxing
. We also have a Facebook fan page at
www.facebook.com/MaxBoxing
.