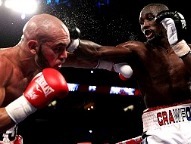 (Photo © Chris Farina / Top Rank)


Terence Crawford now has bigger fish to fry. The defending WBO champion showcased his variety of skills with a dominant victory over tough Ray Beltran at a sold-out CenturyLink Center in Omaha, Nebraska Saturday night.

Crawford, a native of Omaha, gave his fans plenty to cheer about as he cruised to unanimous decision by scores of 119-109 (twice) and 120-108.

Maxboxing and Doghouseboxing scored the match 118-110 for Crawford.

Crawford, 27, announced after the fight he would move up to the 140-pound division.

"That's it," Crawford (25-0, 17 KOs) said in the ring. "I'm out of the 135. That's the last time you'll see me at this weight again."

Beltran (29-7-1, 17 KOs) came to Omaha to take back what was rightly his. Last year he ventured to Glasgow, Scotland, and broke champion Ricky Burns' jaw. The fight was ruled a ridiculous draw. Crawford defeated Burns last March, and after stopping former featherweight titleholder Yuriorkis Gamboa a few months later, the match with Beltran was set.

Crawford set the pace in the opening stanza. He moved around the ring and popped his jab. The punch kept Beltran from finding any kind of rhythm.

Crawford switched from orthodox to southpaw in round two. He feinted and stung Beltran with shots to the head. Beltran connected with a hard right to the chin. Crawford, whose babyface masks a fighting heart, immediately retaliated.

Beltran, 33, dug to the body in rounds four and five. Crawford stuck to his game plan. His jab was his best friend. He circled and caught Beltran with a dandy of a hook.

By round seven, Beltran's left eye was beginning to swell. He still found the will to push Crawford into the ropes and try to land something.

Crawford would have none of it. He spun away from the ropes and froze Beltran with a clean left hook. In the next few heats, he peppered Beltran with more combinations.

Beltran caught Crawford in the last round with a strong combination. Crawford had been looking for a knockout, but after feeling Beltran's power, he thought better of it. He boxed his way to the bell.

"I'd like to thank God for this victory," said Crawford. "I just kept doing what was working."

"He's a great champion," Beltran said. "I couldn't handle his timing or his counter-punching."