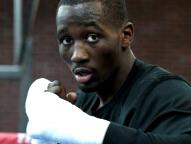 (Photo © Chris Farina / Top Rank)


After having his last three bouts broadcast beneath the bright lights of HBO, lightweight contender Terence Crawford, sees himself in Glasgow, Scotland in his first attempt at a world title against WBO beltholder Ricky Burns at the Scottish Exhibition Centre. But this isn't the first time Crawford has had to break out his passport to box.

He recalls going to Venezuela as an amateur and according to Crawford, his trip overseas this past weekend wasn't all that bad. "Oh, it was cool except my plane didn't show up Saturday, so we had to stay a night in Newark, New Jersey," he explained to Maxboxing a few days ago.

Crawford, who has mark of 22-0 (16), says he had no qualms about having to go abroad to fight for a major belt.

"I didn't think about it at all. I was just like, 'Let's go,'" said the native of Omaha, Nebraska, whose of the belief that when it's all said and done, wherever you fight, it's just two men in the ring. "That's all it is," he agreed. But of course, that wasn't the case for Ray Beltran, who found the ringside judges tougher to deal with than Burns last September. Despite breaking Burns' jaw, scoring a knockdown and generally controlling the action throughout, Beltran was on the short end of what might have been the most rancid decision of 2013.

When asked what he thought of that fight, Crawford, who was about as talkative as Marshawn Lynch on Super Bowl media day, said simply, "I thought [Burns] lost."

So naturally, Crawford is worried about the judging; right?

"No, it ain't my place to be worried about it," he said testily. "My main focus is going in there and doing what I do best and that's boxing and going to win."

When asked about Burns, who has held the WBO 135-pound title for four fights, Crawford states, "He's a real tough guy; that's it. I can't take nothing away from him." When you ask what he does best, he says simply, "Come to win."

By nature, Crawford relies on speed and quickness and is more than content to box from the outside. But given the politics of this business and the fact that Burns has the home-canvas advantage, you wonder if perhaps he'd be better off not leaving it in the hands of the WBO-appointed trio of Zoltan Enyedi, Alejandro Lopez Cid and Salven Lagumbay. "If it's there, I'm going to take it," Crawford says of the possibility of scoring a stoppage. "If it's not, I'm going to continue to do what's working."

But ultimately, he says he'll just be himself.

"If I gotta do more, then I gotta do more."

AWE

This fight will be broadcast on AWE (2 p.m., ET), a smaller network which has made a pretty solid commitment to the sport of boxing over the past couple of years. But it's a far cry from being on the premium cable networks. Top Rank Promotions founder Bob Arum says Crawford isn't being exiled by the powers that be.

"HBO wanted the fight. They could've done the fight but [Matchroom Sport Managing Director] Eddie Hearn came up with an offer we couldn't refuse because they're going to do very well with the fight in Scotland, have 10,000 people over there plus the English television. So we would've been outbid on the purse bid and so when Eddie came up with the offer he did, we accepted it, simple as that," explained the veteran promoter.

Crawford is skilled but he isn't necessarily the most exciting performer and there seems to be an emphasis - at least on HBO - on more crowd-pleasing pugilists. When asked about this dynamic and how it might affect Crawford, Arum stated, "The networks have to please their customers and their consumers by and large want to see action-type guys. There are always exceptions like [Floyd] Mayweather's an exception - a big exception - but by and large, they want to see bangers, which you could understand. They make for more exciting viewing.

"Essentially, the networks are not in the boxing business; they're in the television business and they're looking to provide the folks with very dynamic, interesting fights and that usually comes from punchers."

The key for Crawford will be pairing him with fighters and styles that will highlight his own skill set.

"First, he's gotta win on Saturday. He wins on Saturday, I think he has enormous talent and there are a lot of big fights that can be made for him," said Arum. "First of all, the winner of the [Ray] Beltran-[Rocky] Martinez fight would deserve a crack at him, particularly if Beltran beats Martinez on April 12th. Then there's Mikey Garcia if he defeats [Yuriorkis] Gamboa. That's certainly a big fight, Garcia and Crawford. A lot of good fights to make."

Arum also mentioned Juan Diaz as a possibility and that he would look to do Crawford's first title defense in his home state of Nebraska.

TNR

Here's the latest episode of "The Next Round" with Gabe Montoya and Yours Truly:

http://www.blogtalkradio.com/leaveitintheringradio/2014/02/25/maxboxing-live-the-next-round-episode-469

And to download our iTunes app, please visit:

https://itunes.apple.com/us/app/liitrboxing/id630089339

SOE

My take on Floyd Mayweather's selection of Marcos Maidana for May 3rd? It's all here on SportsOnEarth.com:

http://www.sportsonearth.com/article/68312174/floyd-mayweather-to-face-marcos-maidana-in-may-on-showtimecbs

FRIDAY FLURRIES

ESPN3 will be airing the third chapter of Robert Stieglitz-Arthur Abraham on Saturday afternoon at 5 p.m., ET...Check your local listings but there is both "ShoBox" and "ESPN2 Friday Night Fights" tonight...Main Events announced the signing of super middleweight Robert Acevedo...Will it finally rain in Southern California?....Good to have "Scandal" back…Ican be reached at k9kim@yahoo.com and I tweet at www.twitter.com/stevemaxboxing. We also have a Facebook fan page at www.facebook.com/MaxBoxing, where you can discuss our content with Maxboxing readers as well as chime in via our fully interactive article comments sections.