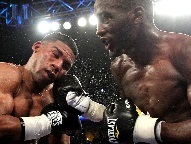 (Photo © Chris Farina / Top Rank)

By John J. Raspanti at ringside

In boxing, one punch can change everything.

For four rounds on Saturday night at the Century Link Arena in Omaha, Neb., 2004 Olympic gold medalist Yuriorkis Gamboa boxed beautifully.

Defending WBO lightweight champion, and hometown hero, Terrence Crawford, was having difficulties competing with Gamboa. Taller by close to four inches, and with a reach advantage of five, Crawford was being beat to the punch on a consistent basis.

Then came round five.

In boxing, more than any other sport-a single punch can radically change the outcome of a fight for the winner-or loser.

In 1979, heavyweight champion John Tate was within seconds of retaining his title. Challenger Mike Weaver let go with a short compact left hook that landed squarely on Tate's chin.

Tate hung in the air for a millisecond before collapsing on his face.

A few weeks ago, unheralded Chris Algieri was knocked down hard by a single punch. The blow not only floored Algieri, it damaged his eye. The fight, for all intents and purposes, was over, but instead of looking for a place to hide, Algieri righted himself and survived.

Crawford (24-0, 17 knockouts) was fighting in his hometown for the first time as a professional. He had captured his title by venturing to Glasgow, Scotland to defeat Ricky Burns. He had no interest in losing his belt in front of his fans, who throughout the bout chanted "Craw-ford! Craw-ford."

But for 16 minutes, neither Crawford nor his fans were having an effect on the super slick Gamboa. Crawford even turned southpaw in an attempt to confuse Gamboa. The change appeared to do him no good. He ate numerous rights. But he remained calm, fighting like a man who knew something.

Though winning, Gamboa (23-1, 16 KOs) was taking chances. His rushing tactics left him open-as did a tendency to drop his left hand. Near the end of round five, Crawford timed Gamboa perfectly. A right hand over Gamboa's low guard initiated the damage. Two left hooks deposited Gamboa on his side.

With one punch, the fight completely changed. Gamboa was up quickly, but his legs were weak. He wobbled and held and then, like a caged lion fighting on instinct, fired back.

Gamboa, 32, battled in the next few rounds, but the tide had changed. Crawford, 26, had stuck with the southpaw stance and reaped the rewards. He floored Gamboa for the second time in round eight.

Round nine resembled a rollercoaster ride. Crawford looked to have Gamboa in major trouble. The former two-time featherweight champion was fighting for his life. His legs were gone, but not his heart.

Nor, for that matter, his punch.

Crawford got careless and exposed his chin. Gamboa connected with a hard right hand that buckled his knees. Gamboa knew this was his chance, but within seconds Crawford turned the tide. With 40 seconds to go in the round, a combination, punctuated by a left hand, sent Gamboa down again. The gutsy fighter pulled himself up, but a vicious uppercut finally ended matters.

The time was 2:53 of round nine.

" He was coming in wild and I was lazy," said Crawford of the first knockdown. "I wasn't reacting like I usually do. I think I came back strong"

"Two warriors in the ring trying to get the victory," said Gamboa. "He won."

One punch.