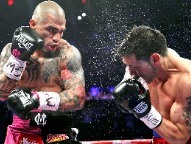 (Photo © Chris Farina / Top Rank)


One fighter appeared to get old right before our eyes. Meanwhile, another fighter seemed to defy age and time turning back both the clocks and the critics. In Saturday night's World Middleweight Championship bout, live on HBO from New York, Miguel Cotto, 39-4 (32) and former middleweight champion Sergio Martinez, 51-3-2 (28), lit up the world's most famous arena, Madison Square Garden, in front of a loud, pro-Cotto crowd. "The City so Nice, They Named It Twice," New York, New York, has been good to Cotto but on Saturday night, Cotto and the city may have had their hottest date so far in their long, successful courtship.
Cotto found a home for the left hook and battered favored champion Sergio Martinez, dropping him three times in round one. Cotto finally stopped Martinez when Sergio was halted from coming out for the 10th round by his corner. Cotto picked up the World Boxing Council (WBC) middleweight title and put on one of his greatest performances in his already storied career.

While Cotto was thought to be the more shopworn fighter going into the bout, it was clearly Martinez who had apparently aged, seemingly overnight. Martinez was coming off a year-long hiatus from the game as he healed up from numerous injuries and surgeries. And on fight night, he looked like a fighter who got old. The former middleweight champion had stood up to the bombs of big middleweights like Kelly Pavlik and Paul Williams but on this night, Cotto appeared to hurt him with most, if not all, of what he threw. "Maravilla's" body appeared to be wilting by the minute under the relentless, grueling attack of a reborn Cotto. Before the fight, Miguel's head trainer, Freddie Roach said, "Martinez has nothing left; his body is shot".
While perhaps it wasn't his entire body, clearly his knees appeared to be showing signs of wear and tear as they appeared unable to support him over the course of the bout. Cotto caught Martinez early and often. After the bout, Martinez, classy in defeat, said he "got caught cold and never really recovered." Cotto found a home all night for his left hook to the head and shook Martinez several times throughout the bout with it. The awkward, moving style of Martinez, that had proved so effective against champions like Pavlik, Julio Cesar Chavez Jr. and Williams, simply had no effect on a constantly moving, aggressive Cotto, who seemed to be landing at will throughout much of the bout. Many fans thought Cotto would be too small for Martinez, who has always handled the power of men much bigger than his Puerto Rican foil. However, Cotto was doing all the hurting. Clearly, the year off and all the injuries over the course of his career culminated into a bad night for the Argentinean hero.
And Cotto, who claimed he had "one of the best camps of my career under Roach," just kickstarted his career that is now, at age 33, hotter than ever.
While Martinez will heal up and decide where he goes from here, Cotto will simply wait for the phone to ring - and ring, it will. There are a lot of great possibilities for a fighter who can battle at junior middle and middleweight. Every fighter from welterweight to middleweight will want a shot at co-hosting the biggest party in New York with its "home away from home" hero, Miguel Cotto. Promoters and managers for every champion or top contender from 147-160 have to be dialing Cotto promoter and Top Rank Promotions head honcho Bob Arum's digits as we speak. Look for Puerto Rico's hero to return in December, more than likely in the "Big Apple", for another magnificent night of midtown Manhattan boxing.
Featherweight "Marvelous" Marvin Sonsona, 19-1-1 (15), beat Wilfredo "WV2" Vazquez Jr., 23-4-1 (19) via split decision in a close give-and-take battle. Vazquez was dropped in round one but worked his way back into the fight to make it a close one.
Late replacement Javier "La Bestia" Maciel, 29-3 (20), won a 10-round majority decision over Jorge "The Destroyer" Melendez, 28-4-1 (26) in a back-and-forth bomb-fest from the get-go!
Former middleweight title challenger Andy Lee, 33-2 (23), now fighting at junior middleweight, scored an exciting, highlight reel KO over John Jackson, 18-2 (15), in round five. Lee had been dropped in the opening round and was hurt on a couple of other occasions but his perfect, counter right ended things in the fifth frame.
Unbeaten Olympian lightweight Felix "Diamante" Verdejo, 13-0 (10), stayed unbeaten with a first round dismantling of Engelberto Valenzuela, 8-2 (3).
Super bantamweight blue-chipper Jose "Wonder Boy" Lopez, 14-0 (11), won an eight-round unanimous decision over tough Raul Hidalgo, 21-11 (16), in one of the few undercard bouts to go the distance.
International Boxing Organization (IBO) super featherweight champion Jose "Sniper" Pedraza, 17-0 (11), stayed busy and scored a first round TKO over Arturo Uruzquieta, 15-6 (6), in a non-title fight.
Super welterweight Willie Nelson, 22-1-1 (13), scored a first round TKO over Darryl Cunningham, 29-7 (11), who was up and down like a fiddler's elbow in the first frame. The ringside doctor stopped the one-sided drubbing at 2:43.
2012 Puerto Rican Olympian flyweight Jantony Ortiz, 1-0 (1), started off the night with a first round stoppage of Mexican Elio Ruiz, 1-5.
Please visit our Facebook fan page at www.facebook.com/MaxBoxing, where you can discuss our content with Maxboxing readers as well as chime in via our fully interactive article comments sections.