Cotto makes Puerto Rican History, Stops Martinez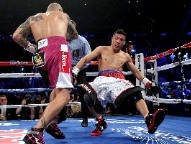 (Photo © Chris Farina / Top Rank)


Miguel Cotto had long fought in the shadow of other Puerto Rican greats. Try as he might over the years, Cotto just hadn't gotten over the greatness hump. Saturday night at Madison Square Garden against now-former middleweight champion Sergio Martinez, Cotto finally attained historical greatness. By knocking Martinez down four times and hurting him all night to the point in which the Argentine's corner capitulated between the ninth and tenth rounds, Cotto entered uncharted territory, becoming the first Puerto Rican to win four titles in as many weight classes.
Cotto entered to no music, all business with Hall of Fame trainer Freddie Roach, architect of Manny Pacquiao's success, at his side. Martinez entered to a rousing beat that got the crowd going but it really seemed more about getting himself going. As he approached the steps to the ring, Martinez stared into the crowd, taking it all in. Chief second Pablo Sarmiento lifted his arm and riled the crowd. Martinez waved his right and entered the ring, seemingly ready. But from the locker room to the ring, Martinez looked uncomfortable. He took forever to get to the final instructions at center ring. He was about to get a lot more uncomfortable.

Round one started and Cotto got right to work, landing the straight right. Martinez moved left all night and it brought him into line with the left hook of Cotto. Sergio landed a right jab. Cotto stood patient, waiting, stalking, jabbing. For now, it was a center ring fight. Martinez didn't move a lot but wasn't too stiff either. A left hook from Cotto exploded out of nowhere and badly hurt Martinez. He wobbled and Cotto jumped on him. They locked up and then another left happened and Sergio went down, hurt. He rose shakily and shook his head. Cotto would shake it again with a hook and put him down again. Another knockdown and suddenly the middleweight title was not such a farfetched dream for Cotto and more a last gasp for Martinez.
From then on, Martinez was on guard, no "hands down" approach here. In the second, Cotto measured, taking his time, looking absolutely bull-strong. He didn't simply make weight; he got in shape and it showed. Sergio looked off, slow, no bounce. Cotto took his time, stalking. Martinez fell again but it wasn't considered a knockdown.
In the third, Cotto kept moving in and landing the left hook. Sergio looked awful, slow, unsteady, non-explosive. A left hook landed and either Martinez took it better than most imagined or he was hiding how hurt he truly was. Martinez smiled at Cotto and shook his shoulders. Cotto, stoic as always, stayed close. He took a right hook from Martinez and kept coming in for the body. Martinez seemed to settle in and land the jab a bit but without effect. As before, it was all Cotto.
The fourth saw Cotto fighting at a measured pace, cutting off the ring, utilizing the straight right hand and jab. Martinez landed the jab better but didn't quite connect with everything he had. Cotto was slippery and his defense was on point. A left to the body barely got blocked by Martinez but the weapon kept his attention all night. Cotto had his ribs on lockdown, then his left hook landed to upstairs and Martinez swiped back with a wide right hook that missed. Cotto seemed to do damage every time he landed. Martinez, not so much.
Martinez kept the fight at a distance, moving and making Cotto chase him. Neither man risked or was rewarded much in the fifth. Cotto got in some good body work and Martinez moved and moved and didn't absorb a ton of damage. Still, the fifth was a round for Cotto, whose plan was the be the ring general. He succeeded.
Martinez bent at the waist and shook his arms before the sixth round began, perhaps trying to warm up and get going but to no avail. Martinez seemed to want to avoid getting hit at all. He dug a straight left to the body of Cotto but it was of no consequence. Cotto pressed him to the corner and ate a right hook, then dug past Sergio's guard to his belly. The sixth round, like the entire fight thus far, moved at a very slow pace. Each man landed here and there but again Cotto landed the better of it all. Martinez was slowly getting taken apart. Nothing the champion landed had any effect.
In the seventh, Martinez landed a long left hand. Cotto pressed forward and landed two hooks along the ropes. Martinez tried to tie up but Cotto spun him around. He was clearly the stronger man all night. Martinez would try his old magic, shifting either way and moving in but Cotto was unaffected. The only thing old here was Martinez's legs. Cotto simply had more answers. When "Maravilla" was at his best, he was a physical phenom. He made up for his technical deficiencies with speed that set up power. Without his legs, he simply was ordinary. The power lost, the speed gone.
Cotto's offense slowed to a crawl in the eighth but Martinez couldn't capitalize, so it didn't matter. Every time he landed - and it wasn't often - he got touched up by Cotto. There was no urgency, no sense that he needed a KO or was fighting for it. Martinez slipped and stumbled, a microcosm of the night for him. Cotto punctuated the round with a right hand.
Cotto came out charging hard to start the ninth, firing the one-two at Martinez, who shot a left and looked for that one punch. He had predicted he would stop Cotto in nine rounds but he was the guy who looked on his way out heading into the back end of the fight. This was a violent, brutal round for Martinez. A jab from Cotto and Martinez's knee apparently touched canvas as he spun. Referee Michael Griffin ruled it a knockdown. Martinez looked ready to go as Cotto hammered and softened his aged body.
Mercifully, Martinez's corner called it quits. He had had enough. A proud champion capitulated to a champion who finally validated himself by doing what no other Puerto Rican fighter has ever accomplished: he won his fourth title in as many divisions. Timing is everything and on this night, Martinez's time ran out. For Miguel Cotto, fights with the winner of Saul Alvarez vs. Erislandy Lara, WBO champ Peter Quillin or WBA titlist Gennady Golovkin are possibilities. The historical victory, at the Garden no less, will likely keep Cotto riding high for a long time to come. Tonight was a master class on many levels: matchmaking, game-planning, timing and promotion. On the eve of the International Boxing Hall of Fame Inductions, it seemed fitting that a warrior such as Cotto would make a place for himself someday in Canastota in such grand fashion.
Please visit our Facebook fan page at
www.facebook.com/MaxBoxing
, where you can discuss our content with Maxboxing readers as well as chime in via our fully interactive article comments sections.



Subscribe to feed