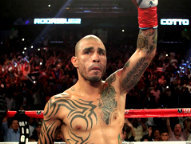 (Photo © Chris Farina / Top Rank)


Sergio Martinez will defend his lineal and World Boxing Council (WBC) middleweight titles when he finally gets back on the job after being out for a 14-month stretch. He'll clock into work in New York's Madison Square Garden tonight against three-division world champion Miguel Cotto. Martinez, 39, will enter the ring looking to keep his seven-bout win streak - dating back to 2010 - alive. Cotto will look to stay on the winning track after looking good against Delvin Rodriguez in a third round TKO win last October in Florida.
Cotto will also be looking to add a fourth world title in as many divisions as he looks to upset the bigger Martinez and capture his championship. This would be a nice addition to the trophy case alongside his World Boxing Organization (WBO) light welterweight title and his World Boxing Association (WBA) welterweight and light middleweight straps. Meanwhile, Martinez will look to make the seventh defense of his middleweight title as he emerges back into the 160-pound fray after an extended hiatus due to injuries.

Martinez, 51-2-2 (28), vs. Cotto, 38-4 (31), is a fight that will certainly generate interest on the name factor alone as both fighters are pay-per view stars who have faced marquee names throughout their championship careers. However, injuries are seemingly starting to creep up on champion Martinez with more regularity and Cotto, as tough and game as they come at the championship level, simply isn't the same fighter he once was. He is 6-4 (5) in his last 10 bouts dating back nearly six years ago. Before he beat Rodriguez, a fighter simply not on his level, Cotto lost a one-sided decision at the hands on Austin Trout in December of 2012. He had also taken two, one-sided beatings in his bouts with Floyd Mayweather in May of 2012 and Manny Pacquiao in November of 2009. Previously, he had taken a terrible drubbing at the hands of Antonio Margarito in July of 2008. In every one of these bouts, Cotto won fans over with his tremendous heart but the reality is he took a lot of punishment and the years - and punches - have to be taking a toll. Simply put, the miles are adding up.
Cotto will be well compensated for his night's work in the "Big Apple," where he has a huge following, in the form of an eight-figure pay cheque. So, from a financial standpoint, it is a great bout for the Puerto Rican star. However, he has a tough task ahead of him in toppling the naturally bigger, stronger Martinez. What can't be questioned is Cotto's résumé that boasts the best of his era in the divisions in which he's fought. Cotto has victories over John Brown, Cesar Bazan, Lovemore Ndou, Randall Bailey, DeMarcus Corley, Zab Judah, Shane Mosley and Paulie Malignaggi in the light welterweight division. In the welterweight and junior middleweight divisions, he has victories over Alfonso Gomez, Joshua Clottey, Yuri Foreman and Ricardo Mayorga. But it is also in the larger weight divisions where the 5'7" Cotto had very rough outings against Margarito, Pacquiao and Mosley.
Now, as Cotto is in New York to look to pull off the upset, he is facing a 5'10" middleweight with wins over big 160-pounders like Kelly Pavlik, Julio Cesar Chavez Jr. and Paul Williams and is, in reality, facing a fighter who naturally is a division - if not two - bigger than him. When you have two names as big as "Cotto" and "Martinez" on the marquee, the room will be electric. But an important question remains: Can Cotto handle the size of the bigger, stronger Martinez? World-class trainer Freddie Roach had Cotto looking good in his last bout as he had him working overtime on his body shots and vaunted left hook. If he can get inside on the awkward, lanky Martinez, he can make it a tough night for the champion who is looking to light up "The Big Apple" in his comeback bout. But if Martinez can get his distance and start to land the big shots from the outside, it could be tough sledding for Miguel. However, win, lose or draw, you know Cotto, one of the purest fighters of his time who is always willing to challenge the best of his time, will give everything he has.
Does Martinez take Manhattan tonight or can the proud Puerto Rican warrior add a fourth world title to his collection?
Please visit our Facebook fan page at www.facebook.com/MaxBoxing, where you can discuss our content with Maxboxing readers as well as chime in via our fully interactive article comments sections.