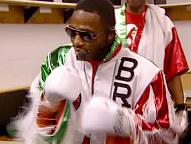 -Broner-


It was announced on Saturday afternoon by the head of Showtime Sports, Stephen Espinoza and the CEO of Golden Boy Promotions, Richard Schaefer that the December 14th card featuring WBA welterweight titlist Adrien Broner and Marcos Maidana would no longer be on pay-per-view but on Showtime Championship Boxing.
For once, common sense has carried the day. And the fans ultimately win (for once).

Because while Broner-Maidana is an outstanding match-up, it simply wasn't a pay-per-view fight. Yeah, the hardcore fans might have purchased it but Joe in Duluth and Mary in Topeka, who watch boxing no more than five times a year, weren't. And that's the demographic that really determines pay-per-view success. Maybe one day soon, "The Problem" will be a transcendent figure and headlining pay-per-view cards.

But that time is not now.
Also, with pay-per-views already taking place in September, October and upcoming on November 23rd, it was at that point when you were asking boxing fans to really stretch their budgets during the holiday season.
"The real hesitation with the pay-per-view to the extent that we had hesitation was just the time of the year. We ran out of time on the calendar. Any other time of the year, this does 250-300,000 pay-per-views easily," said Espinoza, whose network, contrary to popular belief, did have a few dollars to finish out the year.

The December 14th card - which was moved from Las Vegas to the Alamodome in San Antonio, Texas - also features Keith Thurman-Jesus Soto Karass, Leo Santa Cruz-Cesar Seda, Victor Ortiz-Alfonso Gomez and an appearance by WBA light heavyweight beltholder Beibut Shumenov. They are describing this as a pay-per-view show that the fans are getting for free. Whether or not you agree with this statement, it certainly looks like a fun night of boxing; doesn't it?
Part of this announcement was to announce that the November 30 card (originally scheduled for the Freeman Coliseum in San Antonio) would be scrapped and fights like Santa Cruz-Seda would move to December 14th. That night's main event between IBF welterweight beltholder Devon Alexander and Shawn Porter was shifted to the December 7th show at the Barclays Center in Brooklyn.
Speaking of that card, its Showtime telecast will have a line-up that has Paulie Malignaggi-Zab Judah, Austin Trout-Erislandy Lara, Sakio Bika-Anthony Dirrell and now, Alexander-Porter.

These two cards have a little bit of everything that should satisfy everyone from the purist to the bloodthirsty savages.

And best of all, they're not on pay-per-view.
Saul Alvarez announced on Twitter (@caneloOficial) that he will be fighting three times, beginning on March 8th and then on July 26 and November 22nd and that all three would be pay-per-view events.
I also wonder if it's prudent to promote Alvarez exclusively as a pay-per-view fighter so early in his career. The reality is the pay-per-view platform is still the smallest you can be on and even Oscar De la Hoya made intermittent appearances on HBO during his salad days as a pay-per-view entity.

WORLD SERIES FLURRIES

The "24/7" for Manny Pacquiao-Brandon Rios debuts on November 9
th
at 12:15 a.m., ET/PT...A little gem of a fight between Hernan "Tyson" Marquez and Giovani Segura will air on this week's edition of"Solo Boxeo" on UniMas....Fernando Guerrero makes his return November 11
th
in San Antonio on Fox Sports 1....The December 6
th
edition of "ShoBox" features a tripleheader of Mickey Bey Jr., J'Leon Love and Badou Jack...Did Chalky throw down the gauntlet on Dr. Narcisse or what?...Brandon Meriweather usually hits high but he really hit low on Brandon Marshall; didn't he?...Remember when Chip Kelly was going to revolutionize the NFL? What happened? Where did it all go?...I can't wait for the "30 for 30" on Jimmy Conners. He was the last tennis player I cared about
...I can be reached at
k9kim@yahoo.com
and I tweet at
www.twitter.com/stevemaxboxing
. We also have a Facebook fan page at
www.facebook.com/MaxBoxing
, where you can discuss our content with Maxboxing readers as well as chime in via our fully interactive article comments sections.