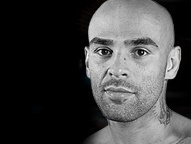 --


On Saturday night at the MGM Grand in Las Vegas, Nevada, Brooklyn, New York's Luis Collazo will get a shot at England's star welterweight, Amir "King" Khan. The two will fight as support to Floyd Mayweather's world welterweight title defense against Marcos Maidana in an event entitled "The Moment." The fight could ultimately lead the winner to boxing's cash king, Floyd Mayweather.
Collazo had an excellent career résumé leading up to his fight last January with Victor Ortiz. However, the heavily tattooed Collazo, a sharp boxer-puncher had come up short in his three of his four career title shots. He had chalked up losses to Ricky Hatton in 2006, Shane Mosley in 2007 and Andre Berto in 2009. Despite coming off two losses himself, Ortiz was thought to have eventually gotten the better of Luis and resurrect his own career. But in front of his revved-up hometown Brooklyn faithful, Collazo battered Ortiz, stopping him in two frames. The win was a career-highlight reel stoppage for Collazo and has put him in the running for a shot at boxing's best, Floyd "Money" Mayweather.

However, opponent Khan has also been angling for a shot at "Money" and according to the Brit, he has been told by Floyd himself that the bout will happen but it's all about timing and marketing. But a loss for Khan would stall, if not outright eliminate, his chances for a shot at the pay-per-view champion Mayweather. Both fighters know a loss takes them out of the running for the fight with Floyd, a fight every fighter from 140 to 154 pounds seems to be jockeying for.
Collazo has always been a great fighter but his track record of losing some of his biggest fights kept him out of the superstar category and spotlight, a vital position if you want to get invited to the big show with Floyd. Marcos Maidana knows what a big win can do for one's career, especially if you are not the betting favorite going in. By beating flashy Adrien Broner and looking exciting doing it, "Chino" leap-frogged everyone else in line and earned a trip to the plate to face Mayweather. Collazo, who would love to look across the ring at the Barclays Center in Brooklyn and see "Money" as his opposite number, knows a win - better yet an exciting one - will go a long way to making that happen.
Former world light welterweight champion Khan enters the bout on a two-fight win streak. However, questions about Amir's chin after knockout losses to Breidis Prescott in 2008 and Danny Garcia in 2012, along with several bouts in which he has had to recover on shaky legs as he was visibly hurt, have dogged him throughout his career. Except for a stoppage loss a dozen years ago, Collazo has had a strong beard. But make no mistake; Khan can crack and matches Collazo in speed, so there are going to be fireworks in this one. In reality and on paper, this undercard bout looks to be far more competitive than the main event in which Maidana sits as an 8-1 underdog against Floyd. Khan has been a British star for years and exciting wars against Marcos Maidana, Zab Judah and Garcia have spread his brand stateside. Collazo has always been on the radar of boxing's hardcore fans but is on the cusp of breaking into the mainstream consciousness if he can send Khan back across the pond with loss number four. And, a win may get Luis the shot he and Khan are both really fighting for: a fight with Floyd.
In a recent interview, the focused and confident Collazo said, "A win over Khan does put me in the Mayweather sweepstakes but my sights are set on Khan," he said, "I am the best."
Please visit our Facebook fan page at www.facebook.com/MaxBoxing, where you can discuss our content with Maxboxing readers as well as chime in via our fully interactive article comments sections.