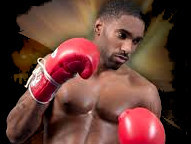 --


When Las Vegas-based welterweight Chase "Checkmate" Corbin steps into the ring in San Diego on August 30th for his third bout this year, he hopes to pick up another win, move to 9-0 and continue to turn heads as he has done since his ring return in June after a 21-month layoff.
Chase was born and raised in the legendary fight town of Philadelphia, Pennsylvania, a city that has turned out the likes of Bernard Hopkins, Sonny Liston, George Benton, Matthew Saad Muhammad, Bennie Briscoe and "Smokin' Joe Frazier to name a few. However, Corbin relocated from the "City of Brotherly Love" to Las Vegas to give himself the best chance at making a run he hopes will culminate in a title shot one day. The long, lanky, charismatic welterweight channels thoughts of a young Tommy Hearns, standing at 6'1" and currently fighting just south of 150 pounds. Although raised on the East Coast, Chase has punched for pay out on the West Coast, fighting predominantly in Arizona and California. Based out of the Mayweather Boxing Club in Las Vegas and trained by Jeff Mayweather, the devoted, single father of a young son is a busy man. His days currently include a full-time job at a Las Vegas-based real estate firm and a full training schedule.

"It is a hectic schedule but I make it work," he stated. However, if all goes well in the future, his real estate career may have to be put on hold for a while. Corbin turned pro in the summer of 2009 and by 2011, was 6-0. Out of the ring in 2012 to "clear up some personal issues," he is back fighting full-time, is undefeated at 8-0 (7) and more determined than ever. Managed by Las Vegas-based businessman Jared Weiss, Corbin is currently a free agent but has the record and a crowd-pleasing, TV-friendly style that should attract the attention of promoters in the near future.
In a recent chat with Maxboxing, "Checkmate," who is as quick with a laugh as he is a left hook, stressed how excited he is to be focusing full-time on his career in the ring and his possibilities in the future. "I'm just preparing for the 30th and then we'll go from there," he said. "I'm looking to get three, maybe four more fights in before the year is out. I'd like to fight for one of the smaller belts in time and I'd like to make a move next year and get into the top 15-20 for sure." Corbin chuckled at the Hearns reference as he said, "Tommy is my favorite fighter and I have a style patterned after him somewhat. He could box and use his reach but if you wanted to rumble on the inside, he'd do that as well. That's how I am. I'm always looking to box smart and Jeff always stresses defense of course but if you wanna bang, I'm happy to bang. Let's do it."
At 27, Corbin may be older than some in a relatively young career but as he says, he is fresh and has little ring wear due to the breaks in his career. "I'm 27 but a very young 27. I feel great. My conditioning is fantastic. I don't have a lot of wear and tear that a lot of guys have. I'm going to be around for a while," Corbin said. While it is early days yet for the West Philadelphia native, he has a good team behind him he says can help him "fight for the big shebang" one day.
"I want people to be talking about me one day. I don't want to just build a good record; I want to develop. I want tough fights. At the end of the day, my goal is to be in the ring fighting for a world title one day."
Please visit our Facebook fan page at www.facebook.com/MaxBoxing, where you can discuss our content with Maxboxing readers as well as chime in via our fully interactive article comments sections.