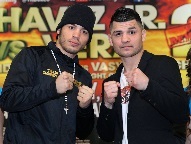 L/R: Chavez/Vera (Photo © Chris Farina / Top Rank)


When Julio Cesar Chavez Jr., 47-1-1 (32), enters the ring in San Antonio Texas' Alamodome on March 1st for his rematch with Bryan Vera, 23-7 (14), he knows he has to put in a strong showing to erase the memories of his last bout with his Texas-based foe, fought back in September of last year. While Chavez emerged with the victory from their first bout, he did face a lot of questions and accusations after the fight. Lots of fans and ringside observers felt he hadn't done enough to earn the victory during the fight. He also appeared to clearly not have done enough to prepare for the fight as time and again, the weight had to be changed to accommodate the popular son of Mexican legend Julio Cesar Chavez.
The first fight was close and perhaps based on that, a rematch is a good follow-up option. But it also appears that Chavez wants to eliminate the criticism of the last bout with a clear-cut victory before he moves on to bigger and better fights. Chavez has faced a brand of criticism in the past for some of his - shall we say, "unorthodox" pre-fight preparations and routines? However, in fairness, he has looked very impressive at times for a fighter who turned pro after a very limited amateur career and basically learned on the job in the pro ranks. Chavez worked his way to an impressive 43-0-1 after turning pro in the fall of 2003. Along the way, he earned the World Boxing Council (WBC) youth world light middleweight title, the WBC Continental Americas and Latino light middleweight titles and the WBC silver light middleweight title. He then beat Sebastian Zbik in June of 2011 to capture the WBC world middleweight title. Chavez defended the title three times and looked very impressive in wins over tough contenders like Peter Manfredo Jr., Marco Antonio Rubio and Andy Lee.

Chavez lost his title in September of 2012 to Sergio Martinez. While he lost almost every minute of every round heading into the last round, he caught Martinez with a hard shot that dropped and hurt the former WBC world champion (though Martinez was - and is still – considered the recognized champion). While Chavez ran out of time, he did look like a fighter who, if he had gone into the fight in the condition to step on the gas early and often, he would have possibly taken out Martinez. But he fought like a guy afraid to gas himself out and left it too late. Previous to that bout, Chavez had frustrated trainer Freddie Roach with his sporadic and unpredictable schedules for workouts. He appeared to spend as much time training in his rented home as he did in an actual boxing gym. Then last September, questions were raised again as he was having all kinds of trouble making the contracted weight for the fight, a weight which seemed to change bi-weekly leading up to the fight. When asked about the weight for the previous bout, former world-rated fighter (and Vera trainer) Ronnie Shields even joked, "I'll let you know after Chavez gets on the scale."
Now heading into their 2014 rematch, both fighters know there is a lot on the line. Chavez, who, from all camp reports is in very good shape and should make weight easily, is looking to erase any doubts about his previous victory. But the always-tough Vera knows a win puts him in a great spot among the 160-168-pound fighters. While Chavez may have overlooked Vera in the first go-round - and Vera was perhaps in the "just happy to be here" category - look for both fighters to lay it on the line this time. I think there is a serious Texas tornado about to sweep through the Alamodome on March 1st in San Antonio.
Please visit our Facebook fan page at
www.facebook.com/MaxBoxing
, where you can discuss our content with Maxboxing readers as well as chime in via our fully interactive article comments sections.