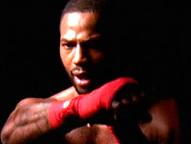 -


This weekend, Chad Dawson returns to the more familiar confines of light heavyweight after an ill-advised attempt to drop down to super middleweight to meet his The Ring magazine champion counterpart Andre Ward last September.

Dawson, 30, will be looking to defend his WBC and The Ring belts against power-punching Canadian transplant Adonis Stevenson in Montreal. It won't be the first time Dawson has appeared in Montreal. He's fought there twice previously with mixed results, losing for the first time in his pro career in the Great White North against Jean Pascal. Dawson looked toothless, devoid of ideas for much of the contest before rallying late to almost score a comeback stoppage before the bout went to the scorecards via unintentional headbutt. He returned in his next fight and soundly outboxed Adrian Diaconu. Unperturbed by returning to Canada, Dawson comments, "I'm just going to go in there and do what I have to do to get the win."

While "Bad" Chad, 31-2 (17), has been derided in some quarters for what some believe to be an unappealing style, it should be noted he's the only man not named Klitschko to have defeated Tomasz Adamek. Dawson also holds two wins a piece over Antonio Tarver and Glen Johnson as well as a points decision over the legendary Bernard Hopkins.

The Stevenson fight appears a dangerous one with many believing Dawson's skills will be too much for his opponent dubbed "Superman." However, Stevenson is a dangerous puncher who, if he can find his best shots, stands every chance to score the upset.

Anson Wainwright - The last time you fought, you dropped down to 168 and faced Andre Ward. Taking nothing away from his win, you seemed badly affected by the weight loss.

Chad Dawson - During training camp, I felt like I was making the weight with no problems. Once fight week came around, it started to get more difficult. The day before the weigh-in, I had to lose close to nine pounds, so it got tough to make the weight at the end. I didn't realize how weight-drained I was until I got into the fight. I'll be a lot stronger at light heavyweight. That's a fact.

AW - How have you been able to rebuild from such a crushing loss?

CD - Light heavyweight is where I'm most comfortable and everything will be back on track after this fight. My promoter, Gary Shaw, is a big part of my team and he's always got my back. As you can see, I'm in another big fight and there will be plenty more. I'm just taking it one step at a time. I'm grateful for the team around me.

AW – Presumably, you would love for Ward to step up to 175 to meet him again?

CD - There's a big difference fighting at light heavyweight. That's certainly a fight we can do down the road if Ward decides to move up.

AW - You return to action when you take on Adonis Stevenson. Now that you have Googled him, what are your thoughts on him and what the fight means to you? [Editor's note: During the pre-fight press conference in April, in the midst of gamesmanship, Dawson claimed he didn't know who Stevenson was, therefore having to Google him.]

CD - He's a tough guy with a big punch but I'm the better boxer. He's coming up in weight so we'll see what he brings to the light heavyweight division. A win against Stevenson gets me one step closer to where I want to be.

AW - You've fought in Canada at the Bell Center, to be more specific, twice previously. You lost to Jean Pascal but beat Adrian Diaconu. What are your thoughts on returning to Canada?

CD - They have big crowds there and the fans are passionate about boxing, so it makes for a great atmosphere. I'm just going to go in there and do what I have to do to get the win.

AW - You've changed trainers again. You're now working again under Eddie Mustafa Muhammad, having left John Scully. Can you tell us more about that?

CD - I have nothing bad to say about Scully. I just felt it was the right move to go with Eddie moving forward.

AW - You've been one of the top dogs at light heavyweight now for several years. You've fought and beat the likes of Antonio Tarver, Glen Johnson and, more recently, Bernard Hopkins as well as heavyweight contender Tomasz Adamek to name just a few. But do you feel you get the credit you deserve?

CD - I don't pay attention to that stuff. I know if I go out there and fight like I know I can, everyone will be talking nice. I have to work hard and get back to business.

AW - When you beat Bernard Hopkins last year to win the WBC title, it made you a three-time world champion at 175. What goals do you still have in boxing? What is your motivation going forward?

CD - I want to look good in this fight and my goal is to get back to that pound-for-pound status.

AW - If we look at the light heavyweight division, there's plenty going on. What are your thoughts on 175?

CD - I feel I'm the best in the division and my goal is to stay on top.

AW - Tell us a little about your life away from boxing.

CD - I'm a devoted family man who likes to spend time with my wife and kids. I love hip-hop and playing basketball.

AW - In closing, do you have a message for Stevenson?

CD - Let's give the fans a great night of boxing.
Please visit our Facebook fan page at www.facebook.com/MaxBoxing, where you can discuss our content with Maxboxing readers as well as chime in via our fully interactive article comments sections.