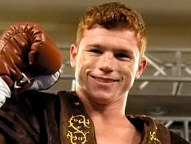 (Photo © German Villasenor)


We may never get the fight the world wanted, so we get the next best fight on hand, Floyd Mayweather, 44-0 (26), against the young lion Saul Alvarez, 42-0-1 (30). Coined "The One," the Showtime Pay-Per-View extravaganza courtesy of Golden Boy Promotions is ridiculously awesome. The young, fearless, junior middleweight champion also has the look of a redheaded, freckle-faced throwback Hollywood actor from the '70s .He has very good power, a knockout punch and a solid build, virtually a promoter's dream almost guaranteeing success all around.
We all know Mexican fighters have a very large and rabid fan base, something Mayweather knows all too well. In fact, Mexican fighters helped Mayweather get to those big PPV numbers. Now "Canelo" is younger, stronger and bigger than Floyd and is also undefeated. But the only problem with this picture for Alvarez and Golden Boy is that
the dream of the former being on top and undefeated will not happen this year if Floyd shows up for the fight. No disrespect to Alvarez and his promotional outfit but we all know Floyd is on a different level than any boxer in the sport. Austin Trout gave "Canelo" problems and Alvarez didn't dominate him at all. Trout is bigger and much slower than Floyd and also gets caught sometimes with a simple one-two. Trout is a hell of a fighter and will be champ again soon but he's not yet on the level of a Mayweather. Everything Trout - or anyone else Alvarez has fought - has brought to the ring could have affected Floyd on his worse day.

We can complain and say Floyd fights most of his opponents once they are shells of their old selves. For arguments sake, let's just say that's true. "Money," unlike anyone else, makes them look amateurish, as if they simply were in the wrong sport. We know styles makes fights and anything can happen in
any given
fight but the truth is Alvarez hasn't fought anyone near the skill of Mayweather nor has he faced several world champs. "Canelo" has power, youth and decent speed but he's not particularly great in one area. It's gonna take a fighter with all of those attributes and plenty more to beat the pound-for-pound champ, even a superb fighter to just give the champ a good fight. Come tomorrow evening, Alvarez has a chance to shock the world and he must start by not letting Floyd get comfortable. He needs to find a way to take an early lead by banging Floyd's shoulders, arms and anything else he can hit legally, Alvarez must throw hard, pinpoint combos, jump in and out and try and make Floyd come to him and take him out of his zone. When Floyd appears ready to go on the offense, "Canelo" should use his feet and just not be there or try to irritate Floyd by grabbing him when he wants to mount an offense. And bullying him around the ring can be another option.
Who knows what will happen if Floyd falls behind on the card and
is forced to open up and become more aggressive than normal? All I'm saying is the same strategy most of Mayweather's opponents bring to the ring isn't gonna be good enough. Realistically, we all know how to beat Floyd. Go to his body; don't try and headhunt; don't get irritated; use your jab; blah, blah, blah. It hasn't worked yet. 10 world champions tried that same game plan and all of them failed. Alvarez may beat Mayweather but it's highly unlikely. Like you, I understand boxing and know that anyone can lose on any given night and many fighters can show their true age overnight. Alvarez's youth and power make him dangerous and Floyd can't try to exchange with him. I thought there was a possibility that "Canelo" can just be too strong for Floyd at this part of his career but after seeing the Trout fight, reality kicked in. Manny Pacquiao still would be a hell of a fight and even though Floyd can easily outbox him, "Pac-Man" has the speed and crazy unconventional angles in which he throws his punches. That's something you can't really prepare for: the element of surprise.
Tomorrow night, we'll see if Saul Alvarez has what it takes to do the impossible: knock off the confident, proven, five-division, untouchable (for now) Floyd Mayweather Jr.
Please visit our Facebook fan page at www.facebook.com/MaxBoxing, where you can discuss our content with Maxboxing readers as well as chime in via our fully interactive article comments sections.