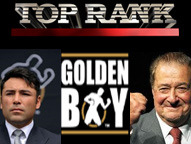 (Photo created by Chee)


About a week or two ago, it seemed as though there was a thaw in the Cold War between promotional powerhouses Top Rank and Golden Boy Promotions. And these olive branches were extended, believe it or not, on Twitter, of all places. On Bob Arum's 79th birthday, @BobArum reached out to Oscar De La Hoya (@OscarDeLaHoya) and pretty soon they were tweeting bouquets at each other.

Finally, De La Hoya, whose company became fierce rivals with Arum after he left Top Rank earlier this decade, tweeted on the night of December the 8th: "Hello everyone,I am writing these words with great sincerity.Bob arum first of all happy b day and second I want to apologize for anything."

A few minutes later he added: "That's I have said.let's somehow put this behind us and make fights let's show the world why boxing is the best sport" Then, De La Hoya finished off things by stating,"Bob arum from Oscar I am sorry now let's work together and take the world by storm,let's go on a strong run of fights."

Could it be?! Peace in the Middle East? Was this boxing version of the Camp David accords accomplished over 140-character messages?

In one word: Fugghetaboutit.

While @OscarDeLaHoya is a verified account, @BobArum turned out to be a faux Bob Arum, who's not exactly the tweet'n type. Top Rank's official Twitter account, @trboxing, let everyone know of the ruse. So, in other words, yesterday, Arum was tweeting. Today, it wasn't even him.

But here's the thing; in other sports, heated rivals play each other on a consistent basis. The Yankees and Red Sox play a multitude of games every Major League Baseball season. Divisional foes in the NFL are guaranteed two match-ups a year and in the NBA, every franchise faces each other at least twice during the regular season. And every fall, you can bet that Auburn-Alabama, Ohio State-Michigan, Oklahoma-Texas and a multitude of others get together every campaign and add chapters to their storied histories.

Well, in boxing, the two biggest rivals in North America do everything that the others do: they fight for talent; they talk trash through the media and they try and cut and undermine each other at will. But here's the rub- that's where it stops. When it comes to actually making fights and putting it all on the line for bragging rights, Top Rank and Golden Boy (who have two of the biggest and best rosters of talent, perhaps of any two companies in the world, presently) don't break bread anymore.

In other sports, you settle it out on the field of play. Here, in boxing, you play keep-away. And what has happened in the last several years with this reluctance to come to the table and do business is, essentially, almost two separate leagues of boxing that are taking place simultaneously. Top Rank is the best in the business at not only developing and cultivating their own talent but also creating opponents amongst their own stable. They are fond of saying, "We don't chase fights; we make fights." And it's true; you don't see them calling out and begging to make fights with other promotional entities, like so many others do because they usually have a vast resource of in-house commodities to choose from (an example would be the most recent run of Manny Pacquiao's opponents since his devastation of Ricky Hatton, which, ironically, is the last really big Top Rank-Golden Boy co-promotion).

With Arum's rogue spirit and deep pockets, if a network doesn't want to purchase one of his "Top Incest" bouts, he won't hesitate to finance his own independent pay-per-view telecast.

As for Golden Boy, with their exclusive output deal with HBO, they have a certain type of leverage in not only procuring free-agents with the promise of slots on the network but as it relates to the negotiating with opponents, they can dictate the terms. In essence, it's their date at all times. Also, while many accuse Top Rank of doing nothing but fights within their own stable- and rightfully so- for the most part, so does Golden Boy. In their last three HBO shows where they controlled the slots (meaning the two HBO mandated fights on November 27th with Andre Berto and Celestino Caballero don't count), eight of the ten boxers involved (from Robert Guerrero-Vicente Escobedo, Lucas Matthysse-Zab Judah, Juan Manuel Marquez-Michael Katsidis, Victor Ortiz-Lamont Peterson and Amir Khan-Marcos Maidana).

The truth of the matter is Top Rank and Golden Boy essentially employ the same strategy in many respects, as it relates to their matchmaking on pay-per-view shows and on premium cable networks. This isn't to say that they don't make good fights because the aforementioned scraps between Marquez-Katsidis and Khan-Maidana were among the best fights of 2010, as was the all-Top Rank lightweight battle between Humberto Soto-Urbano Antillon.

Here's the thing, however; in the long run, when these two don't do business together, the boxing world is deprived of the best fights possible. This goes far beyond just a Pacquiao-Mayweather non-fight. Go to a multitude of weight classes and you will see potential match-ups that have the look of action-packed bouts. But in reality, right now, they have no potential of even getting to the bargaining table because those boxers are aligned with Top Rank and/or Golden Boy.

In this scenario, the whole sport loses. The fans, the networks, the media and, most importantly, the fighters, who have a finite amount of time in their careers to cash in on their talents with lucrative fights. Instead, they are held captive or stuck in the crossfire like children in a very ugly divorce, with the way things stand now.

Just recently was the 30th anniversary of the death of John Lennon, who once famously sang, "Give Peace a Chance." Well, all we are saying to Top Rank and Golden Boy is can you at least give truce a chance (and make some damn fights)? Because here is but a sampling of what we are missing out on...

- Victor Ortiz (GBP) vs. Brandon Rios (Top Rank): These two haven't really liked each other since their days in Garden City, Kansas, and they like each other a lot less since they have migrated to Oxnard, California. Not only is there a great storyline here involving Ortiz, who was once trained by Robert Garcia (Rios' trainer) and how Ortiz bolted Top Rank for Golden Boy, it's also a fight that looks to be an exciting one on the canvas. Rios might be the smaller guy but he brings heat and we know that Ortiz hasn't always held up well to guys who are so persistent.

- Juan Manuel Marquez (GBP) vs. Humberto Soto (Top Rank): Let's face it; Marquez isn't getting the third go-round with Pacquiao, so why not make a fight with perhaps his biggest threat at lightweight? Soto is craftier than he is given credit for and Marquez, in his advanced years, has never shied away from a real tussle.

- Michael Katsidis (GBP) vs. Urbano Antillon (Top Rank): Hey, if the winners can meet (in the last fight I just referenced), why shouldn't the two guys who just lost to them? C'mon, try and tell me this wouldn't be a fun fight.

- Saul Alvarez (GBP) vs. Julio Cesar Chavez (Top Rank): OK, two huge draws in Mexico; one is the son of a legend, the other, perhaps the most popular young fighter in that country. How could this fight not take place at an Azteca Stadium in front of more than 100,000 fans?

- Daniel Ponce de Leon (GBP) vs. Yuriorkis Gamboa (Top Rank): You have the skill and speed of the Cuban against the brute strength and heavy hands of Ponce de Leon. Yeah, for large segments of this bout, Ponce de Leon would be out-classed but he would always be a threat to turn it around with just one shot.

- Saul Alvarez (GBP) vs. Miguel Cotto (Top Rank): Hey, who says I can only go with a fighter one time here on my list? Alvarez-Cotto at 154 is a big fight and, more importantly, a good clash of styles would be another chapter in the Puerto Rico-Mexico rivalry.

- Abner Mares (GBP) vs. Fernando Montiel/Nonito Donaire (Top Rank): Yeah, I'm projecting here a little bit because Mares still has to defeat Joseph Agbeko in 2011 (no easy task) and Montiel and Donaire face each other on February 26th at the Mandalay Bay in Las Vegas. But if Mares gets past Agbeko in the finals of the Showtime bantamweight tourney and he faces the winner of Montiel-Donaire, it would be among the bigger bantamweight contests in recent memory.

NOT-SO-GOLDEN SUGAR

Although it hasn't been made official, I think pretty much everyone is expecting Shane Mosley to be named as Manny Pacquiao's next foe on May 7th. What's interesting is that at one time, Arum seemed to be against this idea (http://sportsillustrated.cnn.com/2010/mma/boxing/09/20/pacquiao.mosley/index.html)

The difference seems to be that back then, Mosley was still affiliated with Golden Boy Promotions and now that he has broken free from his "partnership," it was precisely at that point that Arum seemed much more amenable to the concept of a Pacquiao-Mosley bout.

X-MAN

Like just about everyone else, I thought Bernard Hopkins had done more than enough to lift the WBC light heavyweight title from Jean Pascal in Quebec City on Saturday night. Just a few random thoughts on what I saw on Showtime...

- Am I the only one who feels that even in the two knockdown rounds (the first and the third) that you could state a strong argument that neither round was 10-8 for Pascal? Part of getting that extra point is actually winning the rest of that round. Just my opinion but in both of those innings, I thought Hopkins was winning them. In fact, through the first nine minutes of that fight, Hopkins probably won about eight.

- I hadn't seen Hopkins attack the body like that in a long while. I think it was one of the reasons why Pascal slowed so perceptibly after the fifth round. Some will say that Pascal stopped fighting. Well, yeah, to a certain degree he did but there was a reason for that.

- Hopkins still does the best job of tucking in his chin and angling his shoulders of any fighter I've recently seen. He simply doesn't give you a lot of openings in which to hit him clean. It's a textbook example of how your stance can key your defense.

- Yeah, I know two of the judges were not from Canada but let's not be naive, the geography of a judge sometimes has nothing to do with whether they are biased or not. You don't think they know who is staging the event (in this case, GYM), who the house fighter is and all the other ancillary issues? Again, I am not accusing anyone of anything but the point I'm making is that there are plenty of judges who are brought in from foreign lands who are "hired guns" who know exactly what they are doing. Every promoter, sanctioning body and manager have "their guys," who they think they can get edge with in a close fight.


Let's be honest; having three local judges pulling off any malfeasance would be too obvious- even by boxing's standards.

- Regardless of the outcome or decision, I know many of you don't particularly like Hopkins or his style but give the man his due. What he has accomplished past the age of 40 is simply amazing on many levels. He truly is boxing's version of Satchel Paige. No need for him to look back.

FINAL FLURRIES

Told that Showtime will have a split-site doubleheader on Feb. 26th, with Brandon Rios challenging WBA 135-pound beltholder Miguel Acosta at the Palms in Las Vegas and lightweight contender Antonio DeMarco facing Reyes Sanchez at a still-to-be determined site...Here are some other Top Rank-Golden Boy bouts fans told me that they wanted to see via Twitter: Vanes Martirosyan-James Kirkland, Rios-Guerrero, Jorge Linares-Gamboa, Chavez-Kirkland, Matt Korobov-Erislandy Lara...Told that Top Rank might feel better about matching Cotto with Pawel Wolak in his March tune-up, rather than Martirosyan, based on styles...Tickets for Montiel-Donaire go on sale this Thursday and are priced between $25-$250. They can be purchased at any Ticketmaster location or by logging on to Ticketmaster.com or Mandalaybay.com...Speaking of judges, why can't Max De Luca get on more prominent fights? For my money, he's not only one of the best in California but in the whole world...I guess the Jets have life after all; this isn't 1986...I watched the Eagles-Giants game (the Miracle in the Meadowlands: Part II) and I still can't believe what I witnessed in the last few minutes...I can be reached at k9kim@yahoo.com and I tweet at www.twitter.com/stevemaxboxing. We also have a Facebook fan page at www.facebook.com/MaxBoxing.