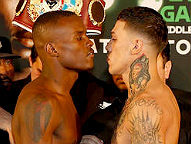 (Photo © Tom Hogan - Hoganphotos /Golden Boy Promotions)


Saturday's WBO middleweight title fight between Gabriel Rosado, 21-6 (13), and titleholder Peter Quillin, 29-0 (21), this Saturday at the Boardwalk Hall in Atlantic City (televised by Showtime and promoted by Golden Boy Promotions) is a quicksand of queries. Quillin is of Cuban descent, born in Chicago, trains in Hollywood's Wild Card Boxing Club but claims New York. Rosado, dubbed "King," is a big, (6' tall, 74" reach) tough Puerto Rican kid out of Philly. The fight is the co-feature to Philadelphia legend Bernard Hopkins vs. Iraqi-born German Karo Murat in defense of Hopkins' light heavyweight belt. What the card's doing in Jersey is anyone's guess.
This is Quillin's second title defense. It's also his second junior middleweight-turned-middleweight opponent in a row since winning the vacant title against Hassan N'Dam N'Jikam last October. Its Rosado's second shot at a middleweight title since getting bloodied, beaten up and stopped in seven rounds (via his corner throwing in the towel) in January against WBA middleweight titleholder Gennady "GGG" Golovkin.

Is Quillin-Rosado a legit challenge for a middleweight title or is it nothing more than marking time? Rosado just got blasted out by Golovkin in a title shot for a division he wasn't actively campaigning in. Now Rosado is fighting for the WBO crown. That makes zero sense.
Is it a barometer of how well Quillin would do against Gennady Golovkin? Considering Quillin and Golovkin fight nothing like each other, not likely.
What is this fight? Is it a defense of Quillin's belt or an example of how that accessory acts more like a shield from the rest of the division? This fight likely won't answer that.
The middleweight division going into 2014 is, in a sense, divided without immediate hope of unification. HBO has linear and WBC middleweight champion Sergio Martinez (DiBella Entertainment) and WBA middleweight titleholder Gennady Golovkin (K2) under lucrative, long-term contracts. Eddie Hearn -promoted Darren Barker won his IBF title on HBO against Daniel Geale this year and has a mandatory defense due against Felix Sturm. So for the time being, he's out. Former middleweight titleholder Julio Cesar Chavez Jr. is somewhere around heavyweight right now and fights for Top Rank on HBO. That leaves Al Haymon-advised, Golden Boy/Showtime WBO titleholder Quillin marking time and racking up as many defenses as he can until a suitable contender can be developed either in-house or by a promoter the Showtime/Golden Boy/Haymon trinity will work with. Look for Brownsville native Daniel Jacobs' to be mentioned after this fight. He is both promoted by Golden Boy but also advised by Haymon. Being from New York is a bonus.
The loquacious Quillin is a big-framed middleweight at 5'11" with a 73" reach, a love of animals and raw talent to go with a sincere belief in himself. His confidence is arguably his greatest asset. He was dormant from 2008 to 2010. Then he came out to the West Coast and started getting fights, signing with Golden Boy and later, Haymon. But Quillin never quite got to a level in the ring where he was fighting contemporaries or a fellow unbeaten. He fought 17-5-3 Dennis Sharpe, who came off a string of losses and a long layoff. The next four opponents would follow that pattern for Quillin. They'd either be coming off a loss, losses and/or a long layoff.
Suddenly, without beating anyone of note, (and no, beating a three-year-absent Winky Wright in semi-retirement doesn't count), Quillin was fighting for the WBO title in October of 2012. He was matched with N'Jikam, an undefeated fighter from France who held interim versions of the WBA and WBO middleweight titles. Quillin dropped him six times over 12 rounds in winning a wide decision. N'Jikam hasn't fought since.
Next up was Guerrero, a middleweight with boxing skill, fast hands and little punching power, four fights removed from a fourth round TKO loss. Quillin put him down four times before it was stopped in the seventh. Now comes Rosado, one fight removed from a TKO loss in which his corner stopped the fight because they felt he was in danger of dying.
Rosado is no slouch. He has wins over Jesus Soto Karass, Sechew Powell and Kassim Ouma, all quality fighters at various stages of fresh when he beat them. Karass enjoyed arguably his best win this year, a little over a year after losing to Rosado. In Rosado's last fight, deemed a no-contest due to his opponent, J'Leon Love testing positive for a banned diuretic, he shook off the Golovkin loss and looked confident down the stretch of a tough fight. Initially, the bout was scored a split decision in favor of Love. Many felt Rosado won clearly. He had Love down in the sixth and seemed to take over the back end of things. After Love tested positive for the banned substance, the fight was rendered a no-contest.
Rosado's losses, to Alfredo Angulo (TKO 2), Derek Ennis (MD 12), Golovkin (TKO 7) and the aforementioned Guerrero (UD 8), discounting two early career losses, don't make a strong case for an upset special. Rosado has been outboxed, beaten up and stopped. If the Love fight tells us anything about Rosado, it's that he is tenacious, has mentally bounced back from the Golovkin beating and is at the very least, able to handle speed and power mixed with solid technique. Love offered him all that and Rosado ate it up and kept coming.
I have no idea why this fight is in Atlantic City. I still don't know if Quillin's chin is real or well-matched. I'm not sure if Gabriel Rosado is the person to lift the shield-belt off of Quillin. What I do know is, barring any unforeseen occurrence, Quillin and Rosado are fighting tonight. The smart money will go with the chalk. If the smart money wins, what it means in the long run is anyone's guess.
Please visit our Facebook fan page at www.facebook.com/MaxBoxing, where you can discuss our content with Maxboxing readers as well as chime in via our fully interactive article comments sections.