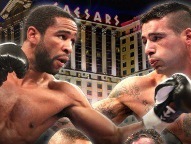 -


There is a bit of mythology regarding Lucas Matthysse, who is
Lamont Peterson
's foe this Saturday night at the Boardwalk Hall in Atlantic City (Showtime 9 p.m., ET/PT). Yes, he is certainly a formidable 140-pounder and possesses heavy hands and a certain toughness that cannot be taught. But if you look at his actual résumé, you'll see two disputed losses in his biggest fights (versus Zab Judah and Devon Alexander) and his most notable win, against Ajose Olusegun.
Yeah, we know he's good. The question is just how good?
"He's a pretty good fighter. I'm not going to underestimate him at all. Not one single bit, he can fight," said Peterson, who comes in with a mark of 31-1-1(16) and possession of the IBF title, which is not on the line as this contest is being fought with a weight limit of 141 pounds. "At the end of the day, he wouldn't be here if he couldn't. I just think that the whole thing about punching power and things like that, I just think the fight fans kinda go a little overboard with that if someone can punch. He's a good puncher but at the end of the day, the hardest puncher doesn't always win the fight.
"And that's why I want people to know and realize but if they don't, they'll see May 18th."

Peterson, who digs to the body as well as any boxer in the division, plans to go downstairs on the Argentinean. Part of thwarting Matthysse's power will be in halting his forward momentum and chipping away at him.

"A lot of times when you have someone that's coming forward who's strong, who's known as a big puncher, I guess some people let that stuff get to their head," he explained. "They kinda afraid to test him, thinking he's always going to test you. But a lot of times if you test that person who's never been tested, a lot of times, you find out they don't pass that test too easily."

It's clear; Peterson isn't going to merely let "The Machine" roll downhill all night.

"I've always been a big body puncher," he continued. "That's where I do most of my work. It's not going to change in this fight, the next or any of my other fights. That's just the way I fight and I'll continue to fight that way."

Peterson's trainer/manager, Barry Hunter, believes his fighter's versatility gives them an edge. "You know us. You've known Lamont for a long time now. He can box with the best and he can bang with the best, so the way I figure, there's no set plan this time. Whatever Matthysse brings to the table, we're going to offset it and have a plan for it."

After his 14-month hiatus from the ring, Peterson took apart Kendall Holt at the D.C. Armory in Washington D.C. in February. After a slow start the first few rounds, he started letting his hands go and just systematically took Holt apart with a sustained body attack that had Holt wavering and unsteady through the middle rounds till the contest was waved off in the eighth round.

Regarding his rather tepid beginning to that bout, Peterson explained, "It was part of the game plan to go in there and feel things out, get a feel for Kendall and get a feel for the ring again. But to be honest, from Jump Street, I wanted to get it started. But the game plan is the game plan, so I stuck with it. I was waiting on the call from Barry to tell me to go and he gave me the OK and that's where I went."

Holt is as fragile as he is fast and powerful. Matthysse brings much more staying power and steadiness. Look for a long, grueling fight that will be the very definition of "war of attrition." So is Peterson ready for such a daunting task? It's one thing to beat on Holt like a heavy bag as he started to capitulate; Matthysse is as solid and hard as granite.

"I think he is," said Hunter, who went on to add, "Lamont is not of the norm. If you look at the Kendall Holt fight, Kendall was a dangerous fighter also. He's a big puncher also. You look at some of the people he knocked out and the way he knocked them out but Lamont is the type of fighter that can make adjustments. He's been doing it his whole career and when you get to that top five, at that point in time, everyone can fight. So we're not in the business of picking and choosing who we fight.

"We want to fight the best and right now, Matthysse is one of the best fighters on the planet at that weight division, so he was the one who got the nod. So be it."

Peterson has no doubts that he's ready for this fight. He's in the thick of his professional prime and during his stretch on the sideline, he says he never wandered too far from the gym. And he wants to get moving in his career and make up for lost time. The winner of the Showtime/Golden Boy Promotions 140-pound tournament (the victor on Saturday night could face WBC beltholder Danny Garcia on September 7th) would be in prime position to eventually move up and face Floyd Mayweather.

Peterson wants to begin the process of putting his name in the junior welterweight pantheon.

"Of course, I'm 29 years old now. I would love to fight as many guys at 140 pounds to show that I am the best 140-pounder out there to kinda make a name when my legacy is over, when my career is over at this weight. To kinda put a stamp on it," he says. Peterson, who wants to eventually be in the company of the likes of Aaron Pryor, Kostya Tszyu and Julio Cesar Chavez Sr. "When you think of 140 pounds, those are the names you think about. I just want my name to be up with those guys and I'll be happy."

But he's also looking beyond that. Yes, he wants to be in the "Money." "As far as moving up to 147 pounds, there's definitely two fights I'd move up for in a heartbeat and that'll be Floyd Mayweather and Tim Bradley because Tim Bradley, that's my only loss. I would love to avenge that before I retire and Floyd Mayweather, as he showed last weekend [May 4th], he's still the best fighter out there and at the end of the day, [the fighter I'd love to] step in the ring with."

Regardless, what's in front of Peterson is a formidable challenge on Saturday night. He is just relieved that his career is now back on track with big fights in his future.

"It's a great feeling," he said, "I'm coming to just a little bit past the midpoint of my career. If everything goes right for me, three years will be enough for me, no losses and just continue to win. So I'm happy to be back. I'm only looking forward to three, four more years, max. I do want to finish those years out as best I can. I'm giving my all to this sport right now and boxing is what makes me happy.

"So there's no greater feeling in the world right now than to know that I'll have continuous fights for the last three years."

PAC ATTACK?

So has Manny Pacquiao become a rogue politician? This story from the Manila Times seems to make it out like he most certainly is (http://manilatimes.net/index/index.php/news/top-stories/47410-pacquiao-mauls-barangay-captain).

And who says he's got no fight left in him?

Y' know, you want to believe "Saint Manny" would never resort to such tactics but if you've seen the recent episode of "Vice" on HBO (highly recommended, by the way), you know that politics in the Philippines is oftentimes a dirty and violent affair.

FRIDAY FLURRIES

Here's a video vignette of Peterson from Showtime: http://www.youtube.com/watch?v=Uf_6Klln34Q...Rising junior welterweight Mikael Zewski will appear on the June 15th undercard of Mikey Garcia vs. Juan Manuel Lopez in Dallas and then on the Tim Bradley vs. Juan Manuel Marquez pay-per-view bill...On June 29th at the WinStar World Casino in Thackerville, OK, Robert Marroquin faces Daniel Diaz on UniMas. Also on this card are Ivan Najera and Jose Ramirez...I can be reached at k9kim@yahoo.com and I tweet at www.twitter.com/stevemaxboxing. We also have a Facebook fan page at www.facebook.com/MaxBoxing, where you can discuss our content with Maxboxing readers as well as chime in via our fully interactive article comments sections.