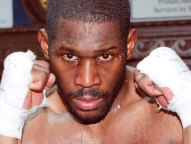 (Bryant Jennings)


Last year was a big one for heavyweight Bryant Jennings, who opened 2012 by beating fellow prospect Maurice Byarm for the Pennsylvania State title. He followed that up with four more victories moving from fringe prospect to contender all in the space of five fights.

"I had a good year in 2012. There was a lot of things that I accomplished but there were a lot of things that needed changing and to be fixed in my career, so I made some adjustments," said Jennings.

2013 hasn't been as big for Jennings. He's fought just once in June, stopping Andrey Fedosov in six rounds. However, he recently signed with influential promoter Gary Shaw in hopes this will further his career.

To his credit, "By-By" has progressed so far with minimal amateur experience having not turned pro until age 25. Much like several other American heavyweights, Jennings was involved in other sports prior to sticking to boxing.

The 29-year-old Philadelphia-born heavyweight is 17-0 (9) and is ranked by all four major sanctioning bodies at number four by the WBC , five by the WBA, four by the IBF and 13 by the WBO.

Anson Wainwright - Over the summer, you beat Andrey Fedosov. Can you tell us about that fight?

Bryant Jennings - For some reason, their team was expecting me to be rusty because I was on a little layoff but I was on point that night. I rate my performance pretty high because I had to be real strategic and use a lot of technique to lure [Fedosov] into some traps. It was a great learning experience and I learned a lot from that fight as I do every fight.

AW - When are you looking at being back in action?

BJ - I'm hoping something will come to fruition in January. I know my team is working hard to make it happen. Gary Shaw, James Prince and Antonio Leonard are the best at what they do, so I'll be ready to fight.

AW - Previously you stopped Bowie Tupou in five rounds. Could you talk us through that fight?

BJ – Well, it was it was a 12-round contest. I'm always prepared for 12 rounds. I pace it but the other guys just trying to get you out of there in the first five rounds and once they don't get you out of there, they don't have anything. I knew that's what Bowie was trying to do, I knew that's the type of fighter he was. He was going to try to knock me out. He was very hyper. He needed to calm down. He was very aggressive. I waited until he calmed down. I was in control of the whole fight even in the midst of being knocked down in the third. The stoppage came with a combination, with me turning it up. He was actually nothing I thought he would be. It was the fifth round and he hadn't seen anything yet. I got him out early. I didn't have to use any crazy offensive tactics. It was basic.

AW - 2012 was a big year for you, a coming-out party of sorts…

BJ – Well, I had a good year in 2012. There was a lot of things that I accomplished but there were a lot of things that needed changing and to be fixed in my career, so I made some adjustments. I wanted to make 2013 as big a year. I have the ability for boxing inside and outside the ring, so I made some adjustments. I got a new manager. I put more and more time into boxing because I still worked a job. It was more and more focus. It's still not easy at all but this is something I've worked on for 2013 to be more and more serious and make that next step.

AW - While it's still a distance away, how far do you feel you are from competing with the Klitschko brothers for world titles?

BJ - Right now, those guys are in control. They control the heavyweight division. If you stay on top of your game, your time will come and when they're ready to get to you, they'll choose you or when you become mandatory but for now, you can only hope they don't look at you as a tough opponent and overlook you and pick you thinking they'll beat you easily. You have to sit around and wait. They've got the heavyweight division by the balls but I'm patient. I look forward to being in the ring with one of those guys soon. If they don't retire - which Wladimir, I know for sure he's not done yet. He has a couple more years but I don't have that much time - I'm going to do what I got to do to make myself mandatory and then beat the sh*t out of them. The boxing game is more mixed with the physical. I'm a very physical individual throughout my life. I don't think [either Klitschko is] no superman. It's just a mental process and something to do with technique but I think I'm better than those guys, so I think I'm ready now, plus I have the mindset that makes any other boxers look small. I come in with a great mentality and I'm on a different level with this boxing stuff.

AW - How do you mean on a different level?

BJ – Well, mentally, we're all physical but you know, when you get in the ring, the mentality that takes over. I know a lot of fighters that could be better fighters if they only had the heart, if they only had the passion for the sport but me, I have a passion for the sport. I have a passion for myself and to my health and I have the heart. I have what it takes to get in there and fight. A lot of guys, they get hit they don't want to fight back. They go in there and fight for the money. They give up. They don't show anything. It's just pitiful.

AW - You're now with Gary Shaw Productions. How did the move in promotional teams come about?

BJ – [Manager] James Prince and I really took our time to see what fit would be best for my career and we decided to go with Gary Shaw Productions and Antonio Leonard Promotions. Like I said, they are great at promoting and getting their fighters in big fights. All I want is an opportunity to showcase my skills to the world.

AW - Who are the other members of your team?

BJ - My manager is James Prince. My trainer is still Fred Jenkins and I'm promoted by Gary Shaw Productions and Antonio Leonard Promotions. I work out the ABC gym in the north of Philadelphia. It's run by the City of Philadelphia and Fred Jenkins is the head trainer and he has been for the past 30 to 40 years.

AW - What were your early years like growing up in Philadelphia?
BJ - The early years growing up was definitely tough. Once again, my mentality helped me overcome such a bad place. I'm actually still in it but you know, I don't think of it the same way I did because I have faith that I will succeed and remove myself from that type of environment but it was hard. I had a whole lot of temptations. I did a lot of things that aren't on record. I did a lot of things but I lived through it. It wasn't easy but I think it's a blessing. Not many make it out.
Yeah, boxing saved my life. If I wasn't boxing, I'd probably be doing something I shouldn't be doing. I'd probably either be dead or in jail. I had the mindset to be successful financially but I seen no other way at a particular time and all the negative things that can get you successful like being a dope dealer or being someone like a robber, those things are more common than going to college or having a career. Even though I had a job, I've seen people work my job for 40 years and they [would be told] you still got to work five more years to be eligible to retire with full benefits and I'm like, "Listen. There has to be a better way. I'm not working 40 years and still not really be anywhere. There's more to life." I always had my imagination open and my mind open and I knew there was a better way, period, and I found something and I stuck with it.
AW - Listening to you speak, you remind me of another Philly native, Bernard Hopkins. Perhaps he's a role model or something similar to you?


BJ - I definitely look up to Bernard right now even in my career and I look up to him as a stand-up guy. He is the things he does inside and outside the ring but he's not responsible for my thoughts or my way of life but I do agree we do have some similarities. One thing I do respect him for is his eating habits and health. He definitely does it at a high level. It's something I want to work on as far as if I'm a vegetarian or vegan, just watching what I'm eating all the way down to a piece of candy. I definitely agree with you. I do look up to him and we do have some similarities.
AW - How did you become interested in boxing?


BJ - Boxing actually became interested in me. I didn't find it. It found me. I was always around the recreation center. I always knew how to fight. It was just one day, I was 24 years old and one day, I walked into this gym. It's really unexplainable 'cause there was no plan. It wasn't planned out to be. I never had a chance to think about being a boxer. Once I was there, it was like, 'Boom.' Five months and I was in Utah for the Golden Gloves finals. I had no choice but to choose this as a sport and it was unbelievable. I was actually forced upon this sport. It was something I couldn't help. I didn't have the time to think about it. Everything went by so fast. My professional career started after eight months of being an amateur. I knew the type of mindset I should have because I was an athlete before and approached life very different, so I knew I had to go in and be serious and give it 100% and at the same time, it wasn't something I wanted to do but it would take me out of poverty, take me out of the state of mind of staying in the neighbourhood or being in the hood. It definitely saved my life but I really don't know how it happened.
AW - You were 25 years old with less than 20 amateur bouts when you decided to turn pro?


BJ - It came about so quickly because that's my mindset. You've got to remember; my mentality is a very important piece of my life, my career. My mentality helps me advance to the next level. A lot guys, we have them in the gym now. These guys are very talented but these guys don't have the mentality to convert to the next level so therefore, they stay at the same level. They're very talented but it's your mindset that takes you to the next level along with your talent. So I put that in perspective and my mindset moves me quicker. I was physically ready. I was part of a gym that was well-known in Philadelphia and my mindset pushed me forward and put me at a different level. I was separated from everybody that was there and I hadn't been there for a year. It was the next step. It was everything and don't be afraid of the next level. Don't be afraid to commit. I never really committed on anything ever in life - never - except my job and, now, to boxing and my son. I always removed myself from things whether it be relationships, other sports. I wasn't ready to give my all to [anything else]. Boxing was the one. It was too late. I'm 24 [at the time] but I thought, "It's got to be my time right now," so I had to do what I've had to do.
AW - Tell us about your life away from boxing.


BJ - I have a day job, which is a mechanic at the federal reserve bank. It's a regular job, five days, a 40-hour week. I also have a four-year-old son who I try to spend as much time with as I can. I have to mix and balance everything as far as my life with him, as a full-time worker and as a boxer. I am into music but I very seldom get a chance to do it. Other than that, my free time is going to a boxing event. Everything is pretty much boxing. It revolves around my life, my career, what I want to do. Right now, I market myself 24 hours a day, 365 days. Boxing is my priority other than my family and that's what I have to do. If I'm at a boxing event, I have one of my t-shirts on. If I'm making music, I'm speaking boxing. I write R&B songs.
AW - Do you have a message for the heavyweight division?


BJ - Well, my message is being sent every fight. I'm quite sure they know who I am. You've got to think; the marketing ability I have right now is definitely on a whole other level. I'm only 17-0. I've only been pro for four years. I'm doing things not only inside the ring but outside the ring. I'm doing things as far as promotions and marketing, just being that full, complete American idol. I'm definitely a different individual. I'm sure everybody don't see it yet but I'm a different individual and my work is going to speak for itself. I have no words as a message. I just say my name. They can say smart minds can put good things together anywhere because you can tell somebody something all day long, word for word, and they still don't understand. My legacy, my future is only understandable to people who understand greatness.
Please visit our Facebook fan page at www.facebook.com/MaxBoxing, where you can discuss our content with Maxboxing readers as well as chime in via our fully interactive article comments sections.