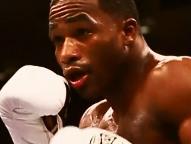 --


WBC lightweight and WBA welterweight champion Adrien "The Problem" Broner seemingly has no problems these days. He's signed with Al Haymon, promoted by Golden Boy Promotions, televised by Showtime and on his way to becoming a main event pay-per-view fighter whether boxing fans or the marketplace agree with it or not.
Post a sex tape on Twitter? Fans and media can't stop talking about him. No decisive elite-level victory? No worries. Golden Boy owns The Ring magazine and it's "pound for-pound" rankings. Broner gets placed in the top 10 simply by looking like the goods and fitting into their 2014 marketing plans, so to the middle of the pack he goes, Chuck Giampa. Who cares if it makes sense or not?
Two sanctioning body belts in two separate weight classes? No worries. He can keep them until he decides to make a divisional decision.

"
As of now, Adrien Broner is the 135-pound champion from the WBC and he's the 147-pound champion from the WBA. Unless he states that he is going to give up the belt, he will continue to stay as the 135-pound world champion as well, so that's pretty much all I have to say," said one of the talking heads of Golden Boy, CEO Richard Schaefer, on a recent conference call pumping up the fight.
With the road to 2013 in boxing's version of greatness, paved perfectly for the gifted, 27-0 (22), right-hander from Cincinnati, Ohio, one wonders if he will have any sort of challenges on his way to the Hall of Fame.
Saturday night, in a fight dubbed "Danger Zone," originally announced as a pay-per-view fight "given to fans for free" instead, Broner's lack of resistance in his quest for stardom may see a speed bump in one Marcos Maidana, 34-3 (31).
Hailing from Argentina, Maidana's biggest claims to fame are stopping Victor Ortiz in 2009, hurting Amir Khan in a losing effort in 2010 and most recently, stopping both Josesito Lopez and Jesus Soto Karass, two fighters who are tough but have been stopped in the past. Now with "Danger Zone," Maidana, trained by Robert Garcia of the Robert Garcia Boxing Academy in Oxnard, CA, and conditioned by Alex Ariza, is being cast as the first real power-punching test of Broner's run at welterweight.
This fight is odd. Maidana hasn't exactly set the world on fire at 147 against slick fighters. Against Devon Alexander, Maidana looked slow and without a plan at times. But then Broner, as he showed in his fight against Paulie Malignaggi, isn't exactly as slick as he is being hailed.
Malignaggi was not supposed to do well against Broner. He'd been stopped by Amir Khan before. The thinking was if Amir could do it, Broner should. Instead, Broner ate a lot of leather, smiled and shook his head while Malignaggi worked his tail off trying to impact the judges some way, some how. But in the end, the judges saw it wide for Broner and Malignaggi complained (and later apologized) that Broner is being protected by the network and Haymon (that is, before actually signing with Haymon).
In this fight, though Maidana is incredibly slow, he is determined, hungry and legitimately tough and powerful. Broner has been marketed as the second coming of Floyd Mayweather Jr., supremely skilled, heavy-handed and in a condition even Ann Wolfe would be proud of. Never mind the "Fat Broner" photos circulating between bouts. Never mind the WBA welterweight belt he is holding as not taken by a lineal champion. Don't look behind the curtain at the man in the grey suit and quiet demeanor selling you on the greatness of Broner.
"
Many people feel that he is heir apparent to the pound-for-pound throne," Schaefer stated, never defining if those "many people" are his own team, the media or Chuck Giampa and his pound-for-pound panel. "He knows you only get there if you fight tough fights against tough opponents and he knows that with Marcos Maidana, he has exactly that. Marcos Maidana wants nothing more than beating Broner, knows what this is going to do and Broner will be well-prepared to take care of business."
That's the selling point.
"It doesn't matter what I do. I just feel like I never get the credit that I deserve," comes the justification from Broner for whatever happens, such as getting hit in the face while the judges ignore it while admiring his smile. "So even when I win this fight - and I'm going to win this fight in a spectacular fashion - and I'm going to keep it professional. I don't have to bring nobody outside into this fight because like I said before, [Maidana] doesn't speak any English. I wish him and his camp the best and I hope nobody gets brutally hurt but I'm coming in for the kill and I put my heart in on the line and he's really going to have to make me respect his boxing skills. December 14th, I will be victorious and I want everybody to come out and watch me."
Is Broner vs. Maidana pay-per-view-worthy or an accomplishment?
"
All I'm going to say to you fans is - and you reporters - just watch the fight," said Broner. "I don't care if you like me or dislike me. Just please watch the fight. You'll see something special."
And even if we don't, well, I'm sure there will be spin within Golden Boy's media outlet and its allies. But if we do and Broner gets relentless pressure put on him from Maidana but exceeds what those who have beaten him have, perhaps "The Problem" will have earned some of that elusive respect fans, media and his promoter wish for him en route to becoming a three-division champion.
"
Hey. Like I said, man, I don't know what I'm going to do but I know I'm prepared for whatever [Maidana] brings to the table. He's got to make me respect his boxing skills. He's got to make me respect his power that he allegedly has. I don't know. I never felt a shot from him. He's got to hit me. I'm going to do what I got to do to get my victory but at the end of the night, I will retain my WBA title," said Broner.
And after that? If Broner wins, then he certainly has a problem in that Keith Thurman (should he be successful in facing Jesus Soto Karass on the undercard) will be in line to vie for the WBA welterweight title. Will Haymon make that fight? Will Golden Boy? Or will Broner conveniently vacate to defend his WBC lightweight belt, leaving the 147-pound belt to Thurman, who is also with Haymon/Showtime/Golden Boy?
That's a problem for the future. For now, Broner vs. Maidana is an intriguing measuring stick for Broner, who looks and acts the part but has yet to show us he has the depth to fully inhabit the role of true greatness.
Please visit our Facebook fan page at
www.facebook.com/MaxBoxing
, where you can discuss our content with Maxboxing readers as well as chime in via our fully interactive article comments sections.