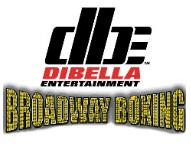 --


Lou DiBella takes umbrage when you call him just a "TV packager." The outspoken New Yorker admits he's far from perfect and while he may not like criticism (who does?), he can take it when merited. But when it comes to this particular issue, he takes exception. DiBella admits his company isn't Top Rank but he isn't just a guy who only promotes shows in far-flung Indian casinos on the dime of a television network. He points to his long-running "Broadway Boxing" series, which resumes tonight at the Roseland Ballroom in the Big Apple featuring a main event between super middleweights Thomas Oosthuizen and Rowland Bryant.
"Look, at this point, it's one of the longest running televised club shows in the United States; it's almost 10 years," he pointed out to Maxboxing on Wednesday. "And we've sold out a couple of our recent shows and we're going to have a couple thousand people in there tomorrow night. And there's a world-ranked kid in Thomas Oosthuizen in a very tough fight in the main event and a lot of local talent underneath it and it's going to be available on the internet and the delay will be on SportsNet New York, which is in about 30 million homes. So it's my farm system but I think it's more than that. We're now doing the shows in HD; we're now doing the shows in Spanish language. I'm having conversations with Spanish television with Spanish television distributors and networks about doing this, putting a Spanish language version of it out there.

"I'm very happy with 'Broadway Boxing' and the way it's coming along."
It's not easy turning a profit in New York. Ask anyone in the business and they'll tell you this jurisdiction is among the most cost prohibitive to do based on the taxes and real estate involved, especially at the smaller scale. DiBella says, "It's a very tough place to do a club show but, at the same time, it's necessary. And I've been doing it for 10 years, so I don't make my money from doing 'Broadway Boxing' but I'm creating television product. I mean, loads of guys have gone from 'Broadway Boxing' into HBO, Showtime and pay-per-view shows and I'm doing what I need to do and I think it's worked out well and it's really created a brand."
This series is usually staged in venues around the New York City area (B.B. King's, the Hammerstein Ballroom and the Roseland Ballroom) but they have done shows at the House of Blues in Boston.
Boxers like Andre Berto, Paulie Malignaggi, Randall Bailey, DeMarcus Corley, Zsolt Erdei and Sergio Martinez among others have made appearances on this series throughout the years. And in the 24-year-old "Tommy Gun" from South Africa, DiBella might have his next graduate. Oosthuizen made quite the impression on American audiences with a strong performance against Marcus Johnson on "ShoBox" back in late April. He faces a strong puncher in Bryant tonight.
DiBella states, "He's got a tough fight tomorrow night actually; he's facing a guy who just knocked out Librado Andrade. I think Oosthuizen is a real potential superstar but I don't want to jinx it because he's in with a big puncher."
According to the CSAC, last weekend's bout at the HP Pavilion featuring Robert Guerrero's tough 12-round decision over Selcuk Aydin sold 2,891 tickets with 3,126 comps and had a total gate of $209,422.
This continues a disturbing trend with Golden Boy Promotions where more tickets are actually given away than sold to their events. Do that too many times in one area and you will ruin that market as far as ticket buyers are concerned. While I'm all for fights being staged in the home regions of the fighters, you wonder if sometimes smaller, more intimate venues should be utilized. Sometimes, the biggest rooms aren't always the most ideal.
Also, it shows that just placing a fight card in the proper region isn't enough. You have to actually really work that event and promote at a grassroots level to create awareness in that area in the weeks and days leading up to the day of the fight.
Yeah, promoting is actually work and it takes time and resources.
But the card will stay put on September 8th, according to sources at Showtime, who open the broadcast with a good looking junior welterweight bout between Lucas Matthysse and Ajose Olusegun.
And here's an email from a guy I haven't heard from in too long, G. Link...
Sorry I couldn't resist taking some issue with the emailer from your most recent column. If you can use this and me as a strawman to beat up, that's cool. I'm not sensitive, so make me the Chuck Wepner to your Muhammad Ali.
As soon as I heard the news of this new promotional outfit, I immediately thought of Tiger Eye Productions. Coming off the enormous success of the first Rocky films, Sly Stallone decided to jump into boxing promoting. He managed to sign Aaron Pryor fresh off his first win over Alexis Arguello and promised that he wanted to grow boxing and would not be taking options like his competitors. Yet after all the big words and hoopla, Stallone would be gone from the business shortly.
I point this out simply to underline that being a successful promoter is hard work. It's not enough to just be famous with a lot of money. Golden Boy is the exception, rather than the rule, and has succeeded thanks to the work of the team assembled under Oscar's name. Every other promoter that has made a mark in boxing did so because boxing was their lifeblood. It wasn't a hobby or a way to maximize your best friend/fighters profit margin. So if TMT is just a temporary arrangement for the benefit of Mayweather, then it will be very successful. If on the other hand, they are looking to become a mainstay for years to come, I'd say it will be an uphill climb. Not impossible...but not likely.
Trinidad is not the fighter that comes to mind when I think of either fighter. That being said, I love a good chess match, which is what I expect this fight to be, so I'm looking forward to it. I expect Ward to be too much for Dawson.
I too thought the size differential might factor into this fight until I watched the introductory press conference. Chavez is the bigger man...but it's a far cry from being what I would call a determining factor. Paul Williams and Kelly Pavlik were both large, skilled fighters and Martinez handled them just fine. I don't see the size discrepancy being at all decisive. In fact, I believe that Chavez' massive weight cut means that if he doesn't catch Martinez within 4-6 rounds, all his extra size will become an albatross.
I'm very impressed with the improvement Chavez has made over the last few years, but how exactly does his resume suggest he's anywhere near ready to be a pound for pound entrant, because beating Martinez would put him there. While his destruction of Andy Lee was impressive, when has Andy Lee looked anything but extremely vulnerable. Has Chavez ever really faced somebody faster than him? What about faster with power and tremendous skill?
Providing Martinez doesn't show his age, which is a distinct possibility, I don't see much chance for a Chavez victory outside of a Garcia/Khan-type KO...and Martinez does not give those type of openings. I expect to see Whitaker vs Chavez 2.0...only maybe a late KO as the finish.
One thing the UFC has done so well is train it's audience to see MMA as a sport where because of the great competition, sometimes a fighter wins and sometimes he loses, no different than football or basketball. A fighter's marketability is tied to his performance (is he exciting, skilled, explosive, etc). This is a notion boxing fans need to embrace. Being undefeated is only as important as who have you beaten and how did you entertain. Amir Kahn (and Jorge Linares) is a skilled, exciting fighter who wins way more than he loses. So why do we criticize the very flaws that make him so entertaining to watch?
How can we as fans deride a Chad Dawson as a tactical, snoozefest fighter, and turn right around and be critical of Kahn for being the antithesis of that?
Had Kahn followed his critics instructions and been a safety first boxer, he likely would have pitched a shutout vs. Garcia. Would that have been more entertaining than what ultimately happened?
Don't we all wish that Floyd would open up and show us all his offensive gifts, rather than always playing it safe, even against inferior fighters?
A guy like Paulie Malignaggi has to be safety first because he can't crack, but Kahn can, so why aren't we praising him for being fun to watch, warts and all, rather than chastising him for not being more like Mayweather?'


Greg, as always thanks for your thoughts. And yes, you are right; before we go all Dennis Green and crown "TMT Promotions," let's see what type of business plan they have and how they are able to execute it. One thing I've learned is this business changes you much more than you change it. Also, as you mentioned, those who are successful over the long haul in this business are the ones with a particular passion for it.

By the way, I never knew Stallone tried his hand at promoting boxing.

As for the fights you mentioned, Ward-Dawson to me is a fight that looks much better on paper going into it than it will on the actual canvas. I agree on Martinez-Chavez. While many of my colleagues are now on the Junior bandwagon, I still think Martinez's mobility and foot speed will win this fight - provided he doesn't get old that night.

On your last point, I couldn't agree more; the MMA has a mindset where it doesn't matter if you're undefeated. You fight enough solid guys, you're bound to lose. But boxing bloggers and media types are slaves to the undefeated record and pound-for-pound lists. Those within the business are guilty of falling into the trap of the shiny, glossy, unblemished record, as if that alone makes for a good fight.

When it comes to Khan, he's a very flawed guy but he's also very fun because of that. No complaints here.

SHOW INFO

As DiBella mentioned, his card will be streamed on the internet. Here's the info for that and how to purchase tickets (from a DBE press release):
DiBella Entertainment's popular "Broadway Boxing" series is coming to

FIGHT NOW TV TM

- America's only 24-hour combat sports and entertainment channel - this Thursday night August 2, live from the famed Roseland Ballroom in midtown Manhattan.
FIGHT NOW TV will air three fights, starting at 10:00 p.m. ET in America and also worldwide via our Ustream powered broadband player -

http://www.ustream.tv/channel/fight-now-tv

- to all markets (subject to certain blackout restrictions) for a special price of $4.95 (USD)
FIGHT NOW TV is available on Cablevision channel 464 as part of the iO Sports & Entertainment Pak!
Tickets are priced at $125, $85, $65 and $45 and can be purchased through Ticketmaster or at Roseland Ballroom the night of the fights. Doors open at 6:30PM with the first bout scheduled for 7:00PM.
Also on this edition of "Broadway Boxing" is local favorite Seanie Monaghan. Trust me; this guy sells tickets. He's a must-have if you do a show in Gotham City...According to manager Gary Gittelsohn, the fight between Brian Viloria and Hernan "Tyson" Marquez is proceeding as it might take place on Sept. 29th (at a venue to be determined) but if an American network picks it up, it could move...Look for the IBF to make a ruling on the status of Lamont Peterson next week. They have consulted with medical experts on Peterson's situation; however, they will not return till this Friday, according to IBF President Daryl Peoples...Hey, with the season Montee Ball had last year for Wisconsin, why is he getting assaulted in Madison? Did this ever happen to Ron Dayne?...Can you believe fall camps are starting up all around the country. Kickoff is about a month away

...

I can be reached at k9kim@yahoo.com and I tweet at www.twitter.com/stevemaxboxing. We also have a Facebook fan page at www.facebook.com/MaxBoxing.