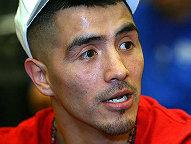 (Photo © Chris Farina / Top Rank)


The last time newly minted junior welterweight Brandon "Bam Bam" Rios, 30-0-1, 22 knockouts, fought at the Home Depot Center in Carson, CA was July 9, 2011 against Urbano Antillon. It would be the high water mark of the 26 year-old Rios' lightweight title run. Three rounds of controlled chaos mainlined straight into every boxing junkie's veins. For those that saw it live, it was yet another mini-classic at the best venue in SoCal for fighting. The outdoor bowl housed the modern classics Vasquez-Marquez 3 and Williams-Margarito. This Saturday on HBO, Rios returns to the HDC making his official 140 pound debut against "Mile High' Mike Alvarado. It's the co-feature to Donaire vs. Nishioka but the buzz feels top of the marquee.

At Wednesday's media day at Fortune Gym in Hollywood, CA, Rios greeted the press with smiles and spoke frankly about Alvarado, who he regards as a friend and fellow warrior.

"We're friends outside the ring. But once the bell rings, we're enemies. He wants to kill me. I want to kill him," Rios said matter of fact with his trademark gleam in the eye. This is what he was born to do.

"Hell no," Rios answered when asked if it was hard to fight a friend by a reporter. "It's something that we do for a living. I love my job. I love to fight. It's not going to be tough for me."

When Rios fought Antillon, he was hitting the peak of his powers as a 135 lb. fighter. At 5'8" with a 68" reach, he was physical problem for anyone at lightweight.

"I was a 140 pounder that could make 135 comfortably," explained Rios. But now it is harder to make 135 my last two performances so here I am. So if you really think about it, I was fighting at 140 my last two opponents it was just that I couldn't do it no more. So coming in at 140, it's no difference."

But after Antillon, he missed the 135 limit by a half pound against John Murray that December. Rios had a nightmarish time in missing the weight limit but rehydrated properly. He stopped Murray in brutal rounds. Rios came back this April having lost his belt on the scales vs. Murray. This time, his opponent was a fill-in for Yuri Gamboa named Richard Abril. Rios looked listless, coming in at 137 pounds but still looking like death on the scale. The fight didn't look much better as Abril clutched, grabbed, and stunk out the joint for what should have been on most cards a win. Instead Rios was awarded the decision. The listless performance coupled with that decision left a bad taste in some people's minds. This reversal of momentum is something Rios hopes to turn around with a victory Saturday night.

"What I want to do is shut up all the critics for what happened after Antillon," said Rios. "For Antillon, it was hard to make 135. I had to strip down to my underwear just to make it. But right now I want to shut up all the critics. After I get done, I want to show them and look at them and just say . . . right now I let you figure out what I say after. I just want to shut up everybody."

Rios told me that he didn't regret the Abril fight.

"I'm glad I done it because I got that experience," he said readily. "Now I know when I fight somebody that holds and hugs all the time and don't let go. Now I know what to do now. I'm glad I went through that and got the victory and that's all that counts."

Facing an Abril is just part and parcel of becoming an elite fighter.

"I seen everything already," he said. "I already fought a boxer, a holder. I fought a brawler. What more can I get? So I am ready for whatever he brings to the table. That's what we trained for. We trained for boxers, brawlers or whatever he brings, I'm ready."

At 140, Rios says he feels better than ever coming into Friday's weigh-in.

"It feels great, man. It feels 100%. This time I'm actually training for the fight not training to make the weight or for the weight," he said. "I feel great. My weight's perfect right now. I'm like a pound or two pounds off. Aw man, I can't complain anymore because before at this time I was sucking up before. Not eating. I'm still eating. I'm drinking water. I feel great right now."

A big part of Rios preparation is sparring. He loves it. Like other natural fighters before him, Rios prepares for battle by doing battle in the gym. This fight was no different.

"My preparations are like they always are," said Rios. "I train very hard. Don't get me wrong. I train all the time. I am always ready 100%. When I am in the gym, I just train. I focus on everything. I just train and train and train. I do fifteen, 30, 40 rounds. I'll do whatever, man. I love to train."

For a fight like this, the intensity level has to go up. Expectation of a great fight or not, Alvarado is a dangerous opponent who must be given respect. For a guy making his 140 debut, Rios is not being a soft touch.

"Oh man, definitely. That's what I've been doing. Sparring ten rounds, ten, twelve, fourteen rounds hard. Just to get that little spike for me that I need to say to me 'I am ready for ten rounds or twelve round fight and whatever he brings.' I wish it was a fifteen round fight. That would be great," smiled Rios.

That first round of Rios/Antillon was unbelievable. Savagery at such a high pace is rare. Some fighters, fighting all out is dangerous. They can be caught at any moment. A trainer generally likes a safer pace. But Rios is one of those fighters who seem to thrive in the eye of the storm. Where some brawlers try to sell you that they hidden boxing skills, Rios is just straight up.

"I like to fight. Rock 'em Sock 'em. I love to do that," said Rios. "So boxing, I don't really focus on boxing because I like to go in and just duke it out. I don't like to play a chess game. I just like to get in there and just handle business. Get through the business and just get it over with. That's it. That's the way I like to fight and that's the way I have always fought. I ain't going to change it up for nothing."

Both of these men come forward in a similar fashion. Rios might be the more flexible in the upper body. Alvarado though is the naturally larger man. If Rios is now becoming what he always was, a 140 pound fighter, Alvarado is 147 waiting to happen. Two fights back, Alvarado got his biggest test against Breidis Prescott. Cut and losing late, he roared back in the tenth and got the stoppage. While impressed, Rios says he's a whole other ballgame.

"Oh man, the Prescott fight. Prescott was beating him. Prescott was hurting him until the last round. He . . . he . . . I don't know what [Alvarado] came back with. A little more gas in his engine and he just took him out. So you know what? It's a different story. I'm not Prescott. And I am not going to gas out. I can take a hit and I can give a hit. It's going to be great."

Does the fact that he could make it through Prescott's power mean anything here?

"He's been hit by Prescott. Prescott is a good hitter. But I think I hit harder than Prescott. So we're going to find out whose chin is better. Mine or his," said Rios.

Some fighters proclaim you'll never see them in a fight of the year-type war. Rios seemed like he couldn't wait for the bell to ring.

"I love getting hit once in a while. And you can tell. I always smile in the ring because it feel great when they catch me like 'Aw fuck. You got me dude. Yeah, yeah, yeah let's do it again.' So that's what I was doing when I saw the first round of Antillon. It was beautiful. Then second, third came. Third came and I had to finish him," he remembered.

You always hear the phrase "hit and not get hit is the name of the game." I'm not Brandon has heard that one.

"Not me," he answered when asked if he minded the shots. "It's like a pleasure for me. It's my high. Sometimes like, when I am in the ring I want to see if he can hurt me. I don't do it on purpose like stick my chin out, naw. But if he catches me and I smile, it's like 'Ooh you got me good. That's a nice punch. But here comes mine."

There's going to be a whole lot of that in Saturday night as both men have a high output and are offensive-minded.

"What I expect him from him to come forward like he has with all of his opponents Prescott, Herrera and bang it out. But what I been reading that he has different tactics in mind," said Rios. "That he's going to come out boxing. That everybody thinks . . . that he doesn't get credit for his boxing. So he is going to show the world. So in my mind . . . in his mind I don't know what's going on . . . but in my mind I know what I can bring. I know 100% I'm going to give the fans what they want."

While Rios is aware that the taller, longer Alvarado, 33-0, 23 knockouts, could decide to use 69 ½ reach atop his 5'9 frame, he feels changing up now will be a mistake.

"If they do, that's his problem. That's not my problem," he said. "We worry about we do in the gym. So if he feels that it helps him, better, but if that hurts them that's their problem. That's their camp. We're worrying about ours."

The closer the fight gets, the more pundits will put in their two bits. The fight really comes down to simple factors.

"It comes down to who can take the punch and who comes in better shape," said Rios. "Who has more stamina and who wants it more."

This is a fight we are all dying to see. It's what fight fans dream about. For Rios, it's a chance to return to glory at the scene of his last great violent masterpiece. But he won't be fighting with such esoteric goals in mind. He'll be doing what he does, trying to stop the man in front of him. It's why we watch and will continue to, win or lose.

"If [Alvarado] brings it, yes," Rios said when asked if the fight was as can't miss as we think. "I'm going to fight that way. We've practiced some different things but I'm going to fight the way I always fight."