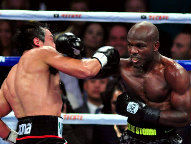 (Photo © German Villasenor)


Timothy Bradley (31-0, 12 KOs) boxed his way to a 12-round split decision victory over Mexican icon Juan Manuel Marquez (55-7-1, 40 KOs) Saturday night at the Thomas & Mack Center in Las Vegas, Nevada.

The fight was telecast live on HBO pay-per-view. With the victory, Bradley retained his WBO welterweight championship.

The bout started slowly. Marquez, the crowd favorite, stalked the faster Bradley. Marquez used his jab to set-up his harder punches. Bradley landed a right, but it was Marquez who did more in the opening stanza.

In round two, Bradley doubled up on his jab. His edge in speed was apparent. Marquez looked to counter, but Bradley used head movement to duck the shots. He managed to land two left hands, but Bradley was busier.

Bradley, 30, continued to box efficiently in round three. Marquez landed a lead right. Bradley absorbed it well and went back to stabbing Marquez with his jab. Marquez came over the top with a snappy right. Another right at the bell might have won him the round.

Marquez stayed patient in round four. Bradley started the round well with a combination. His ability to move from side-to-side confused Marquez. Marquez looked like a man trying to snatch a fly out of the air.

In round five, Marquez, 40, went to the body. His right clipped Bradley. The confident defending champion moved and landed a left hook. Marquez landed a good right at the bell. His frustration was obvious. He slumped down on his stool and glared at Bradley.

Bradley landed a right in the opening seconds of round six. Marquez followed, but was a step slow. Bradley used the ring and stuck to his game plan. His defense was stifling Marquez.

In round seven, Bradley continued to get off first. He couldn't hurt Marquez, but he was keeping him off balance and frustrated. Bradley's jab couldn't miss.

Bradley came out punching in round eight. His shots were slashing. Marquez connected with a right. Bradley clipped him with a sneaky left. Marquez was looking for one punch, but rarely finding Bradley.

The much fresher Bradley doubled up on his left hook in round nine. Marquez found Bradley with a right, but it was one punch at a time. Bradley's activity was consistent. Marquez landed a hard left hook at the end of the round, but Bradley sneered and walked away.

In round 10, Marquez tried to build off his rally at the end of the last stanza, but it was Bradley who landed a big right. The Mexican icon wobbled but remained upright. Marquez fought back with a punch that stung Bradley.

Bradley bounced and jabbed in round 11. Marquez must have sensed he was behind on the scorecards. His shots were filled with desperation. Bradley helped his cause by moving away, but not punching very much.

Marquez missed a winging right hand in round 12. He landed a hard right one minute later. Bradley's chin, a question mark going into the fight held up fine. Marquez connected with another heavy overhand right. Bradley got in the last word by staggering Marquez with a sharp punch.

Bradley was judged the winner on one card 116-112 and 115-113 on another, while a third judge had Marquez winning 115-113.

Doghouseboxing (MaxBoxing) scored the bout 115-113 for Bradley.

"I just gave him a boxing lesson," said the excited Bradley in the ring after the bout.
---
John J. Raspanti responds to all his emails. Please send all questions and comments to John at:
marlow_58@hotmail.com