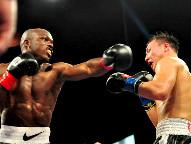 (Photo © German Villasenor)


[Writer's note: In my recent piece, "The Mismatch Report," I listed Gary Shaw Promotions and matchmaker John Beninati, respectively, as promoter and matchmaker for the December 6 card in Chumash Casino. Both men contacted me to tell me that BoxRec.com erroneously posted this information. Said information was, in fact, incorrect.
Greg Cohen
Promotions was the promoter in question. I apologize for the error.]
"
Empty your cup so that it may be filled; become devoid to gain totality."
―
Bruce Lee

In a decade thus far that seen a slow yet steadily rising tidal wave of popularity and quality for this most "dying" of sports, 2013 was an embarrassment of violent riches of varying heights and depths. We love this sport because the men and women who partake in it risk the lives and livelihoods in ways we never will. Those who give and receive the most push through the barriers most of us would crash and burn against. Just as well, those equally have our highest esteem. In 2013, there aren't two fighters who emptied their cups more for the pleasure of their fans and media with greater victories than WBO welterweight champion Timothy "Desert Storm" Bradley and WBO junior welterweight champion Ruslan Provodnikov. Their careers intersected and ultimately intertwined in career-defining breakout performances against each other and fellow champions.
These days, the sport is in major flux. From its dual universes on HBO and Showtime to the ever-changing techno world we live in to the hot button issue of 2012 - anti-doping - the sport is evolving for the better. Edwin Rodriguez joined Nonito Donaire at the end of the year as the second fighter to volunteer to be tested year-round by the Voluntary Anti-Doping Association. But all through the year, in fights that changed their careers for the better, Bradley and Provodnikov championed ongoing anti-doping despite fighting for testing in each of their fights. The battles themselves include the frontrunner for "Fight of the Year" versus each other and dominant, career-best wins against solid alphabet champions.
Following his surprise win over Manny Pacquiao for the WBO welterweight title in June of 2006, Timothy Bradley was undergoing a sea of criticism. Many felt he had not won the bout by much at all. Social media was merciless and writers weren't much nicer at all. The good son from Palm Desert, CA who grew into a strong, principled family man who still lives in the desert and trains with Joel Diaz, was ruined by critics. What should have been his big moment was marred by boos as Bradley refused to do anything but celebrate his win. Much like Marvelous Marvin Hagler, he had become a champion only to have the crowd turn on him in his moment of glory. Few kings had ever felt the heft of the crown so quickly as Bradley did.
Provodnikov, now fully entrenched with Freddie Roach at the Wild Card Boxing Club, co-managed by Vadim Kornilov and Andrey Napolskikh and promoted by Artie Pelullo of Banner Promotions, stated his case for a shot at Bradley:
Bradley would not fight again for the rest of the year. Provodnikov went home to Russia to train and prepare for what he believed would be a giant year for him if he could only lure a big name to take a chance as his foil.
As 2013 began, Ruslan Provodnikov had four things going for him: 1) He was known as Manny Pacquiao's chief sparring partner as "Pac-Man" prepared to face Tim Bradley in June of 2012. 2) Many people felt Pacquiao was robbed in the fight. 3) The media and fan derision over the decision had pissed Tim Bradley off so much, he went looking for the toughest fight he could get into and 4) HBO was looking for action fights to fill the gap left by the banished Golden Boy Promotions stable. Bradley-Provodnikov, slated for March 16, was part of that makeover.
As the fight was announced, Bradley was open with the media about wanting anti-doping testing for the fight. Provodnikov announced that he too wanted testing. But in Provodnikov's case, he only wanted VADA testing.
Ultimately, the two men were tested by VADA and passed each test. Their tenacious pursuit of a clean, level playing field set the stage for the arguable "Fight of the Year."
The fight inside the ring was brutal, unexpected and showed the best of each man. Coming in, the most elite network level Provodnikov had reached was ESPN2's "Friday Night Fights." It was derided by fans and critics as a likely cuts stoppage victory for Bradley. For the "Desert Storm," it was a trial by fire. For Provodnikov, it was a coming-out party.
Coming in, Bradley told everyone who doubted the Pacquiao win or who called him boring that this would be a war. He minced no words. If boxing wanted more from him, he was going to give them the last thing they needed. Tim Bradley was looking for a fight. He found one in Provodnikov. Thankful, humble, hungry, this was his moment.
Provodnikov tried to seize it from the first bell, stunning Bradley early, knocking him back into the ropes and into the seemingly concussed state in which he fought all night long. Provodnikov and Bradley took each other to the limit and beyond. Provodnikov, a tireless pursuer. Bradley, the ever-changing puzzle who purposely went to war with the former, took unbelievable shots to the head and body and remained composed enough to survive rush after rush. In the middle of the fight, he appeared to tame Ruslan in spots by boxing, then he'd throw the game plan out the window and battle. It was an epic clash that brought out parts we'd ever thought we'd see in either competitor. In the closing moments, Provodnikov hurt Bradley, causing him to take a knee and risk points rather than a knockout loss. No one blamed him. He rose and finished the fight, the decision now even more uncertain. But on some level, it was a fight in which both men won.
Though the close decision by scores of
114-113 (twice) and 115-112 for Bradley was accompanied by some grumbling, no one could doubt his resolve, chin and willingness to please us at the cost of possibly everything he'd built to now.
Provodnikov had proven to be much more than anyone expected him to be. Over the years, he had grown, quietly in the shadows. When it mattered most, he came through like the champion he believed himself to be. After the loss, he went home to Russia to rest and train harder - resolving to work harder next time. If he had been dangerous before, now he was a man intent on righting what he perceived a wrong.
Now that he had his war, Bradley wanted a legacy fight and he certainly got one. Since he had gone the distance with Pacquiao in a close fight, why not take on the man who knocked Pacquiao out cold in his next fight, Juan Manuel Marquez? It was a natural fit for October 12, 2013. Only, there was a snag: who would handle testing?
Timothy Bradley wanted VADA testing. Marquez wanted USADA testing. The battle for any testing would end up being a crazy, arduous one. None of it was easy for Bradley, who debated calling off his multimillion-dollar pay-per-view fight over the issue as time wore on and no testing was being conducted. Maxboxing.com's coverage of it spanned four articles.
"
Will Arum's proposed Nevada testing endanger Marquez vs. Bradley?"
"
The Bob Arum-Nevada Testing Agency is Failing"
"
There's no Breaking Bradley"
Bradley was victorious on multiple fronts. He clearly beat Marquez by decision, showing off his full array of skills while negating Marquez's offense almost completely. He also got his VADA testing, the presence of which prompted the Nevada commission to upgrade its testing, if only for this fight. Champions do more than what is expected. They go beyond what has happened before. In the process of achieving his historically significant Marquez fight victories in and out of the ring, Tim Bradley was a shining example that a champion's responsibility to the sport extends, in some cases, beyond the ring.
At the same time Bradley was going through his troubles, Provodnikov was getting set for a shot at the WBO junior welterweight title held by Mike Alvarado set for October 19, 2013. Provodnikov made it clear that for hianti-doping testing with VADA was a must regardless if Alvarado joined him or not.
Alvarado's team balked privately, citing they did not want to pay for it on their own. Provodnikov decided to undergo the program on his own and at his own expense.
"
Ruslan Provodnikov is getting VADA tested with or without Mike Alvarado"
And then Provodnikov went to Alvarado's hometown and put on a violence clinic, as the Denver native was stopped in eight rounds to become a world champion for the very first time.
Together, Bradley and Provodnikov broke through to another level of respect, forcing each other to dig deeper both in their fight together but after it, as well. Many questioned if Provodnikov and Bradley would ever be the same after their fight. The answer is no. They proved in their next fights that because of their meeting, they would forever be altered for the better because they met in the first place. Because of their shared stance both in their fight together and fights after, when it comes to anti-doping in boxing, the sport will never be the same either. For these victories in and out of the ring, WBO welterweight champion Timothy Bradley and WBO junior welterweight champion Ruslan Provodnikov are my 2013 Fighters of the Year.
Please visit our Facebook fan page at
www.facebook.com/MaxBoxing
, where you can discuss our content with Maxboxing readers as well as chime in via our fully interactive article comments sections.