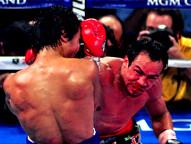 (Photo © German Villasenor)


As a torrent of Tecate was being thrown in celebration around the rafters of the MGM Grand Garden Arena in Las Vegas, a delirious crowd of nearly 17,000 (mostly Mexican partisans) was celebrating something that, to them, was the impossible dream. Manny Pacquiao, who had a sterling history against the likes of Marco Antonio Barrera, Erik Morales and one Juan Manuel Marquez, was on his face, lifeless and limp on the canvas near his own corner at the end of the sixth round. Referee Kenny Bayless could've counted to a 1,000; it was game over for the fabled "Pac-Man" on this night.
"The Mexicutioner" had been slain.
"This victory is not only my victory; this victory is for the entire country of Mexico," said Marquez through his promoter, Fernando Beltran, at the post-fight press conference.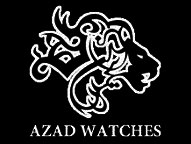 Azad Championship Report

Marquez, who in three prior attempts to defeat the iconic Filipino, probably won more rounds than his rival (except in the eyes of the judges), finally putting to rest any debate in their fourth match-up by landing a booming, right-hand counter to an oncoming Pacquiao. "I knocked him down earlier and I thought I could knock him out cold and I threw the perfect punch," said Marquez, who scored his first knockdown in this historic series in the third frame with an overhand right over the low guard of Pacquiao, who was caught on his heels - and soon, on his backside.
To Pacquiao's credit, he battled back and in the fifth round and scored his own knockdown. In a memorable stanza, both men exchanged leather in violent fashion and any doubts about whether this fourth chapter of Pacquiao vs. Marquez was even necessary were quickly forgotten. Consumer fatigue or backlash? Who could possibly be tired of watching these two men battle? This was as good as it gets in the sport. The beautiful brutality of it all.
In the sixth round, Pacquiao seemed to take full control. He was beating Marquez to the punch, visibly marking up his face and breaking his nose in the process. Marquez's face was becoming a crimson mask and at this point, it looked like Pacquiao had assumed full control of this fight. He was landing with as much consistency on Marquez since perhaps the first round of their initial hook-up in 2004 (when he scored three knockdowns). This was actually looking like the vintage Pacquiao.
"I got hit with a punch I didn't see," remarked Pacquiao, shortly after he had finally come to his senses.
We have seen Pacquiao lose; we've seen him hurt and dazed. But the sight of him frozen stiff like a cadaver was both stunning and scary. Roach said to the media afterward, "I thought we were in control of the fight; I thought we almost had him out. But he got a little careless and walked into a two-inch punch." The trainer made it clear, "It wasn't a lucky punch; he set us up well. I was a little surprised he could pull that off with how hurt he was. But he did."
Pacquiao got greedy; he doubled down trying to put the finishes touches on a round he seemed to be winning. And like many others in "Sin City," he busted. He was up on the scorecards at the time of the stoppage by the scores of 48-47 across the board. At age 33, you have to wonder what the future holds for Pacquiao. This was the type of loss you can recover from physically but perhaps the real hurdles are psychological. Can he possibly have the same thirst and hunger for combat as he once did? Politics might be dirty but this boxing gig is no walk in the park.
"I don't think it's the end of Manny Pacquiao," said Roach, who's having the worst year of his professional life in the corner. The fighter himself, who did not attend the post-fight presser, made it clear he would continue on.
As for what the future holds for both men, promoter Bob Arum said, "Fifth fight? Why not? Have you seen a more exciting fight in years?"
But Marquez is taking a siesta for now.
"Honestly, I'm not thinking of any fight; I just want to rest. I just want to celebrate with my family, celebrate with my friends."
In the aftermath of this memorable battle waged between Marquez and Pacquiao, I received a good number of emails about this event. And I think these two really encapsulate the two trains of thought I've read most on various social media platforms and the reactions I've gotten.
This first one is from a fan from "The Windy City":
What's up Steve? What a war! That fight was unbelievable. Going into this fight I along with many writers and fans were suffering from customer fatigue. However, we all should have known better when two Hall-of-Famers and card carrying bad asses step up to fight each other. I was expecting this to be like Leonard-Hearns 2 and ended up getting this generations Hagler-Hearns with a Hearns on Duran type ending. I would much rather see fights like this instead of skilled technicians who cautiously dance their way to eek out decisions. Round 5, particularly the last half of the round, will go down in a time capsule as one of the most memorable rounds in boxing history. The skill and will these two men have exhibited over the years is nothing short of admirable. If they want to go again for a 5th time sign me up. No matter how many times they fight you know you will get a good show with all the twists and turns that make boxing great.
Lastly, even though he lost, it is the way Pacquiao fights is what has made him so popular to boxing fans. This was the old Pacman who always straddled the line between reckless and murderous aggression. All credit goes to Marquez because he finally slayed the dragon that he went to hell and back to get. 8 years, 4 fights, 42 rounds, 1 fight in Indonesia to get one of the greatest knockouts of all time. I'm not going to address the craziness and flat out absurd statements that i know I will hear from writers, crazed fans, nut huggers, fans who came out of the woodwork, and those who will make fun of a guy giving everything he had to get a knockout and got KTFO'd in the process. I'm just going to enjoy what happened

on Saturday night

. Finally boxing showed everything that makes it great. The drama, action, and sheer brutality that in can bring at any given moment. That is why I watch throughout all the lows and why I will always have respect for anyone that steps through those ropes.

-Jay G. from Chi-Town


Jay, I was one of those guys who talked about a certain fatigue regarding this match-up and I'm glad I was dead wrong. This was the very best the sport had to offer. The in-arena atmosphere created by Top Rank was top-notch and the fight had palpable electricity to it. I'm very honored and proud to say I've been to all four editions of Marquez-Pacquiao. It's one of the reasons you do this job (it certainly isn't for the money); you get to witness and record history. And you know what? If they do a fifth fight, I will be very excited about it (I have a feeling both men will be given a looooong rest and if it's consummated, it will take place on Mexican Independence Day weekend - so expect another Top Rank-Golden Boy conflict for this pay-per-view slot) and I'm sure they will give us another great show.

I'm actually very interested to see how Pacquiao fights coming off such a harrowing experience and as you mentioned about his somewhat "reckless" style. Will he still have that same mentality in the ring? To me, that's the big question because, honestly, I liked what I saw from him offensively. To be just as frank, as good as Pacquiao is, he's always had some flaws. And that's what made him fun, the fact he wasn't perfect and yet was willing to take risks and lay it on the line. Hey, eventually, he was going to die by the sword.

Then I got this email missive from a regular contributor to my inbox, Shane B:

I'm sorry, I've been a huge

JMM

fan for years and years, but this win to me is as meaningful as Bonds 73rd home run in a season and No 756.
it's a total cheat. a complete sham. put an asterisk on it. Believe your eyes.
these guys fought for 36 rounds and the difference was one guy could put the other guy on his ass.
now at 39 Marquez is the brown version of the Incredible Hulk with one-punch KO power.
we've seen this movie before.
Ben Johnson, Canseco, Sosa, McGwire, Clemens, Bonds, Armstrong, and now Juan Manuel Marquez.
I'm sorry but you're hopelessly naive at best if you think JMM hooked up with one of the world's notorious cheaters, bulked up to

Troy Polamalu

's size and now has one-punch KO power at 147 naturally.
and frankly the enjoyment of this damped because we know what comes next.
he'll get caught.


Shane, I won't go on as far out of a limb as you did but we have to be honest and employ some common sense here. A lot of what you said cannot be denied but in all fairness to Marquez, when you land a punch like that - with Pacquiao charging straight into it - it may be much more about leverage and momentum than any PEDs.

Now that said, Marquez's association with "Memo" Heredia is eye-opening. This is what I wrote about him last year after he was first seen on HBO's "24/7": http://www.maxboxing.com/news/sub-lead/will-the-real-memo-please-stand-up

Then there's this video, which to me, is frankly troubling: http://www.youtube.com/watch?feature=player_embedded&v=s0GbnVdWaIU

But here's the reality: There are large, gaping loopholes in the system that are there to be exploited. Like everyone else, Marquez is playing within the rules that are set forth for everybody. The bottom line is the regulators need to regulate better. And the power brokers in the business, from the promoters to the networks, need to flex their own muscles to create change (but, making it clear, that they are not to be part of the process in terms of the testing, collecting samples and making decisions on disciplinary matters).

This all comes down to loud suspicions about Marquez/Heredia coming into this fight; Freddie Roach admitted as much (before backpedaling like a cornerback). However, the irony is that the inaction and indecision of the past - regarding superior drug testing for Manny Pacquiao, ironically - put Roach, Pacquiao and Arum in a bind. How could they possibly demand more stringent testing on Marquez based on how they reacted to Floyd Mayweather's demands? (And Shane, let's be honest; some would argue that all Marquez did was level the playing field with Pacquiao.) The genie is currently out of the bottle and as of this moment, it might be way too strong to get shoved back in.

Now, let's say Marquez-Pacquiao V is signed for sometime in 2013. Wouldn't it be a good time to start creating a culture change as it relates to boxing and this issue and perhaps try and implement real Olympic-style random testing? Whatever happened in the past is in the past. There's nothing that can be done about it; that's fine. But look forward and improve the health and safety of the sport. Again, it doesn't have to be VADA but an organization agreed on by both parties, working in concert with the local commission (and again, with the promoter staying out of it, period).

And this issue isn't just about health, safety and fair competition but also an economic one. Yeah, economic; hear me out. Victor Conte has asked me several times, "What will it take for the boxing world to get serious about these issues?" My answer every time is, "A ring fatality." That would be our "Ben Johnson moment." But imagine a nightmare scenario where in a high-profile, internationally televised fight, a fighter is brutally knocked out and fatally injured in a bout and then it comes out that the winning fighter was juiced up? Could you imagine the fallout from that? I think you could very well see a scenario where sponsors pull their support for the sport, not to mention venues hesitant to stage fights and lawmakers looking to ban the sport in their jurisdictions. As for the networks, I don't think it would be out of the realm of possibility that they would start to re-evaluate their commitment and focus on the sport such a scenario occur.

So yeah, death would be kinda bad for business.

Let's hope it never gets to that point.

Honestly, PEDs in other sports don't bother me nearly as much. I'm not going to be a hypocrite and say I didn't enjoy the home run derby of 1998 between Mark McGwire and Sammy Sosa or didn't love seeing 550-foot bombs to the opposite field. The truth is, those two guys help rebuild the baseball business.

But in this sport, you don't hit curve balls; you physically assault your opponent.

PAC STATEMENT

This statement from Pacquiao was released by Top Rank on Sunday afternoon:
LAS VEGAS, NEV. (December 9, 2012) –
Following his knockout loss to

Juan Manuel Marquez,

Fighter of the Decade

MANNY "Pacman" PACQUIAO made a precautionary visit to University Medical Center.
"Manny was given a CT scan and the results were negative," said

Michael Koncz, Pacquiao's advisor.

"We were in an out in just over an hour and Manny was in excellent spirits."Pacquiao returned to his penthouse suite in THEhotel for a family dinner followed by a viewing of his fourth fight against Marquez.

As the DVD played, Pacquiao announced "Spoiler alert.

I don't think you are going to like how this ends!
Pacquiao then issued the following statement to his fans:
"First and foremost I would like to thank God for keeping Juan Manuel Marquez and me safe during our fight on Saturday night. I want to congratulate Juan Manuel. I have no excuses. It was a good fight and he deserved the victory. I think boxing fans who watched us were winners too.
"To all my fans, I would like to thank you for your prayers and assure you that I am fine. I am looking forward to a nice rest and then I will be back to fight.
"On behalf of Jinkee and our family, we would like to wish everyone a joyous Christmas and a happy and healthy New Year."

FINAL FLURRIES

The Marquez-Pacquiao IV replay will be aired on HBO this Saturday night at 9:30 p.m., ET/PT...Seriously, the first two fights on this pay-per-view undercard had me longing for the days of Butterbean and Mia St. John...Just my opinion but I think Adrien Broner would simply be too much for Yuriorkis Gamboa...Lightweight Ray Beltran is suddenly on a nice run...Roach, on his recent losing skid in the corner: "It sucks."...How 'bout that "Johnny Football!"?!...Are the Memphis Grizzlies for real?...I think RG3 is a brilliant talent but I really have concerns about his durability in the long run...I gotta say the Mirage Hotel in Las Vegas has a great fitness center. You can actually get a real workout in there...For some reason, Arum didn't like my question about looking ahead to Marquez's future in the ring. He bellowed out that it was disrespectful to even think about it and that he wasn't like other promoters. Uh, OK, but didn't Arum bring up the possibility of Marquez-Pacquiao V? But Happy Birthday, anyway, Bob...Downtown Las Vegas is an interesting scene; I'll say that...I can be reached at k9kim@yahoo.com and I tweet at www.twitter.com/stevemaxboxing. We also have a Facebook fan page at www.facebook.com/MaxBoxing, where you can discuss our content with Maxboxing readers as well as chime in via our fully interactive article comments sections.