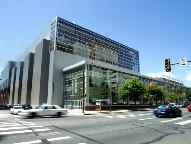 Temple University at McGonigle Hall


As far as Main Events and Kathy Duva are concerned, the big fight card this weekend takes place at Temple University at McGonigle Hall where the latest installment of "Fight Night" on NBC Sports Network showcases heavyweight hopeful Bryant Jennings against Bowie Tupou. Oh, and there's no fight card in Las Vegas, right?
"None that I'm going to be at," said Kathy Duva with a laugh, knowing full well that most of the attention this week will be diverted to the fourth go-round between Manny Pacquiao and Juan Manuel Marquez at the MGM Grand.
But going up against higher-profile shows on other networks (and this week's offering from Top Rank is on pay-per-view) is nothing new for Main Events and NBCSN.

"Y' know, we were up against HBO and [Julio Cesar] Chavez on June 16th. We were up against [Danny] Garcia and [Erik] Morales on March 24th," she pointed out. "These were all dates that were announced ahead of time, every one of them. What am I going to do? Here's the thing: Our show is going to be replayed at 1 a.m. So for people on the West Coast, you have the rare opportunity to watch Pacquiao and then tune into our show and see what happened. For people who are on the East Coast, they can either TiVo one and watch the other - of course, we prefer you watch us - but we understand if people want to TiVo our show. And the timing of it works. You can watch our show while the prelims are going on and we'll be off the air at 12, when generally the Pacquiao fight is generally starting to take place. So there's a lot of ways to watch it but we really want to emphasize on this one that at 1 a.m. with replay, that's a nice opportunity for people who have gotten together to watch boxing on the other side of the country, at least to not miss anything."
In the age of TiVo/DVR, it's more convenient than ever for viewers to watch multiple boxing cards that take place on the same night. Still, for a card like this, it's impossible not to be overshadowed when the likes of the "Pac-Man" is in action. As the Filipino icon waffled on his date over the summer, NBC and Main Events had already announced they would be staging their card on December 8th. When Pacquiao decided on this date, it was like they had pulled the trigger in a game of Russian Roulette and, well...y' know. But according to Duva, boxing fans watch more than just the marquee events.
"We're finding that we're doing really well. I think, in some respects, it might actually draw more attention to our show," says Duva. "People who are really fans, they like the fights; they want to see them. They're checking the boxing websites to find out about the big fights that are going on, seeing stories about our show as well and they're saying, 'Hey, I want to see that.' We're finding that our replays are coming in really strong. The replay that comes on at one o'clock with the younger male audience. I suspect that people on the West Coast after watching a big fight on Showtime or HBO or pay-per-view, they are tuning into our fight. On the night of the [Zab] Judah fight, in particular on March 24th, when he fought Vernon Paris, when Garcia fought Morales, I see the ratings in 20-minute increments. You could actually see the moment when the Garcia fight ended and everyone tuned in to watch Judah. And in that one, the timing worked out very well for us.
"What I've been told is that on January 19th, which is our next show of next year, where we're going to have Sergey Kovalev fight Gabriel Campillo in another tremendous fight, we're up against Showtime and HBO on that night. So I've given up the idea that we're ever going to get a Saturday to ourselves," she says, chuckling. "I take it as a compliment that they're competing with us and I don't know if we're hurting their ratings. I know they're not hurting ours. So NBC's delighted and another thing we know is that when they show our reruns, frequently, they are the highest rated show of the day on that network. So people are seeing the fights. Whether they see it live or two weeks later, it really doesn't matter to me and I don't think it matter much to NBC either."
Helping matters at the turnstiles is that most of the fighters on this card are from Philly.
Duva says, "I don't think it's going to hurt our gate; believe it or not. I really don't. I think that, first of all, nothing against Manny Pacquiao or Marquez but we have them do it three times already and so I don't know if that anticipation is so strong with this one to see it live. You can watch a replay a week later; you can find all sorts of ways to see this fight if you want to But our show, as always, is being held up by local guys selling tickets and that's really what club shows are all about and that's what boxing at its most elemental form is all about. And yeah, these people are probably interested in supporting their friends and see them fight and see their local hometown guy. We've got guys on the card who can literally walk from their houses."
The show, regardless of anything else, must go on.
This will certainly be an eventful date for boxing fans in the States. HBO has an attractive tripleheader from the Theater at Madison Square Garden and Showtime has a telecast featuring Devon Alexander's defense of his IBF welterweight belt versus the talented Kell Brook. And then you have the card on NBCSN. Before all that, on back-to-back weekends in December, CBS and NBC are showing live boxing.
For a dead sport, it sure seems to get a lot of television exposure almost every weekend.
"It's certainly not dead in my office," says Duva, whose company has enjoyed a strong 2012. "We're crazy busy here and I think it's fantastic that within seven days of each other, there's going to be two fights on network broadcasts when we've waited 15 years for it. So yeah, the more the merrier. I'm looking forward to the day when we have broadcast shows competing at the same time on different networks."
OK, here's an email I received on Monday morning in response to my column where I stated that Miguel Cotto's loss squelched any chances of a Cinco de Mayo showdown with Saul "Canelo" Alvarez:
Great analogy! Bob Arum has a core group to count on with Saturday's fight, but I don't see this one eclipsing 850,000 buys due not just to customer fatigue but to the economy and Christmas season. This rivalry is more Ali-Norton than it is Marquez-Vasquez or Limon-Chacon meaning that 3 is enough. Just to give you the man on the street opinion (in NYC, anyway) everyone I've spoken to is passing on this one. Regarding Cotto, it was an unnecessary loss that should be blamed on management. Golden Boy has K9 Bundridge under contract who stylistically was a better matchup for this version of Cotto. I say it here that Canelo-Cotto takes place May 4 in Las Vegas and does well financially, just as Morales-Pacquiao 2 took place (and was a box office success) on the heels of Morales' loss to Zahir Raheem. The PR fans are as loyal as can be and the ones I watched the fight with are still looking forward to that fight. Miguel sounded like he had one foot in retirement prior to the fight, but his uncharacteristic post fight anger and exit from the ring without the customary post fight interview, leads me to believe he doesn't want to go out like that. I agree with you that he's got serious mileage, and even in his prime he fatigued in the championship rounds, but the Garden will be closed for renovations during his customary PR Day Parade weekend and Canelo is his most lucrative realistic opponent @ a time that he no longer is a sure thing against any world class fighter. Just my two cents. Stay safe, Rob
Rob, you make some salient points and you aren't the only email expressing this opinion about "Canelo"-Cotto. And guess what? Call me Mitt Romney but I've flip-flopped on my opinion of this fight taking place. Not only is there precedence (including Zab Judah facing Floyd Mayweather immediately after losing to Carlos Baldomir) but pay-per-view is about stars and appealing to public demand. This isn't about a network putting up an exorbitant license fee for Andre Berto with no rhyme or reason. This particular fight here will sell, regardless of the results of Saturday night. Yeah, Austin Trout won the fight fair and square but there's nothing fair and square about the boxing business. If you can sell, you get these opportunities and sometimes losing, well...it doesn't matter all that much.
If Golden Boy Promotions believes there is enough public support to go with "Canelo" vs. Cotto and is willing to risk it financially, well, that's certainly their prerogative. The consumer will make the decision if they want to support this event. And early returns indicate there is still plenty of public support for this fight.

COLD WAR

So what was Bob Arum's reaction to Floyd Mayweather announcing (http://espn.go.com/boxing/story/_/id/8718291/floyd-mayweather-jr-eyes-two-fights-2013-says-adviser-leonard-ellerbe) that he would be returning to the ring on May 4th and September 14th?

"Floyd Mayweather announced nothing. This is [Golden Boy CEO] Richard Schaefer's amateurish, infantile way to try [and get] reserve dates, which of course doesn't go over," he said on Thursday afternoon at the press room for Pacquiao-Marquez 4. "Now obviously, if Floyd Mayweather wanted to fight on May 4th, no one's going to fight against him. If it's a bait-and-switch operation - which it looks like - who cares? Nobody cares. Nobody is going to listen to them."

Of course it still has to be decided on just who Mayweather will face and which network would distribute the pay-per-view, HBO or Showtime. Those at HBO are dubious about this claim and wonder if this is just another attempt to flex "Mayweather Muscles" and get leverage over the network for its other dates in 2013. But it's another example of how the "Cold War" between Top Rank and Golden Boy (which has promoted all of Mayweather's bouts since 2007) is only intensifying. Arum said of Schaefer, "The man doesn't know what he's doing; he's a Swiss banker. He doesn't understand the sport. He never will. He has the imagination of a Swiss banker - which means none."

DESERT STORM

Arum confirmed that Tim Bradley, coming off his disputed victory over Manny Pacquiao last June, is making his return to the ring on February 9th. As for who he might face, the promoter said, "We want to see what happens in this fight this weekend [Pacquiao-Marquez] and then we'll be able to make a suggestion to Bradley and we hope to have him back in the ring here in Nevada on February 9th at the Mandalay Bay."

For a spell, Bradley seemed to be rebelling against Top Rank and even hired the services of Gaby Penagaricano (best known for being the adviser of Miguel Cotto).

"Well, I think he realizes that they sent in Gaby to poison him and he believed that Gaby was this great genius until he saw what happened last weekend," said Arum, referencing Cotto's loss to Austin Trout in New York, a fight that severely damaged Cotto in several ways. "I believe - and I don't know this for sure It's my opinion - that there was a sell-out deal to Al Haymon (who represents Trout) and he sold Miguel Cotto down the river."


Duva notes that the other scheduled dates for NBCSN are February 23rd, March 9th and June 14th. She notes their deal with the network has been extended for two years...This telecast from Temple, which starts on Saturday night at 10 p.m., ET, also features a bout between Jerry Belmontes and Eric Hunter...Since this fight card is being held at Temple, will we see a rematch between John Calipari and John Chaney? (http://www.youtube.com/watch?v=51-4sJTf7iQ)...WealthTV is doing another card this weekend; this time around, it's James DeGale against Fulgencio Zuniga on Saturday afternoon at 4 p.m., ET…Promoter Peter Rivera tells me that Juan Manuel Lopez will make his return to the ring on February 2nd in Puerto Rico and they still hope to make the grudge match with Wilfredo Vazquez Jr. in April...With Andre Ward injuring his shoulder, his fight with Kelly Pavlik will be pushed back. I'm told one option for that January 26th date is to make it a "Boxing After Dark" date and keep the Chris Arreola-Bermane Stiverne fight. Or they can just scrap it all together...Demetrius Andrade will face Freddy Hernandez on the January 25th edition of "ShoBox"...So I guess Peyton Hillis and Joe Thomas aren't BFFs, huh?.....30,000 points and counting for Kobe Bean Bryant. No matter what you think of him, that's quite an achievement...I can be reached at k9kim@yahoo.com and I tweet at www.twitter.com/stevemaxboxing. We also have a Facebook fan page at www.facebook.com/MaxBoxing, where you can discuss our content with Maxboxing readers as well as chime in via our fully interactive article comments sections.