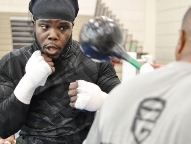 (Photo © Goossen Tutor Promotions / Brittini Moten)


On April 27, 2013, heavyweight contender Bermane Stiverne had a shot at the WBC version of the heavyweight title within his grasp. Three rounds into his fight with Chris Arreola, Stiverne, who came to boxing late following an injury that cut his college football aspirations short, had fought through his early nerves. The bout was fought at a fast pace with both men shooting jabs and firing right hands. But neither had found the full purchase. Then Stiverne shot a right hand through the nose of Arreola, who had his left hand low off a jab, and the whole fight changed.
The bell sounded as Arreola hit the deck for the second time in his career (his first was against Travis Walker, a fight in which Arreola roared back to win by knockout). His nose bloodied and broken, Arreola rose on shaky legs, not suite sure how a tight fight got away from him. It was a moment of arrival for Stiverne, something of an unknown, then at age 34. His previous big win had been against a 40-year-old Ray Austin for the vacant WBC "silver" heavyweight belt.

Over the rest of the fight, Arreola fought through a profusely bleeding nose, sticking his jab and throwing that chopping right. Meanwhile, Stiverne revealed himself to boxing fans, backing up, picking his spots wisely and chopping at Arreola's body in spots. Between rounds, he was heading to another place, tired but in that place, fighting the fight he had always dreamed of against the foe who could take him where he believed he should go. When it was over, Stiverne was awarded the unanimous decision and Arreola went back to the drawing board.
Stiverne is no ordinary former footballer-turned-fighter.
Stiverne was born the 11th of 13 kids in Haiti and moved to Miami with his family at age 10. "B.WARE" would receive his initiation into the world of fighting the hard way. Bullied at school as the new kid, Stiverne learned he could handle adversity with his fists as he turned back challenge after challenge.
As he got older, Stiverne's acumen for football grew and the talented linebacker was recruited by Nick Saban at Michigan State. However, fate had other plans for Bermane and an injury cut his career short. Two years later, Stiverne took up boxing and has made his way to a being 23-1-1 (20) heavyweight contender under the tutelage of Don House with a title shot in sight.
If there is a knock on Stiverne, it is that while he had the big win over Arreola, he hasn't fought since. Coming into Saturday's bout, for which he weighed in Friday at 239.5 to Arreola's 239, Stiverne will be shaking off a year's rust while Arreola fought last September, albeit in a one-round destruction of Seth Mitchell. How much that will be a factor remains to be seen.
What we do know is Stiverne is not afraid to let his passions run high. At Thursday's press conference, Stiverne, who is promoted by Don King, displayed an intensity we have never seen before (https://www.youtube.com/watch?v=Xrlv0-WVEbQ&feature=youtu.be). Like in their first bout, Stiverne is now showing more dimensions. At first, the 6'2" Stiverne seemed tight, emotional, as he was in the early rounds of the first fight. He gripped the podium and went through a pause-laden monologue, thanking various people. And then he exploded like a silent bomb whose true destruction will only be measured post-fight on Saturday.
"Ain't nobody going to beat me. I mean, ain't nobody going to beat me," Stiverne said quietly, gaining momentum and he rolled along and was egged on by King. "I don't take talk. I talk in the ring. I let the media talk, even when they talk sh*t because most of them ain't been in the ring. I'm done talking. I'll do my talking in the ring. I know Chris like to talk. I give him the mic so he can do what he does best: talking. I don't believe in excuses and if you think for one minute I couldn't knock you out in the last fight, you are wrong - so wrong. You're wrong. What you didn't know was that that was the plan: to whoop your ass. Not to knock you out but to whoop you. This fight, I am going to drop you. Then you going to get up. I'm going to whoop you and then I am going to knock you out. You can have that silly face that you got on right now. That don't matter. In the back of your mind, you know. You know. I swear to God, you know. You know whats going to happen. Make a show for people. Stare at me. It don't matter because in that ring, that mouth of yours, I am going to shut it down and this time, it ain't no joke. This time, it ain't no joke. I am going to take your head off. Whatever you give me, I am going to take it off. Whatever weight you lost, it don't matter. You can be in shape all you want; it don't matter. It doesn't matter. You ain't got the skills I got or the power I got. Whatever you do, I do it better - 10 times better. Remember where I'm from, man. You can have all the balls and heart you want to. That ain't going to help you. Nothing is going to help you. Think about that tonight when you are alone because I'm for real. Ain't nobody going to beat me."
It was a tirade that built to a peak and came crashing over to Arreola's side of the podium. When Arreola passionately pleaded his case, Stiverne simply said, "I got you."
This game of boxing is about confidence as well as skills. With his ability to change punch trajectory and fight well in the mid-to-short range as well as at long distance, Stiverne becomes a puzzle Arreola is going to have to solve. As tough and persistent as Arreola was, simply wanting it more will not do. Champions emerge in all kinds of ways. Out of nowhere and from a great distance, Bermane Stiverne appears to be slowly forming before our eyes into a championship-level boxer. Can he go all the way and finish what he started in the first fight? He very well could. The difference between contender, titleholder and champion may very well be what actually makes the difference.
Please visit our Facebook fan page at
www.facebook.com/MaxBoxing
, where you can discuss our content with Maxboxing readers as well as chime in via our fully interactive article comments sections.