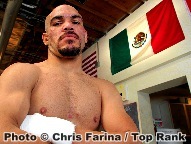 (Ray Beltran)


If there were any justice in the world (or in the sport of boxing), Ray Beltran would have had his hands raised after knocking down and beating Ricky Burns - breaking his jaw in the process - from pillar to post last September in Scotland. Or the WBO - the organization whose lightweight strap Burns held at the time - would have at least granted him a rematch in the ensuing months. But alas, neither happened as Beltran had to settle for a disputed draw. Terence Crawford ultimately got a crack at Burns and took his title on March 1st.
Beltran returns to the ring this Saturday night in support of Tim Bradley-Manny Pacquiao pay-per-view main event in Las Vegas, Nevada against Arash Usmanee (replacing Rocky Martinez, who was scratched over the weekend due to illness).

For all intents and purposes, Crawford has the belt Beltran rightfully won first.
"I didn't see the fight but when I heard the results, it hurt because I don't feel I really had the back-up that Crawford did and I feel like he really beat [Burns] clear, fair and square," said Beltran last week outside the Wild Card Boxing Club in Hollywood. "It hurt but, hey, whatever. The good thing is I opened some doors and I got good opportunities coming."
When asked if there is any bitterness over what took place in Scotland, he admits, "Well, it's still there, y' know? But I think I learned from my old experiences to get over it. Get over it and I even learned more after that fight about me. I want to make my name known more than anything else."
In the past, if Beltran got jobbed, there was no real plan in place other than waiting for the phone to ring and take another fight for short money on equally short notice against a house fighter he wasn't supposed to beat. That was Beltran's lot in boxing: the tough, hardnosed journeyman, best known for being the sparring mate of Manny Pacquiao on his actual résumé as a boxer. At least this time around, he has the backing of a major promoter, Top Rank Promotions, who placed him on this high-profile card.
"I had that feeling that I was in a better situation; after all, I did a good performance. That's what counts and I expected that Top Rank was going to take care of me anyways and give me another chance and that's what's happening right now and I appreciate that," said Beltran. It's not a bad consolation prize. Beltran is returning to the MGM Grand Garden Arena in front of an international audience. It sure beats the Warner Center Marriott. But it's still a consolation prize compared to what opportunities he would have if he had the WBO belt in his possession.
"It's a good question and a tough way to answer it," said his manager, Steve Feder, "because I'll be honest with you; there's so many good things Top Rank has done for us, the position they've put us in. That's why we're here and that loyalty Bob [Arum], [Top Rank matchmaker] Bruce Trampler, [Top Rank Vice President] Carl Moretti, [Top Rank matchmaker] Brad Goodman have all shown us the only reason why we're on this card. So I don't really see it as a consolation prize. I don't think it was done to make it up to Ray. If they did it for that reason, we accept it but we feel we earned this spot and so I don't think this was a gift.
"As far as what happened in Scotland, I think we surprised a lot of people. I don't think we didn't have the support of Top Rank. I don't think Top Rank had realized how good Ray had gotten, quite frankly. I just think they signed him thinking there was an opportunity as an opponent and I can understand that, seeing his record," continued Feder, referencing Beltran's pro mark of 28-6-1 (17). "And when he went to Scotland, he showed something a lot of the people didn't think he had. So now, I think they believe in him. They want him to win this fight; I think they'll stand behind him. As far as Terence Crawford is concerned, there's a love affair with him with HBO. I don't think it's necessarily a love affair from Top Rank any more than they have with Ray Beltran. I did think at some point, that was the issue - I don't think it's now."
Beltran is a respected fighter but it's oftentimes hard to shake labels such as "journeyman" or "sparring partner." Once you're typecast as such, you're stuck with it and you're often bypassed in favor of the likes of Crawford, who is younger and comes with a glossy undefeated record.
Feder states, "For whatever reason, HBO likes Crawford. I've yet to see anything. I think when Ray fought Burns, he controlled and dominated him. I think Crawford did a good job [but] it was not the same Ricky Burns. Ricky Burns did not enter the ring anywhere near what he entered it with Ray. So I don't take anything away from Crawford but we could take him all day and we hope that we get that fight at 135 pounds. I don't know what they have planned for Crawford but it's definitely a fight we want."
"'I'll fight anybody," says Beltran, a seasoned pro if there ever was one. "Honestly, like I said, Crawford's the champion and I want to fight him. But if it's not Crawford, it's about me - I just want to fight the best fighters. I don't care who they are, if they are champions or not. I just want to have the opportunity to fight the best to prove that I can be on that level."
Moving up to 140 is an option for Beltran but regardless, it's a major title shot his team yearns for.
"For Ray," explained Feder, "that Cinderella story he's been chasing his whole career, it's just not going to have closure without it."