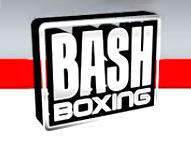 --


Promoter Steve Bash (the head of Bash Boxing) admits that promoting isn't necessarily what pays his bills. Unlike, say, a Bob Arum, he's not reliant on this to make ends meet. In fact, there's a pretty good probability that Bash doesn't make all that much money on this venture at all.
"It's my sick, degenerative hobby and God bless the law practice," he said with a laugh, adding, "I make some money as well but it's also my tax write-off."
And he gets back into it tonight with another card.

"Well, it's our fourth Hollywood show at the Florentine Gardens and we try to do a little old-school Hollywood vibe as well, doing some fun with every show we have," explained Bash, who, in the past, has advised Roman Karmazin and is the attorney for Paulie Malignaggi. "Our last show was around Christmas and we had - and I'm going to use a P.C. term – 'little people.' I was told I was allowed to use 'minis' that we used as elves and since we're three days away from St. Patrick's Day, they'll be in full leprechaun gear for Thursday's show. So we do a lot of fun things and I was talking to some people the other day; it's the minor leagues of boxing and it's very similar to going to a minor league baseball or hockey game or an indoor football game where these are professionals. These are guys who are trying to make it on bigger shows and I come from a minor league sports background. I ran a minor league baseball team in Long Beach."
Bash was the head of the Long Beach Armada, an independent team that played in the Golden Baseball League (which is now defunct) and played its games at Blair Field.
"We had a guy, Jerome Williams, who now pitches for the [Los Angeles] Angels [of Anaheim] and another team had a guy, Daniel Nava, who plays for the [Boston] Red Sox. These guys were making $500 a week and just playing the game they loved to play and waiting for their big show," said Bash, who has

Khabir "The Crazy Russian" Suleymanov

headlining this evening's card. "So that's what we do and what we try to focus on is matching the fights as well as we can and being really particular with even managers and other promoters that want to put their fights on our cards. We let them know that they can't be fighting bums and as a result, a lot of our shows are well-received because of the type of fights that are in the ring."
And with his minor league sports background, gimmicks such as karaoke contests and sumo wrestling have been incorporated into his cards. Minor league baseball has been doing things such as "Twins Night" (where identical twins gain free entrance) or "Dollar Beer Doubleheaders" to attract customers for decades.
"I've taken all that stuff from minor league baseball, minor league hockey. I was at a [Los Angeles] Kings game last night and they had this 'Frozen t-shirt contest' in-between periods and they do 'Human Bowling' and stuff like that. All that stuff's been done the last 50 years in minor league sports," said Bash, who admits that the patron saint of all minor league hucksters is the legendary Bill Veeck. "Bill Veeck!" exclaimed Bash, excitedly. "Look, I have midgets at every show; he was the first guy that had a midget [Eddie Gaedel] at a ballgame. Of course it's Bill Veeck."
In a market like Los Angeles, where there are so many entertainment options so readily available, it's hard to sell just fights at this level. And regardless, promoting club shows - which are devoid of television license fees - is the truest definition of the word "promoting." This is much different than merely doing TV packaging.
Bash states, "It's real promoting; that's what we do. We pull out all the stops to actually promote the fights because on my ledger, TV is not one of the line items. So it's tickets, a little bit of sponsorship. We're blessed to have a couple of local businesses that I don't even have I don't even have to call 'em anymore. I know they are buying a VIP table or a VIP booth and helping on some of the cost because they love it. They love it and they get more value out of being part of that type of show than they do a lot of the bigger shows.
"If it's a bigger company, it's one thing but at the end of the day, if I can lead to one client for a bail bondsman or an attorney or for a car salesman or anything else, that's worth it for them."
Here's how you can purchase tickets for the latest presentation from Bash Boxing (from a press release):
Tickets to

HOLLYWOOD FIGHT NIGHT

can be purchased online by going to

www.hollywoodfightnight.com

or by calling (626) 388-8888.

HOLLYWOOD FIGHT NIGHT

takes place

on

Thursday, March 14, 2013

at the

Florentine Gardens

, located at

5955 Hollywood Blvd.

in

Hollywood, California

.
Tickets to HOLLYWOOD FIGHT NIGHT start at $45. Doors Open at
7 pm
. First Bout at
7:15 pm
sharp. All bouts are subject to change. 18 years and over, strictly enforced.
Bernard Hopkins released this statement to the media on Wednesday:
There are numerous champions that have been calling me out after my historic victory

on Saturday Night

.
I am aware that I have a mandatory obligation under the IBF guidelines to fight Karo Murat, the mandatory challenger. Out of respect to the IBF, it is my intention to honor my commitment to the mandatory challenger at this stage of the game just as I have done throughout my twenty-five year career, namely, through twenty straight defenses of the middleweight title.
However, the fans, including, my supporters, have made it very clear that at this point of my career, they want the Executioner in big fights. In fact, 12,300 fans in Brooklyn have sent that message very loud and clear across the boxing world.
I look forward to getting back in the ring and continuing my legacy.
Orlando Cruz faces Aalan Martinez on Telemundo this Friday night in a tough match-up...Pablo Cesar Cano vs. Manuel Perez headlines the card on Fox Sports Deportes this Saturday night in Mexico. Also on that Golden Boy card will be Alberto Guevara, Jorge Linares (remember him?), Julian Ramirez and Joseph Diaz Jr....The March 23rd edition of "Solo Boxeo" on UniMas will have 2012 Puerto Rican Olympian Felix Verdejo facing Andre Ramos...On April 4th "Ballroom Boxing" will have Yuri Foreman, Gabriel Bracero, Luis Del Valle and Jo Jo Dan...So I wonder how Tom Brady feels in giving the Patriots a discount only to see the lowball and run off Wes Welker?...Will the Miami Heat lose anytime soon?
…
I can be reached at k9kim@yahoo.com and I tweet at www.twitter.com/stevemaxboxing. We also have a Facebook fan page at www.facebook.com/MaxBoxing, where you can discuss our content with Maxboxing readers as well as chime in via our fully interactive article comments sections.