Barthelemy Stops Mendez After the Bell, Wins IBF Title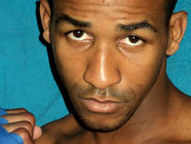 --


At the Target Center in Minneapolis, Minnesota, ESPN2's "Friday Night Fights" got off to a controversial start when newly-crowned IBF super featherweight titleholder Rances Barthelemy dropped two punches after the bell on Argenis Mendez, knocking him out.
Barthelemy started fast, using his longer reach to whip shots at long range on the shorter Mendez. A series of left hooks in the first round hurt Mendez, putting him on the ropes early. While the former champ kept it together in the first round and survived it, he was not long for the night.
In the second round, Barthelemy, 20-0 (13), was all over Mendez, pressuring him and dropping him late in the round off a series of left hooks. Mendez rose and was seemingly on his way to surviving the late onslaught. After the bell rang, sounding the end of the round, Barthelemy landed two punches that dropped Mendez. A second bell rang and referee Pete Podgorski counted out Mendez, 21-3-1 (11).

ESPN2 commentator Teddy Atlas waved off the fact that the punches were late and thus illegal by boxing rules by stating that Mendez was likely going to lose anyway. Considering Atlas' history with Mike Tyson, who promotes Mendez, that comment should be dismissed by fight fans. However a fight seems to be going, rules are rules. Atlas is constantly calling for reforms in the sport, which badly needs many changes. His dismissal of what happened in the main event on Friday reeked of personal bias and undercuts his reformation stance.
Afterward, Tyson said, "It was pervasive that the guy was hit after the bell. He got hit twice after the bell. I am going to complain. I am going to go to the commission. I am going to have them review [the fight]. It's so obvious he hit him after the bell. [Barthelemy] was winning the fight. No doubt about it he was winning the fight but still, he hit [Mendez] after the bell. That wasn't fair at all."
A protest will likely be filed both with the Minnesota Commission and the IBF.
The co-feature saw local favorite Caleb Truax, 23-1-2 (14) against rugged veteran Ossie Duran in a middleweight bout that featured tight action and tighter scorecards. Fighting over 10 rounds, the battle spotlighted Truax's volume punching and movement and Duran's pressure and harder punches.
From the onset, Truax was moving and sticking the jab while looking to work in an uppercut. Duran, 28-11-3 (11), age 36 and coming off a knockout loss to Matt Korobov, was fighting for his TV life and he knew it. He worked his hard jab between Truax's guard and bloodied his nose early on.
Down the stretch, Truax looked to be coming on, landing that uppercut, getting the right hand in and sitting down on his punches more and more. But Duran has been in with a higher level of competition and it showed in spots as he walked down Truax and never gave quarter.
In the end, all three ringside judges scored the bout 95-95.
Welterweight prospect Erickson Lubin, 2-0 (2), made quick work of overmatched Luis Santiago, 4-1 (1), who was brought in on short notice following a two-year layoff. The fight ended with a combination to the head and body on the ropes at 1:01 of the first round.
Local welterweight Javontae Starks improved to 8-0 (5) by beating Limberth Ponce, 6-1 (4), over six rounds by split decision. He dropped Ponce at the end of the second and the two battled in a fun fight. The rangy Starks has nice tools but needs to be more active at this stage of his career. A win this soon into the year is a good start. Scores were 57-56 for Ponce and 57-56 twice for Starks.
In other news...
On his Twitter account (@Guruscience), Angel "Memo" Heredia announced he will be working with Roy Jones Jr. for a championship bout. Jones tops many fight writers' lists as a boxer most in need of retirement. What "championship bout" Heredia is referring to remains to be seen. Jones previously denied working with Heredia, a former P.E.D. dealer-turned-government informant, who was the key witness in the trial of track coach Trevor Graham. He has also worked with Juan Manuel Marquez and Jhonny Gonzalez among others.
Please visit our Facebook fan page at
www.facebook.com/MaxBoxing
, where you can discuss our content with Maxboxing readers as well as chime in via our fully interactive article comments sections.



Subscribe to feed