Barthelemy defeats Saucedo; Martirosyan beats Nelson, Karpency stuns Dawson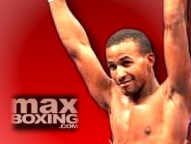 --

By Stephen Tobey at ringside

MASHANTUCKET, Conn. – Fernando David Saucedo took the best from Rances Barthelemy. Barthelemy avoided just about everything Saucedo threw in return and retained his International Boxing Federation junior lightweight title with a 12-round unanimous decision on Saturday at Foxwoods Resort Casino.

Julie Lederman, Bill Morandi and Frank Lombardi all scored it 120-108 for Barthelemy, a native of Cuba now living in Las Vegas. He improved to 21-0 (12 knockouts). Saucedo, of Argentina, dropped to 52-6-2 (8).

Every round was fought in similar fashion. Bathelemy kept his distance for most of the fight, letting Saucedo come to him. When Saucedo moved within range, Barthelemy landed his left hook, which at times drove Saucedo on to his back foot. Saucedo rarely landed more than a single shot at a time.

"We were prepared whether he came to me or if I had to come looking for him," Barthelemy said. "I felt I was the bigger stronger man and I could take advantage of it. I had him hurt a few times, but he was a veteran and knew how to hold on."

In the 12th Barthelemy lunged toward Saucedo with his left extended and the two fights tripped over each other, going to the mat for the only time in the fight.

Barthelemy hopes to fight Mikey Garcia in the near future.

Vanes Martirosyan of Glendale, California retained his World Boxing Organization junior middleweight title with a 10-round unanimous decision over Willie Nelson of Cleveland, Ohio.

Julie Lederman and Bill Morandi scored it 97-93. Robert Paolino scored it 96-94. Martirosyan is now 35-1-1 (21). Nelson dropped to 23-2-1 (13).

A cut opened under Martirosyan's right eye in the fourth round. In the fifth, he landed two left hooks with Nelson in the corner and a solid overhand right later in the round.

Nelson was more active in the sixth round, landing a 1-2, an uppercut and a straight right hand in the final minute. He also did some decent work in the seventh, but Martirosyan regained the momentum in the eighth.

In the eighth, Nelson was cut under the left eye. Martirosyan picked up the pace, landing right hands around the eye. Martirosyan came forward during the first half of the ninth, landing an uppercut early in the round, but catching some shots in return. He moved more later in the round, but still landed the better shots.

In the early rounds, Martirosyan landed straighter punches, through Nelson's guard.

Tommy Karpency stunned former undisputed world light heavyweight champion Chad Dawson, winning a 10-round split decision.

Robert Paolino and Julie Lederman scored it 96-94 for Karpency, of Adah, Pennsylvania. Frank Lombardi scored it 96-94 for Dawson, who grew up in New Haven, Connecticut.

Karpency, who, like Dawson, is a southpaw, was more active early in the fight. Dawson began to let his hands go a little more often in the fourth, though spent most of the fight waiting for Karpency to commit.

In the eighth round, Karpency landed a straight left on the chin that briefly got Dawson's attention. Dawson responded with a left uppercut but Karpency finished the round with a three-punch combination.

Both fighters fought cautiously in the 10th, though Karpency landed a solid 1-2.

Karpency improved to 24-4-1 (14); Dawson dropped to 32-4 (18).

Jonathan Guzman, the former WBA Fedelatin bantamweight champion from Santo Domingo, Dominican Republic, knocked out Ernesto Guerrero of Agua Prieta, Senora, Mexico in the second round of a scheduled eight at featherweight. Guzman (17-0, 17 KO s) wore down Guerrero (17-13, 11 KO s)with his body attack before dropping him with a right hand. Arthur Mercante reached the count of 10 at 2:53.

Joseph Elegele of Winter Haven, Florida won a six-round split decision against Jonathan Garcia of Aguada, Puerto Rico at junior middleweight. Julie Lederman scored it 58-55 for Elegele and Frank Lombardi scored it 57-56 for Elegele. Bill Morandi scored it 57-56 for Garcia. Elegele is now 14-2 (10). Garcia is 4-10 (1).

Milton Santiago of Philadelphia won a four-round unanimous decision over Arturo Santiago of Mayaguez, Puerto Rico at lightweight. All three judges scored it 40-35. Milton Santiago is now 7-0 (3); Arturo Santiago is 7-9-1 (4).

Kyrone Davis of Wilmington, Delaware stopped Rick Morias of Monroe, Michigan in the first round of a scheduled four at middleweight. Davis (5-0, 3 KO s) dropped Morias twice before Steve Smoger stopped the fight at 1:36. Morias is 1-2.

Philadelphia's Stephen Fulton made his pro debut at junior featherweight with a second-round stoppage of Issaac Badger of Lockwood, Missouri at the end of the second round of a scheduled four. Badger dropped to 0-3.

Cruiserweight Earl Newman of New York made his pro debut with a second-round stoppage of Quintel Thomspon of Columbia, Missouri in a scheduled four. Steve Smoger stopped the fight at 1:56 of the second. Thompson is 0-3.

Debuting heavyweight Paul Koon of Philadelphia stopped Hector Hodge of Miami at 1:56 of the first round of a scheduled four. After one knockdown, Arthur Mercante stopped the fight. Hodge dropped to 1-3.



Subscribe to feed