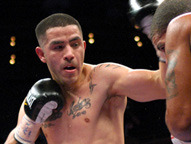 (Photo © German Villasenor)


As Kelly Pavlik was scratched (which is almost expected at this point in his career) from this Saturday night's card at Cowboys Stadium, there was no doubt who would get the call to replace him on the pay-per-view telecast: Brandon "Bam Bam" Rios, who has become one of the sport's brightest young stars after his exciting victory over Anthony Peterson in September.

And just like that, "Bam Bam" was called out of the bullpen to replace Pavlik and it was made easier by the fact he was already warming up.

"Yes, absolutely, the fact he was scheduled to fight on December 4th and we called up Robert Garcia and he said, 'Of course' and so I don't think we lost very much having him on the card. It's a great showcase opportunity," said Bob Arum, who is promoting this weekend's big event.

Right now, no fighter (save for the "Pac-Man," of course) in the Top Rank stable is creating the buzz Rios is.

"Well, we got a lot of young guys causing buzz," said Arum. "We got 'JuanMa' [Lopez], [Yuriorkis] Gamboa and [Guillermo] Rigondeaux, who are going to be causing a lot of buzz. But yeah, he's the one."

FREE £25 BOXING BET

Rios, who has created his own niche with his colorful personality on this latest installment of "24/7" (as a stablemate of Antonio Margarito), says of this good fortune, "It was a blessing. I want to thank Bob Arum for making it happen, for thinking about me, giving me an opportunity like this on a big card. So I like to thank Bob Arum and the members of that team that helped him out, that put this card together for me to be on it. I want to thank them a lot."

And there was not one nanosecond of hesitation when this was brought up to Rios.

"Hell no," he said on November 3rd, about facing Omri Lowther, after he was originally slated to face Noe Bolanos at the Honda Center in Anaheim, California. "Right away, when Robert told me, two days ago, 'Hey, don't tell nobody yet, just between me and you, you might fight on the card.' I was like, 'For real? Are you lying? Or you just f**king with me?' He goes, 'No, I'm serious.' He just said, 'Don't tell anybody.' Then the other day, he said, 'Hey, you're going to fight on the card.'

"I said, 'F**k yeah.' Good thing I've been training"

His manager Cameron Dunkin told Maxboxing, "It kinda happened automatically because he was already in training and we needed to put him in a big spot. So it worked out good for him." His crowd-pleasing style and "What me, worry?" persona have made him a fighter that has a chance to fight among the most popular in the sport. "It's a big card to be on," said his trainer, Garcia, who just happens to train Margarito also."Brandon's last win, plus his spot on '24/7,' I think it gave him this opportunity. When Kelly Pavlik couldn't fight, I'm sure Top Rank, that was the first guy that they thought about. Brandon's hot right now, so they brought him in."

It's a huge stage to perform on. It's one thing to fight on HBO on "Boxing After Dark" in a rather small setting in a casino ballroom. It's a whole different thing to be placed on a card that will be watched internationally. Not bad for a guy who started the year off on "Top Rank Live."

"That does excite me, not only for the opportunity for myself, but so that I can show the world and everything that I'm ready for it, for Marquez, Katsidis, Humberto Soto, big names like that," said Rios, who is 24 years old and has a record of 25-0-1 with 18 knockouts. "I'm ready for 'em and I want to let the people decide on that."

And don't expect any stage fright as Rios starts off the pay-per-view telecast at 8 PM local time in Arlington.

"It really doesn't affect me because I've already done it before," he says. "I fought over there in Agua Caliente [Mexico], my first time where 'Travieso' [Jorge Arce] fought, 25,000 people. It didn't bother me and people were watching around the world. So it didn't really bother me. I'm ready for this kinda fight now. So it doesn't bother me."

Rios just isn't wired that way. He just shows up and rumbles.

"He doesn't care," said Dunkin, chuckling at the thought. "I was talking to him about the '60 Minutes' piece yesterday with Pacquiao and I don't think any of that stuff sets with him. He's going to be the same guy, no matter what, which is also a good thing. It means he's going to bring his best fight every time out because nothing's going to get to him. It's really a good thing."

And this could set up a huge 2011, as Rios is slated to face the winner of the WBC lightweight title tilt between Humberto Soto and Urbano Antillon. "He could have a really, really big year and he's already got a title fight; he's got HBO waiting in the wings. Usually, that's what you're striving for and he's already got that in his sights. It could be a really, really big year for him."

But first things first, there is the matter of defeating Lowther and, before that, making the weight limit (which, for this fight, is 139-pounds). In terms of his next fight being moved up three weeks, Rios insists, "It didn't really disrupt anything because I normally walk around at 151. Right now, today, I'm 145. So I'm fighting at 138, give or take a pound. So it's not no issue; it's good. It's a good thing I've been training."

After much turbulence throughout his life, Rios has found tranquility in Oxnard; his personal life is settled with his recent marriage and his career prospects are bright. Just recently, he resigned with Garcia and Dunkin, who co-manage him.

"He's got to be happy with where Cameron and Top Rank have taken him," said Garcia, who has played an instrumental role in his boxer's personal life. "Little by little, it's taken a few years but when you're calm and you take your time, things happen for a reason and better things will happen after this."

LOGISTICS

It will be a busy night for the trainer who will work the corners of both Rios and Margarito.

"It's going to be busy but I asked for Brandon to start off, the first fight on TV," said Garcia, "so it gives me a couple of hours, at least an hour-and-a-half, to wrap Margarito and everything. So I'll have plenty of time."

Rios says of the arrangement, "We've done it before and it's not going to be hard because Robert's going to be prepared. He's done it before, so it's nothing different. I'll come and fight first and, after I get done with mine, then he's going to handle his with Margarito. So it's not going to distract me or anything like that. I'll just be ready."

And yes, in Rios' very obviously biased opinion, he is still predicting a victory for "The Tijuana Tornado."

"I'm still firmly believing Margarito's going to beat Pacquiao. The way he's been conditioning, the way he's been training, I confirm that he's going to be beat him."

BUZZ

Speaking of buzz, this promotion looks like it's really gathering some momentum. When asked if he had the same expectations in terms of the live gate, Arum said on Tuesday night, "Absolutely not; it's even better. Again, if we get the same walk-up sale that we had for the last fight, we will be right into the mid-60s."

Arum, was talking about 60,000-plus.

The early-week events that featured both fighters have been incredibly well attended.

"Well, you gotta understand Margarito as a Mexican, in North Texas, has a tremendous number of Mexican and Mexican-American fans and they're rallying for Margarito and Pacquiao has become larger than life with '60 Minutes' with the American Airlines Magazine," said Arum. "So he has people that want to see him and plus a lot of Filipinos. So that's what's creating all the buzz."

Unlike last time, Cowboys head Jerry Jones has not been much of a presence with the promotion. Not a surprise, given how disappointing his team has been combined with the recent firing of his head coach, Wade Phillips. Then there are league matters to attend to.

"I talked to him and now he had to go out of town tomorrow (Wednesday). There's an NFL meeting on the labor situation. So Jerry's on that committee. The first we'll see of Jerry will be at the weigh-in," Arum added.

MID-WEEK FLURRIES

For those of you attending, the first bout of this card begins at 5 PM local time, a super lightweight bout between Rashad Holloway and Dennis Laurente. Also on the non-televised portion of this bill are Top Rank hopefuls, Jose Benavidez and Roberto Marroquin...Yes, the group I'm planning to go to the fights with is organizing a tailgate party before the fights...Welterweight prospect Antonio Orozco has a rib injury and has been scratched from the Nov. 18th edition of the "Fight Night Club" at Club Nokia...Say what you want about Terrell Owens but the man is still making you get that popcorn ready. And his mime touchdown celebration was very nicely executed. He can still make a play (or three)...Nelly will be performing "Just a Dream" on Saturday night just prior to the entrance of Margarito and Pacquiao...Unfortunately, Dan Hawkins won't be coaching Division 1 football in the Big 12 for the time being but maybe he can coach intramurals (http://www.youtube.com/watch?v=-4T26x6GZEw)...I can be reached at k9kim@yahoo.com and I tweet at www.twitter.com/stevemaxboxing. We also have a Facebook fan page at www.facebook.com/MaxBoxing.