Azad Championship Report: Vasquez, Jr. comes back to knock Oquendo out in Seven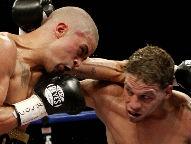 (Photo © PRBBP / José Pérez)


Coliseo Ruben Rodriguez, Bayamon, Puerto Rico - What a war. In seven memorable rounds, Wilfredo Vasquez, Jr, 22-2-1 with 19 knockouts, recovered from his loss to Nonito Donaire earlier this year and showed the boxing world he is an action fighter here to stay. Hurt early in the fight and seemingly caught cold with a hot fighter in front of him, Vasquez weathered a few storms, and a non-call knockdown to come back and stop an exhausted and hurt Jonathon Oquendo in the seventh round.

The crowd stayed on its feet most of the fight as both men honored Bayamon, Puerto Rico with a fight worthy of its boxing heritage. Oquendo pressed the action early as he dug into Vasquez' body and came upstairs with hooks, uppercuts and hard jabs. Vasquez, known as a slow starter, started slowly. Oquendo attacked as if he wanted to blow out Vasquez before he ever got going. He consistently out-quicked Vasquez in every facet early on.

Oquendo had replaced Rafael Marquez, who pulled out due to injury but it did not show. Oquendo, 22-3 with 15 knockouts, is a proud fighter from Bayamon. He was in fantastic shape and looked to be the stronger man in there. Time and again he bullied Vasquez to the ropes and unloaded hard body shots.

At the end of the third round, Vasquez got a glimmer of hope as he dropped in a right hand that rocked Oquendo's world. As the fight progressed, Vasquez came alive more and more. Still, Oquendo used his left elbow to position while he whacked away with right hand and kept at Vasquez.

The fifth round was particularly vicious as each man unloaded. Early on they boxed behind the jab. But somewhere in there back and forth began and the two men went at it. Vasquez had found his offense and Oquendo was not about to lose his. Vasquez was hurt early, his glove seemed to touch the canvas but the ref missed it. Late in the round, it was Vasquez' turn as he clipped Oquendo with a left hook and followed up by putting him on the ropes for some punishment.

Vasquez carried that momentum into the sixth round. He slipped early on in his own wet corner but when he got up, he began to take control of a tiring Oquendo. Experience was key here as Oquendo ebbed and Vasquez cautiously flowed within the confines of the brawl. A true sign things had changed came between rounds as Oquendo, who had stood in the corner all night, finally opted to have seat on his corner stool.

In the seventh, Vasquez explored how tired and hurt Oquendo might be, pressing forward and working combinations. Finally he committed to the stoppage and unloaded the kitchen sink on Oquendo who folded under the assault. He took a knee and never looked like he planned to stand back up. He was counted out at 2:33 of the seventh round.

In the co-feature, we may have seen the end of ring great Ivan "Iron Boy" Calderon's career. In a battle with the ten years younger WBO minimumweight Moises Fuentes, 16-1 with 8 knockouts, the again Calderon, 35-3-1 with 6 knockouts, just could not withstand the pressure of the larger man and was stopped at 1:22 of the fifth.

For the first three rounds, Calderon was his old southpaw defensive genius self. But he could not sustain it. Somewhere in the fourth or fifth he injured his right arm and from then on it was over. Calderon took some serious leather in the fourth and tried to trade his way out of it, a tactic ill-advised for a light-hitting defensive fighter. In the fifth, Fuentes poured it on, battering Calderon who visited the canvas three times. The last knockdown came off a shot to the right side of his chest. He took a knee and that was that.

Calderon, a two division champion, is now 37 years old and has been stopped in similar fashion in 3 of his last four. It is about that time. For a fighter of his size and with his lack of power, he was a wonder to watch from a defensive standpoint. While you always knew he would go the distance most likely, you also knew you were in for some technical mastery whenever Iron Boy stepped in the ring. A great career that now needs to end.
You can email Gabriel at maxgmontoya@gmail.com, follow him on Twitter at www.twitter.com/gabriel_montoya and catch him on each Monday's episode of "The Next Round" with Steve Kim. You can also tune in to hear him and co-host David Duenez live on the BlogTalk radio show Leave-It-In-The-Ring.com, Thursdays at 5-8 PM PST. Gabriel is a full member of the Boxing Writers Association of America.



Subscribe to feed