Azad Championship Report: The HBO Championship Boxing TV Cheat Sheet – Sept. 8, 2012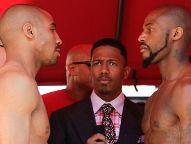 (Photo © Alexis Cuarezma)


A match-up between two boxers rated in most pound-for-pound lists is a reason to celebrate and it looks fantastic on paper as well. Now, the two combatants must live up to the hype their past suggests they are capable of delivering. There is the possibility of the pair disappointing on the canvas given the duo prefers to counterpunch instead of lead, which is the viewpoint of many fans based on the lack of buzz and excitement for this fight. The opener between Antonio DeMarco and John Molina should steal this show. A lithe DeMarco consistently fights against his physical attributes, often dragged into brawls while Molina has no other choice but to brawl. In that sense, HBO did well. The main event will please boxing purists who love the art of boxing while the adrenalin mob revels in the afterglow of the DeMarco – Molina fight as Ward and Dawson attempt to defuse each other.
At the Oracle Arena, Oakland, CA
(HBO) Andre Ward (25-0) vs. Chad Dawson (31-1)
(For The Ring magazine World Super Middleweight Championship)
(WBC and WBA super middleweight belts)
(HBO) Antonio DeMarco (27-2-1) vs. John Molina (24-1)

John Molina –
Impressed me with his determination in television debut, a third round kayo of Ghanaian Joshua Allotey, and in subsequent fights his physical power shone through. Brute force was not enough against former title challenger Martin Honorio, with Molina not able to maintain contact and impose his brawn on the cagey veteran. Molina was well behind on points to Henry Lundy as well but displayed discipline, scoring an eighth round knockdown that changed the fight. Surged from that point, using his momentum and accuracy to stop a mobile Lundy in the 11th round. Molina is a solidly built lightweight with broad shoulders who likes to mix it up and is at his best coming straight down the middle at retreating foes. In the Allotey win, Molina alternated his attack from the head to the body, scoring a stoppage with wicked liver shots. 19 of 24 wins are by stoppage, using leverage and balance learned as a high school wrestler (began boxing at 10, not taking it seriously until age 16, winning two California Golden Gloves titles). Molina is possessed of natural strength with an evenly proportioned musculature that wears on opponents as the rounds ratchet up. Over the last two years, his team (promoted and trained by the Goossens) has elevated the opposition after building Molina's confidence against naturally smaller opponents. Molina has learned well, sensing when he has a clear advantage in one area, attacking that weakness with fervor, hitting equally hard with both hands. His aggression is nonstop, using angles at times but mainly overwhelming foes with combinations. Has a solid inside attack but looked confused by angles from Honorio and Lundy, unable to cut off the ring. At 5'10½" with a 72" reach, Molina is a tall lightweight but lacks the experience and maybe ring instincts to maximize those physical assets. Was not able to stay out of range on defense in lone loss, backing up in straight lines or dipping away with his hands down. In setback to Honorio, showed heart, losing mid-ring exchanges where it was advisable he retreat and set up a new attack. Returned to trainer Joe Goossen after a short separation last year. Has the work ethic to work out current limitations and with Molina's punch and fan-friendly style, he will be forgiven a lack of style before stopping opponents.
Antonio DeMarco -
Tijuana thunderbolt has a fan-friendly style and many watched DeMarco progress from "ShoBox" prospect to an ill-fated but exciting title fight loss to Edwin Valero. Aside from the forgivable Valero loss, a majority decision loss in DeMarco's ninth fight remains the only setback. Proved he could deal with smart boxers by upsetting Jorge Linares, absorbing early punishment before rallying to cut and swell up Linares before stopping him in 11 furious rounds. It is a blueprint of sorts with DeMarco starting slow before picking up on foes' mistakes and exploiting them with long punches that carry power into the late rounds. Grew up in a boxing family (his cousin is former champion Humberto Soto) but had limited amateur experience, honing his craft in the gym and turning pro at 17. DeMarco was moved well, upping the level of opposition incrementally, his team providing good fighters with divergent styles for him to dissect. The converted southpaw commits to an attacking style, even when he's pushed backward by Valero's physicality and Linares intelligence. DeMarco stopped both in their tracks with well-timed counterpunches. Because of his action style, the 26-year-old's mental improvement (a young veteran with 150 rounds to his credit) is underrated with DeMarco using his elongated frame (5'10" with 71-inch reach) better on offense and defense in last two years. The jab has come to the forefront but too often, DeMarco abandons it in favor of eating a punch to land his own double hook. Against Valero, that spelled doom but DeMarco refused to go down without a fight, often throwing simultaneously with a vicious-punching Valero. There is a concern that the tough rounds are leaving lasting scars and took many miles off DeMarco's boxing odometer. Has the stamina to go the distance and defense has shown a slight improvement in terms of DeMarco keeping his hands high and maintaining distance. At times, DeMarco looks unconvincing in the trenches and too willing to accept clinches, his thin upper body lacking the brute force to push off maulers. In his last fight, DeMarco sent tough countryman Miguel Roman face first into the canvas with a perfect hook. Enters every fight with a great attitude toward the sport - as well as fans - delivering action and a sense of an imminent explosion. "I hope to give them a great show. I want to conquer the people there and make them fans of the sport with my style and skills."
Result –
Can Molina get on the inside of DeMarco's power where his infighting and superior physical strength comes into play in neutralizing DeMarco's jab and experience? That is the question and I think Molina can…but will not be able to sustain it long enough to earn a decision. Molina's lack of hand speed, as well as uneducated feet to cut off the ring, keeps him at the right distance for DeMarco to land his straighter punches and employ superior volume. DeMarco has the chin and stamina to deal with Molina's aggression and after some rough early rounds, DeMarco asserts his own power, rocking Molina in the late rounds and pushing him off balance. It is enough to earn a tough decision win or late-round stoppage if Molina is out of his depth psychologically. Molina is simply not ready for this yet and DeMarco's experience of fighting a Jorge Linares or Edwin Valero is a key factor that earns him a victory in this fight.
Chad Dawson –
The 30-year-old rounded into an all-around threat early in his career, elevated to status of number one light heavyweight after scoring a unanimous decision over then-unknown Tomasz Adamek. However, Dawson seemed to become a case of arrested development, unable to build on the exciting Adamek victory and struggling with ageless Glen Johnson while unable to impose his youth and superior technique. Suffered an unexpected loss to brawler Jean Pascal as well but the return of underrated trainer John Scully has seemingly revived Dawson and restored him to an earlier prime. Physically, Dawson can do it all (at 6'1" with 76½-inch reach, is the prototypical light heavyweight) and aside from a knockdown at the hands of Adamek, his chin and stamina are sound. Dawson is not the type to walk down opponents, choosing to shoot straight punches and combinations off his jab when openings present themselves. Fans, TV analysts and trainers are frustrated by Dawson's willingness to take what is given by opponents instead of forcing them into mistakes via pressure. When evaluating himself, Dawson addresses what some see as a negative, "People think boxing is just about knocking people out. To me, that's not what it's about. It's about going out and showing your skills, showing what you can do." This was probably the cause of Dawson's pedestrian amateur career which ended at 67-13. Dawson showed an aggressive side and offensive variety against Adamek and Bernard Hopkins but maybe that was because they forced him into that mode mentally. I get the sense Dawson has to overcome self-doubt early in fights, needing to establish clear superiority to flourish and open up. On the positive side, Dawson does not get reckless or overextend himself in any way, especially if allowed to find his rhythm. If anything, Dawson is too timid in the ring, allowing flawed opponents to take the play away from him gaining traction with the judges. A lack of aggression is the reason he only has a 50% kayo ratio and why Dawson has not stopped an elite foe or knocked out an opponent in five years. Was very aggressive with Bernard Hopkins in both fights, refusing to let the old man intimidate him mentally or physically. If Dawson could consistently find that killer instinct, there is no reason he could not morph into a real attraction instead of the overpriced HBO property he currently is. This fight represents a perfect stage to showcase that side of Dawson…if it exists.
Andre Ward –
Star potential was evident in Ward dating back to his amateur days, a two-time USA amateur champion who became one of the few Americans to win a gold medal at the Olympics. Finished with a 114-5 record and after an uninspiring start to his pro career, his prestige soared after dominating victories over Mikkel Kessler, Carl Froch and Arthur Abraham. In fact, Ward is one of the few bright spots for America at super middleweight in the last two decades. In order for Ward to become a bona fide headline attraction on television, he will need to expound on that victory and continue to show that offensive flash against Dawson. A flash that was frankly lacking before Froch and Kessler, they forced Ward to open up and defend himself by going on the offense against those aggressive performers. Became a mature boxer by facing the best opposition in Showtime's lengthy "Super Six" tourney; at age 28, Ward is poised and young enough to become a frightfully great champion. Before the Kessler fight, Ward looked more skilled and refined on defense, which he gave preference too over the objections of many boxing writers, fans, and industry insiders. Now, Ward looks to be melding that with a potent offense based on speed and the ability to get in and out of punching range in the blink of a black eye. Ward is not a powerful puncher, which a 52% kayo ratio testifies to, but his blows sting and have a demoralizing effect because they slice an opponent's defense with such authority and clarity for the fans and judges to witness. It causes reluctance in punchers like Abraham and Edison Miranda and hesitation in boxers who rely on timing or distance like Froch and Kessler. Ward shows plenty of intelligence too, along with physical ability against Kessler and Froch, but I have a feeling Ward is the type who has the tendency to fight up or down to a foe's ability. The great boxers fight the same way, no matter the opposition, which Ward has yet to master but is clearly capable of learning. A noted gym rat, Ward is not afraid of hard work, "I'm going to continue training to become is a master of the sport, where even though no fight is easy, you make it look a certain way." Aside from all his talent in the ring, Ward is a soft-spoken religious man who overcame much to become a credit to his city of Oakland, family and the sport of boxing.
Verdict –

When in doubt, I side with speed over power or size. I favor Ward in a tactical battle, where angles and reflexes are more important than reach or timing. Simply put, Ward gets to the point of engagement a fraction of a second earlier, allowing him to score and reset before Dawson reacts. Dawson does not have the power to affect Ward into inaction and his accuracy will suffer given the speed of Ward vice the 175-pounders Dawson is used to facing. With Andre Ward and Chad Dawson waiting for the other to initiate action, there could be very little in the way of sustained action.

Where Dawson throws one punch, Ward throws two. When Dawson lands a good, long jab, Ward will counter with a crisper counter hook.

Ward showed against Carl Froch that he can be aggressive, winning favor with the judges who will also have Ward's hometown fans screaming in their ears. All the intangibles line up for Ward and I think the scorecards will as well at about nine rounds to three unanimously.
Prediction record for 2012: 84% (84-16)
Prediction record in 2011: 88% (138-19)
Prediction record in 2010: 85% (218-40)
Please visit our Facebook fan page at www.facebook.com/MaxBoxing, where you can discuss our content with Maxboxing readers as well as chime in via our fully interactive article comments sections.



Subscribe to feed