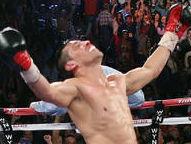 (Photo © Chris Farina / Top Rank)


"It is written or I will write it," Sergio "Maravilla" Martinez told Julio Cesar Chavez Jr. in the lead-up to their middleweight title fight this past weekend. After a lengthy journey spanning three continents and a jungle of politics, Martinez was given the chance to reestablish his claim to the top spot in the middleweight division. He did not freeze in the moment, rather, he basked in the glow of the brightest media lights he had ever known in the most important fight of his life. Martinez took energy from his countrymen who enthusiastically cheered and chanted him on throughout the night. He took solace in the training regimen he has evolved along with coaches Pablo and Gaby Sarmiento since the three men hooked up 10 years ago. Every sacrifice, every hardship overcome paid off in spades for Sergio Gabriel Martinez on September 15, 2012 and because of that glorious 12th round that left Chavez Jr.'s fans with a glimmer of hope and pride for their man, it will continue doing so.

Watching people fulfill their destinies and live their dreams is one of this job's great pleasures. We are supposed to be impartial. We aren't supposed to be emotionally involved but it was inspiring to see a man who believed so thoroughly in himself put on such a show. Every Martinez facet was on display, intelligence, tenacity and much better boxing skills than his detractors give him credit for. Above all, what was on display has always been, in this writer's opinion, is the thing that makes "Maravilla" special. He dares to be great and he takes the risks necessary to do it. He made the fight all night and then stayed in the pocket looking for the finish - and nearly lost everything. Few fighters out there are willing to do that. Doing what he did with a broken left hand and injured knee speaks for itself.
If Martinez was a football team, he'd be called a finesse team with the ability to score suddenly. He moves and dances away constantly, deep in a rhythm of his own. But at the same time, few fighters have the ability to trade in the pocket the way he does and not take much in return. The champion displayed a comfort inside in this fight he does often get credit for. His jab and consistent body work are testaments to the fact that despite his hands-down, jazz style, Martinez believes also in the fundamentals. That he threw 502 jabs in the fight should be a lesson to fighters everywhere. The most basic punch in the book as a primary weapon has long been forgotten or underutilized these days.
Particularly moving was the Argentine fans. The last time I saw a crowd stay and cheer for their man this long was when Antonio Margarito beat Miguel Cotto in their first fight. 30 minutes after the fight, the ring was empty and I am filing my deadline story surrounded by pure mayhem. It was unbelievable. Music blared. Argentinean media interviewed celebrities. The crowd savored the moment, refusing to move from the room where moments before, their hero did everything he said he would except knock the former titleholder out. There was unreal joy in this fitting return to Las Vegas for Martinez, who bookended his first Vegas fight (a February 2000 TKO loss to Antonio Margarito) with this gem. It took 12 years to get here but when he did it, oh, what style did it occur in…
I'll say it right now; I have zero interest in that fight. As good as "Maravilla" is, I don't think it does him any good to handicap himself further fighting an even bigger and supremely skilled fighter like Andre Ward at a catchweight of some kind. Martinez was the smaller man on Saturday night by a lot. While Ward and Martinez are close in stature, Ward will likely enjoy the same type of weight advantage Chavez Jr. has, only with a ton more skill. It's an interesting fight on paper but honestly, I'd rather see Mayweather-Martinez for the middleweight and junior middleweight titles.
I would pick Ward to win based on size and skill. I don't see Martinez hurting him at the higher weight. It's a bit of a lose-lose for Ward. If he wins, he beat an older, smaller man. If he loses, it would likely have to be a great fight which elevates everyone yet takes away his undefeated record. Critics will certainly skewer Ward either way. I'd leave it alone, personally.
In my opinion, these are two great fighters who have shown not only skill but great toughness in victory. Martinez's broken hand reminded me immediately of Ward going into the Carl Froch fight with the same injury. That's a special kind of fighter who can do that. Why not just celebrate them where they are?
Let's be honest. Martinez-Chavez II is going to happen, likely next spring at Cowboys Stadium. This rivalry is the best thing to happen near the end of Martinez's career since he first laced them up. He will make even more millions. Will he win in Texas? That's a risky proposition. He is 37 years old with a lot of fights under his belt and a recent spate of injuries following each fight. Martinez's body is telling him something and so is his wallet. Fighters dream of being in this position to finish out.
Even in victory, Martinez will still have to go even deeper into enemy territory to defend his crown. Chavez Jr. can't let the only man to officially beat him retire without a shot at redemption.
No way does this fight not happen.
Leo Santa Cruz is the Real Deal…
I thought this was a dangerous matchup for Leo Santa Cruz, going into his fight with Eric Morel this past weekend, in that he could spend all night chasing down Morel and looking ordinary. Boy, were my fears put to rest. The kid is a straight-up buzzsaw. You want to talk body attack and punches that are thrown with nasty intent? This kid has got the goods. Here is hoping the networks pencil in dates for this young champion.
I would have liked to see more but what we did see was flat-out one of the best brawls in recent years. This was beautiful matchmaking. I really have to feel for Jesus Soto Karass, who is one of the coolest guys in the game and a true warrior. But how can you not cheer for a guy like Marcos Maidana who gives everything in there as well?
It was interesting to see the criticism this fight was getting cool off about a week or so out from the battle. To this writer, it is a testament to the toughness of Josesito Lopez, who went out of his division to take apart Victor Ortiz. Reaching for greatness is as admirable a quality as there is. That's what Lopez did in accepting this fight. Unfortunately, the initial criticism that Lopez was no physical match for Saul Alvarez proved correct. No shame in losing for Lopez.
As for Alvarez, I have to say he is going to be a problem in that division for a long time. He is so patient and fundamentally sound in there. I love his hook to the body and the fact that, first and foremost, he works that jab. "Canelo's" patience and unflappable nature make for a man who takes few chances between the ropes, meaning he makes few mistakes.
I look forward to seeing him defend against fellow beltholders and junior middle contenders.
The Battle for Mexican Independence Day…
On a night many criticized for competing cards, this night showed that boxing is indeed alive and well. More than that, it showed that when it is as its best (Maidana vs. Karass, the 12th

round of Martinez vs. Chavez), no sport can touch it. Kevin Iole of Yahoo! Sports reported that Golden Boy's Saul Alvarez card "was a sellout, 12,860 tickets sold, 0 unsold, 1,659 comps Gate $1,618,150." Martinez vs. Chavez was also a success with "16,939 sold, 0 unsold, 751 comps, gate $3,052,475."
Right there. Boxing is not dead by a long shot. With a middleweight division heating up, fighters like Leo Santa Cruz on the horizon, a possible rematch between Daniel Ponce de Leon and Jhonny Gonzalez (who put on a solid fight with an unsatisfactory ending), the upcoming Brandon Rios-Mike Alvarado and the Nonito Donaire vs. Toshiaki Nishioka card on October 13, the sport is hitting a groove.
My favorite boss ever, Steve Kim, took pity on my Vegas-worn hide and covered the Monday presser announcing "Pacquiao-Marquez IV: The Search for More Money." A Twitter feed known as @boxingfanatik snapped this pic of Memo Heredia and Alex Ariza, the strength-and-conditioning coaches for Juan Manuel Marquez and Manny Pacquiao, respectively.
Memo has an interesting past you can read about here:
Ariza is on a bit of a losing streak as of late. With Pacquiao centering all of his training in Hollywood's Wild Card instead of splitting time in the Philippines, Ariza will likely get to work his magic to better effect this time out. Heredia is on his third fight with Marquez and likely now fully understands what his body can and can't do. It will be interesting watching this particular duel.
You can email Gabriel at maxgmontoya@gmail.com, follow him on Twitter at www.twitter.com/gabriel_montoya and catch him every Monday on "The Next Round" with Steve Kim. You can also tune in to hear him and co-host David Duenez live on the BlogTalk radio show

Leave-It-In-The-Ring.com

, Thursdays at 5-8 p.m., PST.
Please visit our Facebook fan page at www.facebook.com/MaxBoxing, where you can discuss our content with Maxboxing readers as well as chime in via our fully interactive article comments sections.