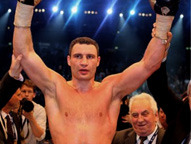 --

By Dmytro Mossienko at ringside

Klitschko brothers promotional powerhouse K2 staged an unprecedentedly successful and amazing boxing card and show at the 40,000 packed Olympiyski arena in Moscow. Lebanese born Syrian but German based Manual Charr showed no fear stepping in into the ring against WBC heavyweight champion 'Dr Iron fist' Vitaliy Klitschko. High tempered, proud Syrian, who as well as Klitschko feels pretty much at home in Russia too, as Russians like Syrians and support them, boasted having new Russian coach and remembering all the lessons from his German coach Fritz Zdunek, his previously common coach with Vitali Klitschko. He tried to follow the tactics of Dereck Chisora, but the fight unfolded in very differently.
From round one Vitali established his domination in the ring, only in the end of the round did Charr dare to send a couple of meaningful left hooks from behind a tight defense. At the end of round two Charr also tried to make an efficient finish, but was floored by Klitschko's short right counter punch. He was saved from more trouble by the bell.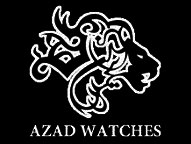 Azad Championship Report

In round four Klitschko's left hook cut Charr's left eyebrow, which prompted the referee to stop the fight and consult with the ringside doctor. The doctor advised the referee to stop the fight, as the cut was far too deep to continue.

Charr was mad,he yelled at Klitschko and at his camp, but had to put up with the loss.

The Moscow fans cheered victorious Klitschko, who is very popular in Russia, as well as in his homeland of Ukraine.

Eventually, Charr accepted the TKO loss. Klitschko thanked the public for tremendous support, apologized for winning via TKO, not KO. He said the fight went to plan. Klitschko called Charr a real warrior, saying that the young Syrian-German boxer has a big future, possibly a World Champion.

Running up to the fight the Klitschko brothers did not take chances. Wladimir Klitschko was in Charr's locker room during the taping procedure . Natalia Klitschko, Vitali's wife and mother of his three children sang before the fight The Power of Love song.

Lennox Lewis, who came to Klitschko's back yard in Kyiv on 8 September to answer questions of Ukrainian journalists, stated, Klitschko has no opponents left. He can't fight his brother, so he has no opponents, said Lewis

In the main undercard Russian US based prospect fast southpaw Magomed Abdusalamov 16 (16KO)-0 showed no fear stepping in the ring with Jameel 'Big Time' McCline in the clash for the vacant WBC US heavyweight title. It was an amazing fight from the initial part, when famous Russian ring announcer Alexander Zagorsky perfectly sang Russia's national anthem. Abdusalamov travelled to the canvas In the first minute of the fight. However, already at 1.57 of round two he had his taller opponent knocked out with a right cross.

Ukraine's former Olympian Vyacheslav Glazkov pressed the matters in his heavyweight 10-rounder clash against German based Konstantin Airich. Experienced in amateur ranks and having sparred with both Klitschko brothers, Alex Povetkin, Marco Huck , Glazkov dominated the fight, caught his opponent with solid right in round five and developed his success in round 6, when spectators saw Airich fading, still never ceasing to find an opportunity for revenge, he also caught Glazkov wigh good right uppercut. Glazkov's attempt to stop the father of three Airich in 7 never came to fruition. Airich, even though looking less impressive than taller and younger Glazkov, still looked a hungry boxer with solid chin, throwing left hooks. In round 9, showing better defensive skills, Airich never missed an opportunity for a counter-attack, but had trouble surviving in the end of round, as Glazkov's pressure mounted and some of his body shots started to take their tall.

Following an unintentional headbutt in the middle of round 10, Glazkov sustained a cut on his right eyebrow, he rushed in for a finish, but was caught on several occasions by Airich's right counter punches. Both boxers showed true sportsmanship, solid chins and excellent stamina. Glazkov won WBC Baltic states Silver heavyweight belt with unanimous decision. Scores were 100-90, 100-90, 100-91

Two southpaws Ayup Arsaev (12 (7) - 0 ) and Khavazhy Khatsyhau 8(5) 0 from Belarus squared off for the WBC Baltic states Featherweight belt. After a slow start, Arsaev dropped his foe with a right counter punch in round three.

Charming blond Svetlana Kulakova from Russia had her fight with Ukraine Kyiv based Iryna Bartash postponed, but eventually won unanimous decision in a 4 round clash.