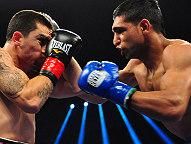 (Photo © German Villasenor)


Before a crowd over 6,000 at the Los Angeles Sports Arena, former junior welterweight titleholder Amir Khan successfully returned to the ring following his shocking knockout loss this past summer to Danny Garcia, stopping Carlos Molina on cuts following the tenth round. Golden Boy Promotions staged a successful day with Oscar De La Hoya giving away thousands of Christmas presents donated to homes in need and Golden Boy's galaxy of stars engaging in a fan fest in between the afternoon CBS card featuring IBF bantamweight champ Leo Santa Cruz and pro debuting Olympian Joseph Diaz, Jr and the night's main.

Khan was working with trainer Virgil Hunter for the first time following his split with Freddie Roach. The work was evident as Khan didn't foolishly rush in with his attack but instead used controlled bursts of speedy violence to tear Carlos Molina's face open. Speed kills but it also cuts and in Molina, a lightweight moving up for this bout with a history of cutting, Khan's speed had a perfect target.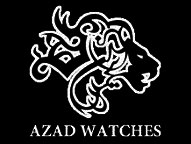 Azad Championship Report

Molina is a fighter on the prospect/contender cusp. Tonight he was game if a bit tentative but he was as brave as you'd want a fighter to be. He can return to lightweight having learned a lot tonight and continue on.

In the first, Molina tried to stay low and work to the body while staying inside his guard. Khan was patient. He exploded in small doses, using his straight shots, keeping center ring and maintaining control. By round's end, Molina was already bleeding.

Khan stayed patient in the second. Molina had a few hooks inside in between speed combination bursts from Khan but it was not enough. Molina was trying to box with a boxer with superior speed. What he needed to be was more of a brawler on this night.

Molina had some moments but mostly the third stanza was all Khan. He dictated the pace, ate a right hand or left to the body here and there but overall dominated simply by being the first fighter to throw. Molina too often waited to get his shots in. Perhaps it was all the speed. Earlier in the day, I spoke with Danny Garcia who told me it took two rounds to get used to Khan's unreal speed. Molina adjusted and landed flush in this fight but never had enough pop to do anything about it.

Molina's face showing clear signs of damage by the fourth but his body language remained committed to winning in the fifth. Khan showed no signs of slowing or damage.

In the fifth, Molina pressured Khan and ate his speed shots in order to let his left hook go which he id da couple times early on. The length, height and speed of Khan was too much to overcome, though as moved, jabbed, let a combo go on Molina and re-set to do it again and again.

In between the eighth and ninth, the ref and ringside physician checked out Molina's cut left eye and decided to let him continue.

Curiously, Khan did little to capitalize on the cut except stay his course of using the jab and engaging in bursts. He stayed away and flurried in spots but didn't jackhammer that cut in order to get a stoppage. Molina was brave and game. Over matched, he kept coming at Khan, winging shots and coming forward.

After the ninth, once again the ref and ringside doc checked out the cut to no avail. Veteran cut man Miguel Diaz had it under control and the fight was allowed to continue.

After the tenth, that was it. The corner stopped it due to cuts and Khan had successfully returned.

It will take time to work in everything Virgil Hunter has added to Khan's game but the two seem confidently on their way.

In an exciting co-feature, Alfredo Angulo, 22-2, 18 KOs, continued his recent campaign with a hard earned victory over Jorge Silva, who came to fight. Angulo seemed a little sluggish early on as Silva danced and shot off combinations to the head and body. As much as he threw, Angulo afterward didn't seem too beat up. He too is working with Virgil Hunter these days. That stable is full of speedy boxers like Fernando Guerrero, Andre Ward, Khan and Brandon Gonzalez.

While Silva, 18-3-2, 14 KOs, was game and troublesome with his movement, hard punches and no quit, crafty attack, it's what Angulo has been staring at for two training camps.

The fight itself was at times a chess match and brawl. Angulo would walk down Silva, get him to the ropes and unload. Silva would return and many times rocked Angulo with a solid punch that went through the target. Angulo took it like a champ and trudged forward to deliver his slower but heavy blows. Helluva fight. The ebb and flow not just through the fight but the rounds themselves was enough to keep it interesting all the way down the stretch.

In the end, the judges had the much needed ten round bout 97-93 all in favor of Angulo.

Heavyweight Olympian Deontay Wilder, 26-0 with 26 knockouts, kept his win/knockout streak alive with a scintillating right hand single punch knockout of Kelvin Price, 13-1. 6 KOs. Wilder and Price didn't exactly get the crowd on its feet until that the third when Wilder, approaching Price who was standing with his back to the ropes and unloaded a single right hand that floored Price and put him out for the count. The time was: 51 of the third.
You can email Gabriel at maxgmontoya@gmail.com, follow him on Twitter at www.twitter.com/gabriel_montoya and catch him every Monday on "The Next Round" with Steve Kim. You can also tune in to hear him and co-host David Duenez live on the BlogTalk radio show

Leave-It-In-The-Ring.com

, Thursdays at 5-8 p.m., PST.
Please visit our Facebook fan page at www.facebook.com/MaxBoxing, where you can discuss our content with Maxboxing readers as well as chime in via our fully interactive article comments sections.