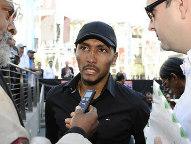 (Photo © Gene Blevins - Hoganphotos/Golden Boy Promotions)


Last December,

Abner Mares

and Anselmo Moreno, two of the best fighters at super bantamweight - or any division in boxing - shared a bill. Saturday night at Staples Center in Los Angeles, CA, televised by Showtime and promoted by Golden Boy Promotions, the two men will square off for Mares' WBC super bantamweight title. It's a fight that has been brewing since the two men were tearing through the bantamweight division, wresting its titles and cleaning out the contenders.
December 3, 2011, Mares was facing Joseph Agbeko in a rematch which also happened to be the finale of Showtime's four-man, bantamweight tournament. Mares was trying to chase away the demons of the first Agbeko fight which saw him land a lot of low blows unrecognized by referee Russell Mora. Mares contrasted that sloppy performance with a conservative and effective attack in the rematch, winning a decisive unanimous decision.

Moreno, 27, a Panamanian southpaw, was making the ninth defense of his WBA bantamweight title against

Vic Darchinyan

. What the uninitiated American audiences saw that night needed no translation. In the vein of Pernell Whitaker, Moreno is a defensive-minded fighter but one who does not simply retreat all night, looking to peck away in boring fashion.
"Well, I think people do not get bored with my style because I try to trick [the opponents] a lot in order to land punches and not run away much to not make the fight so boring," Moreno explained. "That is what makes the fight so interesting that people do not get bored. I think I have a style that boxing fans like a lot because it is not a boring style."
Moreno's ability to nullify Darchinyan and pick him apart electrified purists in the game. Any time Darchinyan moved in, Moreno would slide away and counter. Or he'd make Darchinyan miss by inches, only to land a flush one-two. Covering it at ringside, this writer remembers running into Al Bernstein (who called the fight for Showtime) and he was ecstatic over the defensive mastery Moreno displayed. It's the rare fighter who gets fight fans saying, "Did you see how he made 'So-and-so' miss?" At the moment, Moreno is that fighter.
"What happens is that I grew up fighting in the streets," Moreno explained of his style's origins. "That is my style since I was a child. [Trainers] have corrected it a bit but I have never changed my style."
Moreno's style is a fluid dance of a snake charmer. Standing in the pocket, his head bobs or weaves, inviting his opponent in to be countered. Moreno can leap in at any moment with a hook or a rear strike. To some who like all-action brawls, it can be frustrating to watch. In a sense, watching Moreno is like watching a great batter. The action is coiled. You are always waiting for something to happen.
Moreno began fighting at a young age, first in the streets and then later in the gym.
"Panama is such a small country that a boxing promoter saw me and took me to fight as an amateur," he explained. "I fought 174 amateur fights. I fought 84 two-round fights, so a total of over 200 fights. That is how I started fighting as a child inside a ring and that is why I have the career I have."
Moreno was all quiet confidence as he stood in the L.A. heat Monday, wearing all black workout gear from head to foot and Everlast gel hand wraps. He did not appear drawn or tired as he worked out for the crowd on the focus mitts or as he stood talking to the media. One thing I did notice up close is that he has a lot of scar tissue. He says it's more a matter of his style and southpaw stance. While Moreno doesn't often get hit flush by punches, his head movement can make for head clashes.
"If you see the scars I have in my eyebrows, they are the product of headbutts, not punches, because I do not like to get hit," he explained. "If you see my nose, it is not like that of many boxers that you can see the effect of punches in it. I do not like to get hit."
Moreno is in the hardcore boxing fans' best kept secret file. While Abner Mares ran a gauntlet of high-profile bantamweight talent over the past two years (including Agbeko twice, Vic Darchinyan, Yonnhy Perez and Eric Morel), Moreno has stayed steady with his WBA defenses since 2008. In all, he defended his WBA belt 10 times.
This fight is for the WBC super bantamweight title Mares picked up in a box-off against Eric Morel in April. Credit has to go to Mares for taking such a tough fight. Anselmo Moreno is as tough a first defense as can be expected. But considering the paths both men have taken (not to mention Nonito Donaire and Guillermo Rigondeaux, the division's other two top fighters, are handled by Golden Boy rival Top Rank), this fight makes all the sense in the world.
"I expect him to defend his championship and not let anyone take it away from him," said a respectful Moreno to a nearby reporter. "I will do everything possible to [others speaking over Moreno, obscuring what word he said here] it and it will be a very intense fight."
Moreno's style is strong but it's specialized. Mares comes in as perhaps the more versatile fighter possessing the ability to both box and brawl. Can that be the difference?
"I always say it; in the ring, the more clever man can always win, the one with more desire to lift that belt after the fight, the one in better physical condition. That is the principal thing for success, the [physical] condition. The one that puts more effort is the one that will win the fight that night," said Moreno. While he wore a full track suit, he did not appear to be a fighter looking to lose weight. Condition will not be a problem for him, I predict.
In Mares, Moreno is facing the most well-known and perhaps well-rounded fighter he has ever faced. Mares ran a gauntlet getting to that December final and in the process, gained fans, some criticism and prestige. Should he win this fight, the sky is the limit ("Promotional Cold War" permitting).
Moreno has toiled in obscurity, quietly mastering himself and his craft while waiting for a shot like this. Should he win, a rematch looms at the very least. The world will open up for him. At age 27, in the prime of his life, Moreno is poised to be recognized as the longtime champion he is. To prepare for such a moment, a champion must find something new to bring to the party. Mares has shown the ability to do that time and again. Now it's Moreno's turn.
"One always, despite saying everything is the same as always, one always does something different," Moreno explained his preparations. "I have trained very hard, same strength I always work for all my fights, but the intensity is higher every time we prepare for another fight. Now that I will be fighting at 122, I have done cardio as never before, I have worked as never before and have done things well to be in optimal conditions to leave no doubt and no forecast that could damage the results."
You can email Gabriel at maxgmontoya@gmail.com, follow him on Twitter at www.twitter.com/gabriel_montoya and catch him every Monday on "The Next Round" with Steve Kim. You can also tune in to hear him and co-host David Duenez live on the BlogTalk radio show

Leave-It-In-The-Ring.com

, Thursdays at 5-8 p.m., PST.
Please visit our Facebook fan page at www.facebook.com/MaxBoxing, where you can discuss our content with Maxboxing readers as well as chime in via our fully interactive article comments sections.