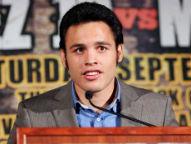 (Photo © Chris Farina / Top Rank)


In case you haven't heard - and there's almost no way you couldn't have - there are competing shows taking place this Saturday night from the MGM Grand and the Thomas and Mack Center, just a few blocks from each other in "Sin City," in the latest chapter in the Cold War between Golden Boy Promotions and Top Rank. Neither company was moving off this date (which is a key pay-per-view slot) and in the end, what we got was a Mexican stand-off on Mexican Independence Day weekend. The obvious difference between the two cards is that one is on pay-per-view and the other is being broadcast on Showtime. In total, nine featured fights will take place on Saturday night between the two.
There's no doubt that the Top Rank main event featuring the middleweight championship bout between Sergio Martinez and Julio Cesar Chavez Jr. is more anticipated and highly regarded than Saul "Canelo" Alvarez defending his WBC junior middleweight belt versus Josesito Lopez. Martinez vs. Chavez Jr. is for all the marbles at middleweight and many insiders and pundits are tabbing Junior to beat "Maravilla" - which was inconceivable just 12 months ago. However, it says here that while Chavez Jr. has certainly developed and improved, he's also a product of some adroit matchmaking by the Top Rank staff led by the likes of Bruce Trampler, who has carefully green-lighted who Chavez Jr. faced as he cut his teeth in this business. While Chavez Jr. is tough (he certainly inherited his father's ability to take a punch), active and has youth on his side, Martinez still holds sizable advantages in footwork, quickness and reflexes. The big question is: Has he aged?

I like Martinez to win this fight on points as he uses his superior mobility and quicker hands to build an early lead and withstand a late charge by Chavez Jr. Again, I think the kid has gotten better but Martinez is a cut or three above the likes of Andy Lee. And honestly, certain things about the way Chavez has handled this training camp leave me wondering if he has the proper respect for Martinez.
As for the Golden Boy main event, I think Lopez is as game as they come. He's the type of guy who basically can't be in a bad fight. But unlike a Victor Ortiz, "Canelo" simply won't make the same technical and fundamental errors that allowed Lopez to pull off the upset at the Staples Center back in June. Alvarez has a bit of a paint-by-numbers quality to the way he fights but the upside to that is he doesn't make a lot of mistakes either. That said and the given weight differential between the two, I like Alvarez to score a late stoppage in a fight where the naturally bigger man takes over in the middle rounds.
Now, while I think the consensus is that Top Rank has the superior main event, who has the better undercard? Well, here's one scribe's opinion as we rank the support bouts from the two shows...
1- Jhonny Gonzalez vs. Daniel Ponce de Leon (Golden Boy):
This should be a fun slugfest between two guys who can both bang and have both been knocked out. Usually, that formula makes for interesting fare. Gonzalez-Ponce de Leon is a fight that if it was on "Boxing After Dark" as a main event, you'd look forward to it. To me, every big-time card needs to have at least one fight of this caliber before the featured attraction. Prediction: Ponce de Leon by late-round KO.
2- Marcos Maidana vs. Jesus Soto Karass (Golden Boy):
Maidana is always a fun TV fighter as is Karass. But one thing stood out at the press conference a couple of months ago: just how much bigger Karass was. He is the natural welterweight and Maidana was really dwarfed by him. Regardless, you'll see two guys who won't have any problems finding each other in there. Prediction: Soto Karass by decision.
3- Rocky Martinez vs. Miguel Beltran (Top Rank):
If there was ever a fighter who should be called "Rocky," it's this tough Puerto Rican. Martinez is not the most gifted boxer around but he's one that fights with great passion and determination. Beltran is your classic Mexican tough guy and this bout, originally scheduled for August 4th, should be a good scrap between two hardnosed prizefighters. Prediction: Martinez by close decision.
4- Leo Santa Cruz vs. Eric Morel (Golden Boy):
Yeah, I can't lie; Santa Cruz is one of my favorite boxers. Whenever he fights, you'll see a guy who pressures and throws a high volume of punches. Honestly, I wish Golden Boy would've tabbed someone different than Morel (who basically lost every round of his last outing against Abner Mares back in April) in this instance but Santa Cruz always entertains with his style. Prediction: Santa Cruz by decision.
5- Matthew Macklin vs. Joachim Alcine (Top Rank):
This fight is actually from DiBella Entertainment, which got a slot on the pay-per-view broadcast and it's not a bad one. Macklin is a hardnosed, honest fighter who probably did enough to defeat Felix Sturm last year in Germany and he put up a pretty good battle versus Martinez in March. Alcine isn't a bad fighter either (especially if you take away his first round stoppage at the hands of Alfredo Angulo) and he defeated David Lemieux back in December. Prediction: Alcine by decision.
6- Robert Marroquin vs. Alfonso Lopez (Top Rank):
Originally, Marroquin was scheduled to face the uber-talented Cuban, Guillermo Rigondeaux and, honestly, perhaps he's a bit fortunate to not be facing him this weekend because now he's in a much more winnable fight. Lopez is tough and awkward and beat Teon Kennedy not too long-ago. Prediction: Lopez by decision.
7- Mike Lee vs. Paul Harness (Top Rank):
I'll say it right now; I was flabbergasted when I found out this fight was actually a part of the pay-per-view telecast. Lee, who's probably more famous for being on Subway ads than for anything he's done in the ring, is on this card because his Notre Dame background is good for a few stories in publications that wouldn't otherwise devote any space to boxing. I wouldn't quite label him "Butterbean" or Mia St. John but it's hard to argue that he's a little bit more than a novelty. In Harness, he's facing a guy whose record is 4-3-1 and his 2-2 in his last four contests - all four-rounders. Prediction: Lee by decision.
So while Top Rank has the higher profile main event, it seems as though Golden Boy has the more balanced card, which quite frankly seems to be the pattern in recent years. It'll be interesting to see which members of the media cover the respective shows. From what I'm hearing, most of the established scribes are heading down to the show at the Thomas and Mack Center and there's no doubt that Martinez-Chavez Jr. card is selling much better. It's less than a thousand sold seats from being a complete sell-out (the arena holds right around 18,000). Meanwhile, it seems the other card is having some problems at the box-office as the MGM Grand is running this promotion (https://reservations.mgmmirage.com/bookingengine.aspx?pid=001&host=promo&code=R92558&ad=9/9/2012&night=3) in hopes of attracting fans.
It goes to show you, once again, that for all the talk of boxing needing better undercards (which I don't disagree with), when it's all said and done, it's really the headliner that gets the turnstiles moving and pay-per-views selling.
In what was a dominating performance on Saturday night in Oakland, Andre Ward scored an impressive tenth round stoppage of Chad Dawson. Not everyone is a fan of Ward's style (admittedly, I'm not) but he's as good as anyone in the sport at carrying out a game plan and executing it three minutes at a time with focus and determination. Regardless of entertainment value - and this weekend's outing was, by Ward's standards, very high - one thing he does is win. Over and over and over again. He'll be a tough riddle to solve for years to come.
What I find interesting is that not many fans are bringing up the fact that Dawson was fighting at super middleweight for the first time in six years. Honestly, at any weight, I think Ward's intangibles would always give him a decided edge over Dawson (it was pointed out by Carlos Acevedo of TheCruelestSport.com that Dawson has never beaten an opponent that was younger than him) but it looked like he never really had his legs underneath him for much of the night. It's funny; when Manny Pacquiao "forces" Miguel Cotto to come in at 145 - which is all of one pound less than when Cotto fought Joshua Clottey in his fight prior to facing the "Pac-Man," - there was a full campaign to discredit this win. Judging by the revisionist history that has taken place on that fight, you'd think Cotto was hooked up to IVs in the dressing room before he fought Pacquiao and taken into the ring from his dressing room on a wheelchair.
The bottom line is that Dawson signed the contract and quite frankly, because of the way he's been TV-packaged by his handlers, he simply had no leverage in these negotiations (from the venue to the weight to anything). Ward had all the advantages and he exercised them but unlike Pacquiao, it's not being pointed out pejoratively.
Hi there Kim. So did boxing gain any new fans after last night's show? From my vantage viewing position on my favourite couch, doubt it. That might be surprising considering none of the bouts went the distance. Still, when staying up by 2.30a.m on Sunday to catch the fights live, it's with the hope that I go to bed with a big, satisfied grin on my face.

Russell Crowe - 'Are you not entertained?!!'

No, Mr Gladiator, I wasn't. Knew Ward/Dawson would be that kind of fight(minus the stoppage) but thought I'd be watching it still basking in the after glow of a barn burner between Molina & DeMarco.*sigh* Kim, why won't Dawson just let his hands go? Is he donating money to charity for every punch he throws? I'm guessing 'weight drained' will be the excuse of choice. So Kim, was Ward/Dawson worse, better or exactly the way you saw it panning out? Woohoo!! Chavez Jr vs Martinez next week. My most anticipated fight is still Bam Bam vs Mile High. Keep up the great work.

Memo to Nick Carey: Don't quit your day job.

Chinedu from Nigeria
Chinedu, thanks, it's great to get an email from Nigeria that isn't promising me a deposit of a million bucks after giving up $5,000 of my own money or something like that. But yeah, last night was interesting; I think Ward certainly helped his cause in winning the way he did and we'll see where he goes from here. The question I have for you is: Didn't you watch the bout between Lucas Matthysse and Olusegun Ajose? To me, that fight lived up to its expectations and, once again, "The Machine" emphatically stated a case for being the world's best 140-pounder. It's really a shame this fight got overshadowed but the Argentinean has become "must-see-TV" at this point.
Matthysse is a guy who not only has a fan-friendly style but is still at the point where he can't just pick and choose who he fights. Right now, he's still the guy who will face whoever is willing to fight him. The question is, how many of the real marquee names at 140 will get in there right now with "The Machine"?
And yeah, "Nick Carey," I have to say I enjoyed his performance in "Drumline" (can't lie, I actually like that movie) a lot more than his attempt at being a ring announcer. But in all fairness, that's not an easy gig. I wouldn't ever dare try it. Guys like Michael Buffer and Jimmy Lennon Jr. and all the others we see on television so often only make it look easy. I think Nick will tell you after Saturday night, it's anything but.
I thought Mark "Too Sharp" Johnson did a nice job in his debut for Showtime. I think with the proper guidance and more seasoning, he could be pretty good at this...For those who asked, I'll be ringside for Martinez vs. Chavez...I know some are giving Dawson grief for calling it a day versus Ward but can you really blame him? He was spent and it wasn't going to get any better for him. That fight was over in every way...I really thought Johnny Molina had a legitimate puncher's chance against Antonio DeMarco. Yeah, I was wrong...Speaking of DeMarco, since his fight went all of 44 seconds, he can be ready to face Adrien Broner on Nov. 3rd, right?...Can you believe the early impact of Jim Mora in Westwood? UCLA is one of the big early season stories of college football...The Canes will take their lumps in 2012; the thumping at K-State won't be the only one, unfortunately...Right now, Bob Griffin III is impressing everyone in the NFL, even Osi Umenyiora...The NFL Redzone on DirecTV is one of the greatest inventions of the past century - I'm not kidding...I can be reached at k9kim@yahoo.com and I tweet at www.twitter.com/stevemaxboxing. We also have a Facebook fan page at www.facebook.com/MaxBoxing, where you can discuss our content with Maxboxing readers as well as chime in via our fully interactive article comments sections.